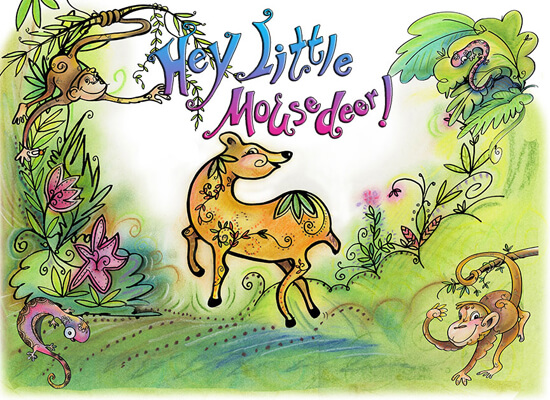 In regional folklore, the Mousedeer is celebrated as a proud and cunning animal who is always ready to help his fellow animals in the forest. I Theatre brings children's theatre with a strong regional flavour to life with Hey Little Mousedeer! from 18 July to 6 August 2013.
I Theatre's Hey Little Mousedeer! weaves together and revitalises colourful and charming regional tales from Malaysia and Indonesia into an original children's drama-musical.
Adventures in the Forest
Follow Sang Kancil, the Mousedeer, and his friends "Harimau the tiger, Monyet the friendly monkey, and Cicak the lizard, as they embark on adventures in the forest. As Kancil sets out to show how clever, brave and quick-witted he is, he inevitably entangles his friends in crazy schemes that bring no end of trouble. What valuable lessons will Kancil learn?

Developed with themes of saving the environment, bravery and facing the consequences of your actions, Hey Little Mousedeer! has something for everyone, whether children or grown-ups.
Fun Entertainment for the Family
You can expect catchy music, colourful characters and a fun and interactive theatre experience. Using masks, puppetry and carefully designed costumes, audiences will be immersed into a forest full of creatures that leap, fly and crawl.
Hey Little Mousedeer! is I Theatre's third production for 2013 after The Little Red Hen and ACE! 2013 Festival Lite's The Enormous Turnip and The Magic Porridge Pot.
Written & Directed by Brian Seward
Music by Bang Wenfu
Venue: Alliance Francaise Theatre, Sarkies Road
Duration: 50 minutes with no interavals
Tickets:
Adult or Child: $28.00
Family Package (4 persons): $106.40
Big Family Package (5 persons): $126.00
Get your tickets from SISTIC. Early bird ticket sales end on 14 June 2013.
Read Little Day Out's review of The Little Red Hen.
Love the look of theatre costumes? Find out what goes into designing and making them.
See what a real mousedeer looks like.
Hey Little Mousedeer Activity Sheets
Get a set of printable activity sheets for Hey Little Mousedeer and more at Little Day Out Shop.
---
---