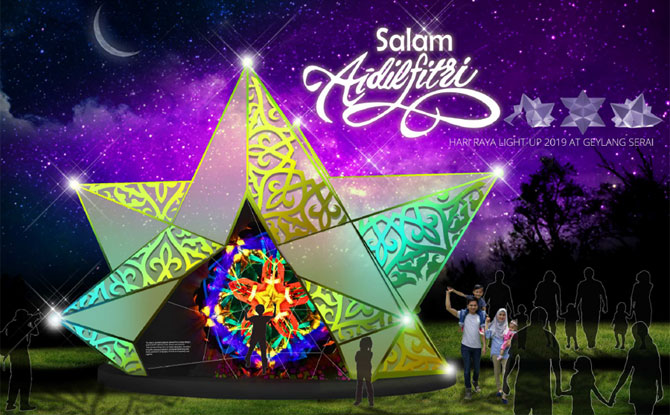 Geylang Serai will dazzle with close to 50 light installations from 3 May to 16 June as part of the Hari Raya Light Up 2019. This year, visitors to the Geylang precinct can look forward to close to 50 light installations along Changi Road, Geylang Road and Sims Avenue.
Lights at Geylang Serai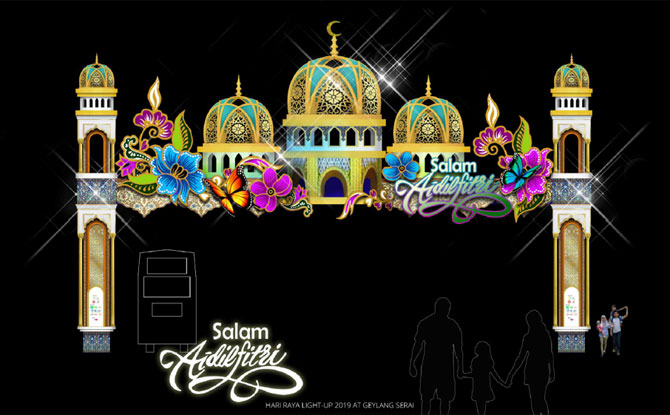 Lighting up the start of Sims Avenue will be a 15.4 metre high, 23 metre wide main arch. This features a mosque with golden domes. Surrounded by blooming flowers, it symbolises the renewal of friendships and kinship.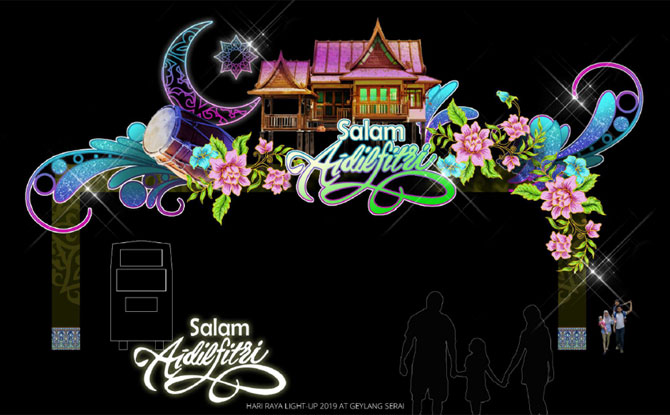 At Changi Road, another main arch will feature a kampung house. This cultural icon represents community with family and friends from different racial and religious groups celebrating Hari Raya Puasa together. A crescent moon and star, symbols of Islam can also be found on the arch.
The Hari Raya Light Up 2019 will also see the streets decorated with smaller arches featuring the crescent moon and star along with batik floral prints and geometric patterns.
Community Events
The main venue for the official light-up and weekly cultural events will be Wisma Geylang Serai.
Organisers of Hari Raya Light Up 2019 have planned for multiple iftar (break fast) sessions. These will bring residents and other members of the community together for a meal at sunset.
Other events include a ketupathon on 2 June 2019. During this ketupat-making event, participants will weave ketupat shells over 12 hours and end with an auction. Proceeds raised will go to charity.
Hari Raya Bazaar at Geylang
One returning favourite is the Bazaar Raya Geylang Serai. Being held from 3 May to 5 June 2019, the bazaar will feature more than 500 stalls selling food, household items and accessories. This year, the bazaar will place greater emphasis on traditional products with 60 percent of food stalls and 80 percent of non-food stalls offering Hari Raya-related offerings.
To cater to different segments of the community, there will also be container-style shops with various themes and an outdoor dining area at the popular market.
The Bazaar Raya Geylang Serai be held around Engku Aman Road, Geylang Road and Tanjong Katong Complex.
Hari Raya Light Up 2019
Norami Aliza Haron, Chairman of the Hari Raya Light Up 2019 Organising Committee said, "Hari Raya is a major festival in Singapore, and the Light Up brings Malays and non-Malays alike to Geylang Serai every year. Beyond visiting the lights and bustling bazaar, we encourage visitors to also learn more about the Malay culture. Furthermore, with Ramadan being a time for family and friends to gather, we hope to foster a shared sense of affinity and belonging through the different community activities happening through the month."