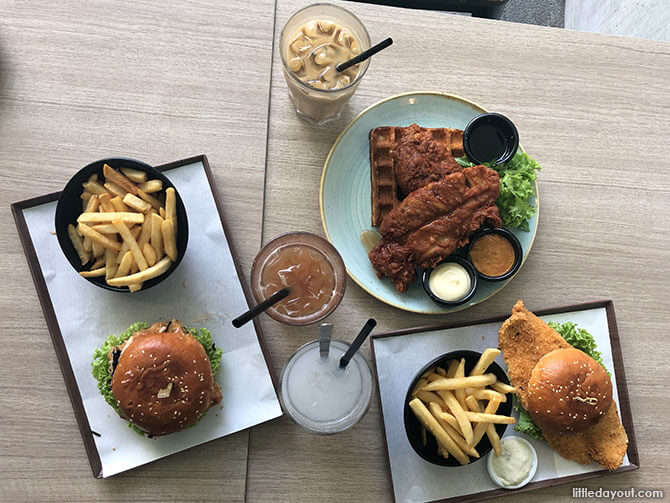 Many may have heard of GRUB at Bishan, with its gorgeous view and delicious food to match. If you are ready for a new experience with the same standard of deliciousness, you'll be thrilled to know that it has opened a new outlet – GRUB Balestier!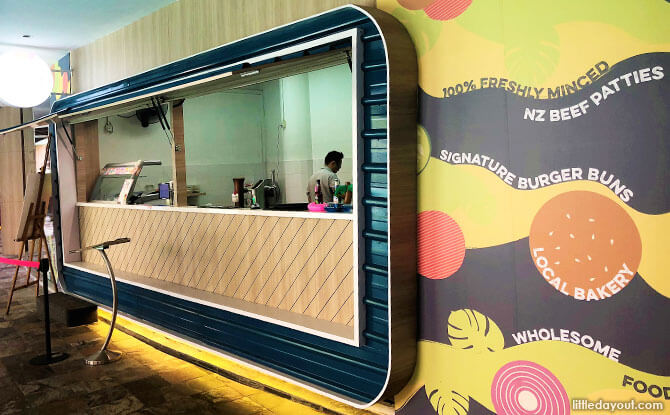 Located in HomeTeamNS-JOM, surrounded by great facilities and a beautiful view, the GRUB outlet at Balestier is a great place to visit if you want to have a meal away from the usual busy city area, or even a place to chill while you send the kids to one of the many enrichment classes available in the HomeTeamNS building.
In the month of August 2018, GRUB Balestier is joining in the celebration of Singapore's birthday with the launch their new August menu based on the theme of "Sweet, Salty, Spicy Singapore!"
With this in mind, we ventured down to try its menu, including the new Har Cheong Gai Waffles!
---
-- Story continues below --
Sweet, Salty & Spicy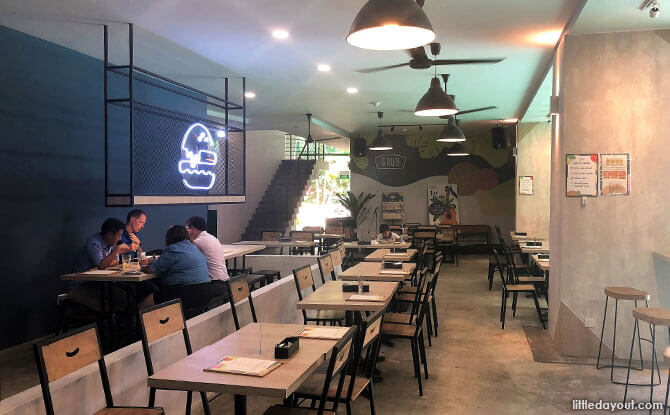 When we first entered the GRUB Balestier outlet, we really liked its ambience. To order your food, head over to the creatively designed counter, fill in a form and order up!
Mentaiko Millefeuille Katsu Burger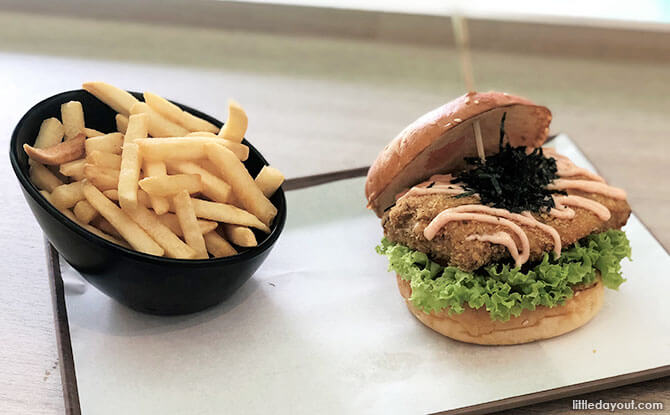 We first tried the Mentaiko Millefeuille Katsu Burger.
Inspired by the "mille cake", this pork cutlet burger features layers of thin pork slices layered around mentaiko cheese. It is served on brioche buttered burger buns.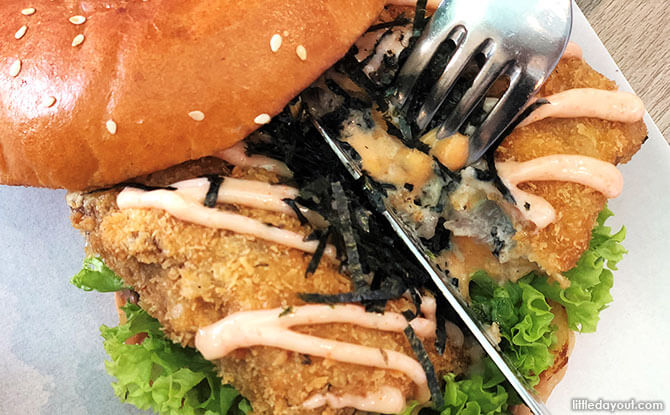 As we cut in, the mentaiko cheese oozed out. The burger was nicely seasoned and extremely flavourful.
This dish is a crowd favourite and has become a permanent item on their menu, so be sure to check it out!
The Mentaiko Millefeuille Katsu Burger paired very well with GRUB's Calpis Grape Soda with homemade grape puree, Calpis and soda. However, their signature Lychee Earl Grey Tea was our personal favourite.
Har Cheong Gai Waffles
We were especially excited to try the Har Cheong Gai Waffles which will be launching in August 2018 at both GRUB Balestier and Bishan outlets!
Inspired by the American classic Chicken and Waffles, GRUB has put a local twist to it in the form of juicy, prawn-paste marinated chicken chunks. These are served on waffles with maple syrup and paired with Sambal Mayo or Mayo!
Crispy on the outside, juicy on the inside and with just the right amount of prawn paste, we were glad that it was not greasy as a typical Har Chong Gai chicken.
The waffles had just the right consistency. It was neither too dry nor too mushy even after absorbing the juices and sauces.
Another dish that we tried was the popular kid's favourite, the crispy fish burger.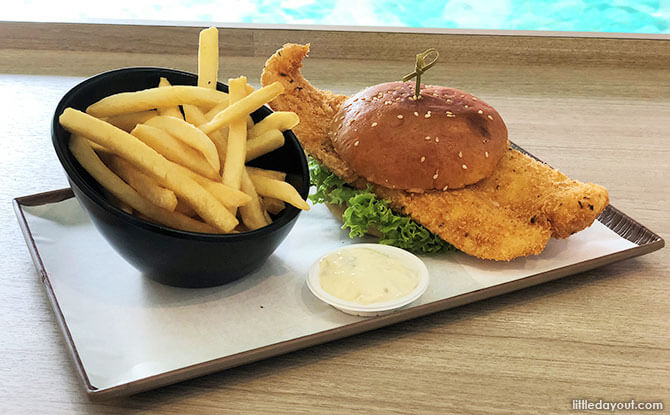 Far from being a kid-sized sandwich, the burger had an overwhelmingly generous serve of fish and it was nicely cooked with a good bite to the fillet. It is also one of the options that you can pick as part of the Weekday Lunch Promotion, exclusive to the GRUB Balestier outlet!
Overall, GRUB is definitely one of our favourite local brands to dine at. It is proudly Singaporean and never compromises on the quality and taste of food, and keeps the prices points reasonable. We are glad there is now the GRUB Balestier outlet to visit as well.
GRUB Balestier
Where: 31 Ah Hood Road, HomeTeamNS-JOM #01-06, Singapore 329979
Website
Media Invite