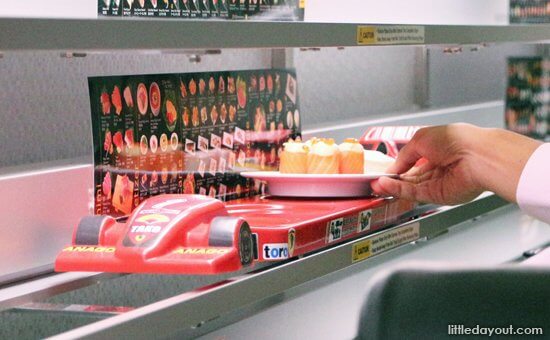 Genki Sushi brings a new meaning to the phrase "express food delivery". With 4 outlets across Singapore (Orchard, Chinatown, Bugis, Punggol), this chain of ultra-modern restaurants uses technology to wow diners. Instead of using the regular sushi conveyer belt, Genki Sushi uses miniature cars and trains on tracks to shuttle food from the kitchen to the table, which is super exciting for little ones obsessed with anything on wheels. The restaurants are also decorated with technology in mind, with mini tablets at each table for ordering meals, digital billboards instead of printed posters and iPad clocks.
Read more: Genki Sushi: The Food Express
Check out 20+ Unique Restaurants & Dining Spots in Singapore You Must Experience.
---
Useful Information
Genki Sushi, Orchard
Address: 181 Orchard Road, #04-30, Orchard Central, Singapore 238896
Phone:
Email:
Website: http://www.genkisushi.com.sg
---
---