A visit to Gardens by the Bay for a pre-wedding photo shoot led to an unexpected surprise for Miss Gowri d/o Subramanian when she became the Garden's 20-millionth visitor.
Yesterday, together with Minister for National Development Mr Lawrence Wong, Miss Gowri triggered the light-up of an 11-metre-tall Christmas Pyramid to launch the new "Christmas Toyland" floral display at the Garden's Flower Dome.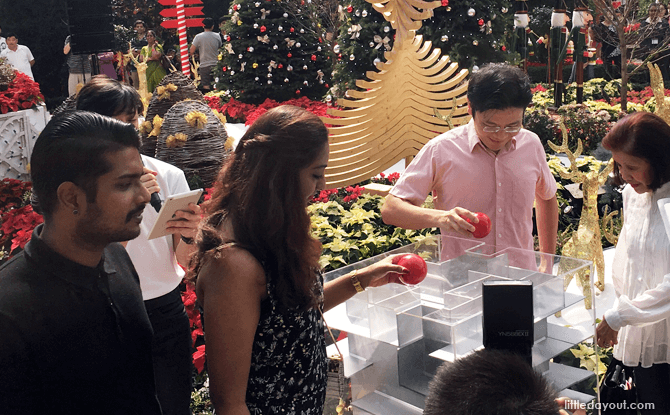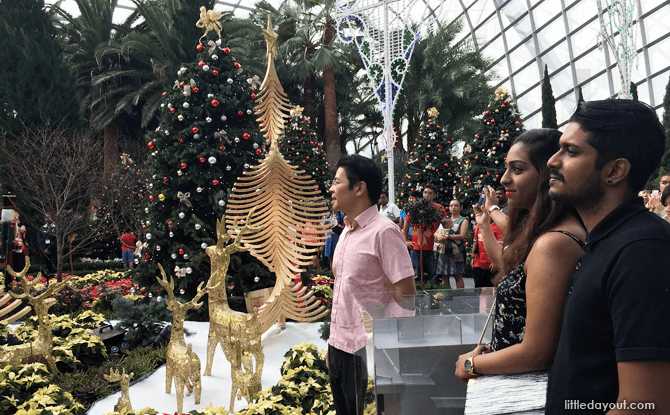 Miss Gowri, who was with her fiancé, also received a hamper from Gardens by the Bay and a personal gift of an Apple watch from Mr Wong. The 25-year-old said, "It's actually my first visit to Gardens by the bay, so it was a lovely surprise that I turned out to be the 20-millionth visitor. It's definitely unexpected, but it made my pre-wedding photo shoot an even more memorable experience."
Gardens by the Bay opened three years ago and has since garnered a number of international accolades. In 2014, visitorship was 6.4 million and is projected to reach 8 million for this year.
The new "Christmas Toyland" display is a part of a series of changing floral displays at the Flower Dome. It showcases yuletide floral favourites like the poinsettia, Christmas rose and winter heather. Under the centerpiece Christmas Pyramid and at other spots within the Flower Dome, festive performances will take place on selected weekends over the coming weeks. It will be held till 5 January 2016.