Fort Pasir Panjang or Labrador Battery was once a mighty bastion which stood protecting the Keppel Habour. Fitted with artillery guns, it was once a garrison manned by soldiers and saw action during the Battle of Singapore in February 1942.
Today, only the remnants of the fort remain at Labrador Park, Singapore, a memorial to the brave soldiers who once manned its guns.
Go on an adventure and explore the various paths and ruins that remain with Little Day Out's Fort Pasir Panjang Adventure Quest.
---
Find Checkpoints Around Fort Pasir Panjang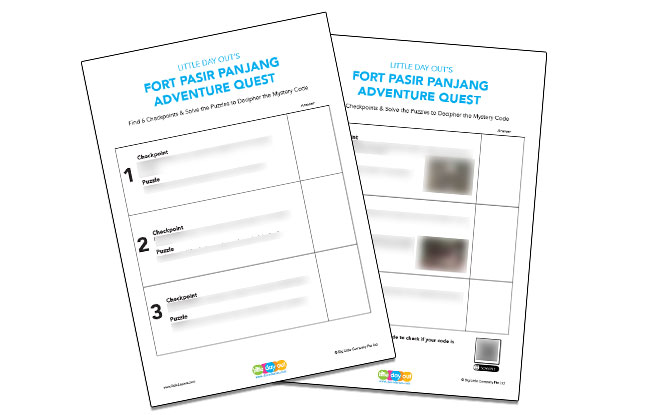 ---
-- Story continues below --
This is a self-guided adventure scavenger hunt that can be played around Fort Pasir Panjang. Purchase and download the Play Sheet from littledayoutshop, head down to the hillside at Labrador Park where Fort Pasir Panjang was once located and explore the area on your own.
The Play Sheet has six checkpoints that you will need to find. Solve the riddle to find the checkpoint within the designated play area.
At each checkpoint, there is a clue that will lead you to find a "secret number" hidden around the area.
Once you have found all the clues, you can enter in the "secret code" online to check if you have correctly completed all the checkpoints.
If you need additional help, we have included additional clues as well. The Fort Pasir Panjang Adventure Quest package includes an answer sheet too (but hopefully you won't need those)!
A word of caution as you explore Fort Pasir Panjang, do stick to the paths and be careful of drops around the ruins of some of the old structures. Be responsible for your own safety.
---
Fort Pasir Panjang Adventure Quest
The Fort Pasir Panjang Adventure Quest a fun way to spend time outdoors exploring this old military fort. To make it even more exciting, make it into a friendly outdoor tournament by forming teams and competing to see who can solve the puzzles faster.
Download the Fort Pasir Panjang Adventure Quest activity sheets for only $3.99 (for a limited time only) at the littledayoutshop here.