Esplanade Presents – Flipside
Music, puppetry, physical theatre, comedy and more. Expect the unexpected at Flipside from 24 May – 2 Jun 2019, a perfect way to kickstart the school holidays!
Early Bird Packages available from 29 Mar – 28 April 2019.
HIGHLIGHTS
THE ARTIST
by Circo Aereo, Finland
Esplanade Recital Studio
24 – 26 May 2019, Fri – Sun
Fri, 7.30pm | Sat & Sun, 2pm & 5pm
"A rib-tickling delight." – The Times, UK
"The sense of invention and play is captivating for all ages" – The Stage
An artist arrives in his paint-spattered studio ready to create a new work. He waits for inspiration, but his focus strays and the blank canvas taunts him. Suddenly, every task is filled with challenges, until chaos is unavoidable.
Combining hilarious clowning and physical theatre, The Artist is created by award-winning Thom Monckton and Circo Aereo, and directed by Sanna Silvennoinen. Since its premiere in 2017, the production has garnered praise at festivals including the Edinburgh Fringe Festival 2018 and the London International Mime Festival 2019.
Approximately 1hr, no intermission.
Admission ages 6 & above.
$35 (Concessions for students, NSFs and senior citizens: $28)
GIANT'S TABLE
by CCOTBBAT,  Korea
Esplanade Annexe Studio
31 May – 2 Jun 2019, Fri – Sun
Fri, 5pm | 1 Jun, Sat, 2pm & 5pm | 2 Jun, Sun, 11am & 2pm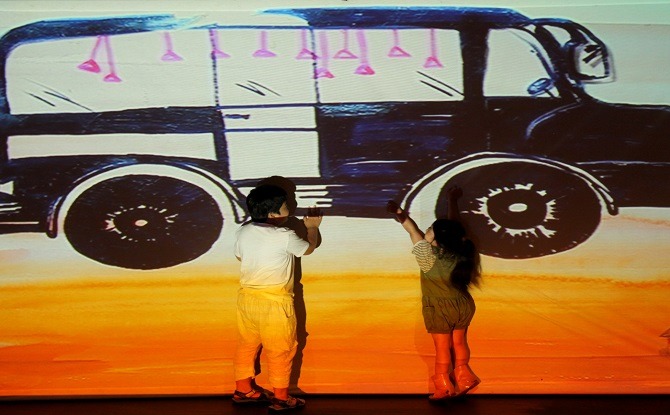 Imagination comes alive! A small, ordinary table transforms into an extraordinary giant's table. Objects and drawings come to life and nothing is what it seems.
The award-winning Giant's Table mixes live animation with physical theatre that puts the audience at the heart of the action. Having taken Korea by storm in 2012, CCOTBBAT has since been invited to festivals all around the world.
Expect a whimsical experience in two parts. The first comprises three pieces, segmented by short scenes aptly dubbed Snack Time. In the second half, audiences get to jump into the Giant's Table, where you'll interact with live drawings on projection.
Awards
– Best Production, Best Performer, and Best Audience Award at the 21st Seoul Children's Theatre Awards (2012)
– Excellent Visual Effects at the 21st UNIMA Congress & World Puppetry (2012)
– Best Actor at Gimcheon National Theater Festival for Family (2010)
Approximately 1hr, no intermission
Admission ages 4 & above.
$25 (Concessions for students, NSFs and senior citizens: $23)
THE PIGEONING
by Robin Frohardt, US
Esplanade Annexe Studio
30 May – 2 Jun 2019, Thu – Sun
Thu – Sat, 8pm | Sun, 5pm
"…a tender, fantastical symphony of the imagination" – The New York Times
"…something extraordinarily integrated, burnished to a high gloss" – Time Out New York
Frank, who is obsessed with cleanliness and order, is convinced that pigeons are plotting against him. But really, are they merely trying to warn him of an impending disaster?
The Pigeoning is a darkly comedic yet heartfelt story that spins Bunraku-style puppetry and lo-fi special effects into an epic tale about the illusion of safety and control in the context of the end of the world.
A funny, dialogue-less performance that will enthrall school-age children and speak to adults, whether they are seasoned theatre-goers or newcomers.
Each performance is followed by a post-show dialogue with the artists, where audiences will also get to see the set and puppets, up close.
Approximately 1 hr 10mins, no intermission
Admission ages 6 and above. Recommended for 8 and above
No admission once performance has commenced.
$35 (Concessions for students, NSFs and senior citizens: $28)
[vc_btn title="Get Tickets" color="primary" align="center" link="url:https%3A%2F%2Fldo.sg%2FFlipside19|title:Get%20Tickets|target:%20_blank"]
---
Event Information
Flipside 2019
Start date: 24/5/19 0:00
End date: 2/6/19 23:59