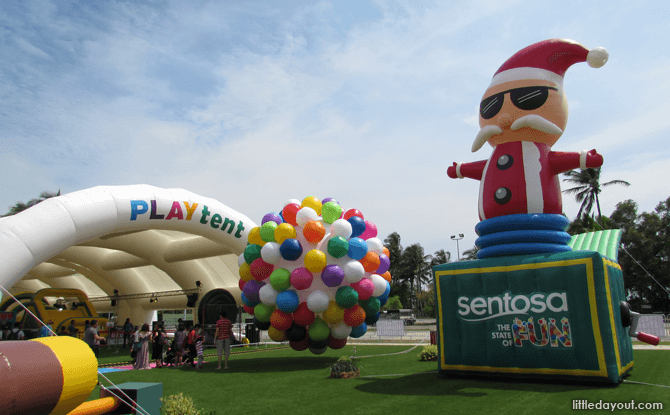 A flying teddy bear dressed as a superhero, a balloon bouquet and a bright pink rocking unicorn.
Sentosa truly has the young and young-at-heart in mind this year-end school holiday. The PLAYtent, an inflatable wonderland that could be the stuff of a child's dream, has popped up next to Palawan Beach.
Speaking of childhood dreams, a childhood movie, "Honey, I shrunk the kids" sprang to mind once the gigantic, brightly colored inflatables came in sight. With their candy-colored hues, the towering structures created both a shrinking feeling and a carnival-like atmosphere by the beach.
Next to the PLAYtent, you will find a booth selling tickets for those who want to go wild in the tent ($6), enter into a four-metre high Snow Globe to experience "snow" ($5; as of 19 Nov, the Snow Glode is still not available. It is expected to be up in Dec), make a craft rocking horse ($15) or a craft Merlion ($15). Visitors can also enjoy one session of free play at the PLAYtent or Snow Globe with a minimum spend of $30 on Sentosa.
The interior of the PLAYtent shelters bouncy castles set up for different age groups. There is a ball pool for the little ones to wade in and a big inflatable obstacle course for the older ones to climb and have a rush of adrenaline while racing through. Each entry allows for 20 minutes of play. The PLAYtent and Snow Globe opens from 2 pm to 8 pm with last entry at 7.30 pm.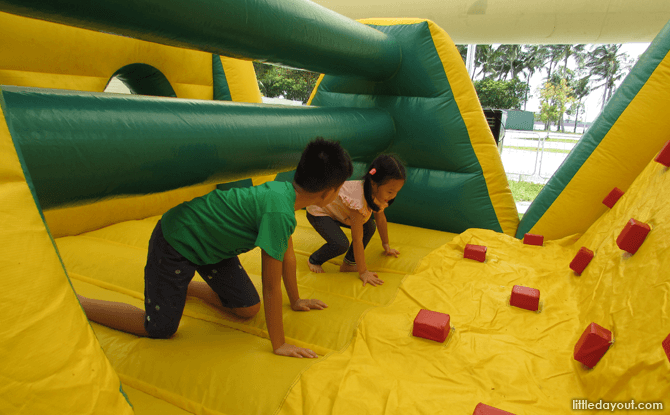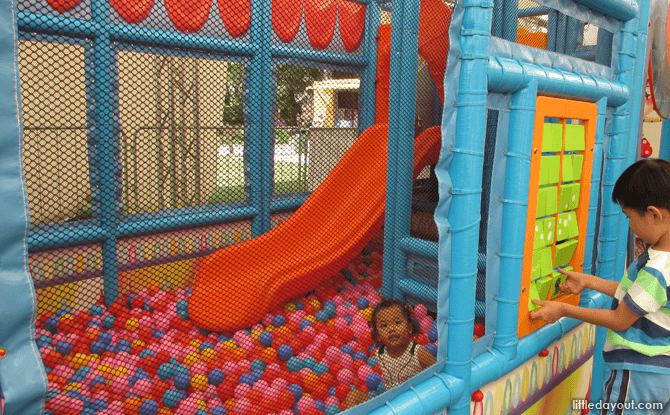 Sentosa's Toyland will be a treat for visitors with young children and its location at Palawan Beach makes it a convenient stop for those headed to the Port of Lost Wonder and the Skyline Luge.
Other than the giant inflatables at Toyland, there are two other zones with larger-than-life inflatables you can snap photos with – Christmas Cheers at the Merlion Plaza and Candyland at the Beach Plaza.
Also taking place during the December holiday season at Sentosa are the Symphony of Lights (1 to 26 December) where visitors will be entertained by familiar tunes and enchanting lights by the zigzag bridge at Sentosa Beach Plaza, and Grill N' Chill (20 to 28 December) at the Merlion Plaza.
For more details, visit the Sentosa website.
Get more ideas on what to do during the year-end school holidays and download your free Little Day Out Holiday Calendar too.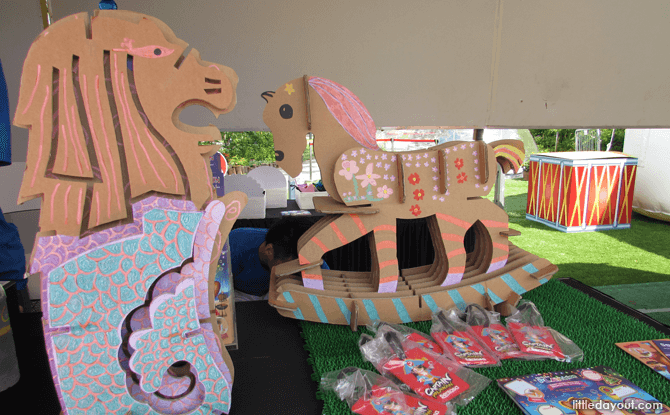 Giant Inflatables
Date: 15 November 2014 – 4 January 2015
Venue: Merlion Plaza (Christmas Cheers), Beach Plaza (Candyland) and Palawan Beach open car park (Toyland)
Time: The inflatables are up for people to snap photos with from 11 am to 9.30 pm. The PLAYtent and Snow Globe open from 2 pm to 8 pm with last entry at 7.30 pm.
Symphony of Lights
Date: 1 December to 26 December 2014
Venue: Beach Plaza
Time: 7:30pm, 8:15pm, 8:30pm, 9:15pm, 9:30pm
Grill N' Chill
Date: 20 December – 28 December 2014
Venue: Merlion Plaza
Time: 4.30pm to 9.30pm