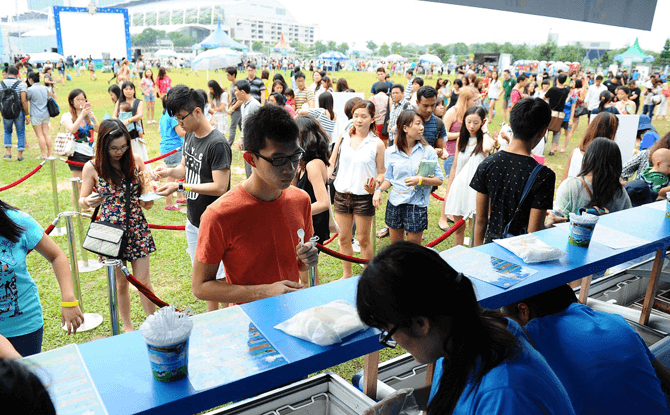 Savour a smorgasbord of ice cream flavours at Ben & Jerry's ChunkFest 2014. These include core flavours, along with exclusive ones brought in from the US for ChunkFest 2014.
This year's ChunkFest, now into its seventh edition, will be held at The Meadow at Gardens by the Bay on 4 October 2014.
In addition to the choice of flavours such as Cookie Affair, Americone Dream, White Russian and Banana Peanut Butter Greek Yogurt, there will also activities to keep visitors entertained. In the 'Vermonster' eating challenge, teams of four will compete to see who can devour 20 scoops of Ben & Jerry's ice creams to win a year's supply.
This year, ChunkFest 2014 will feature Sundae School (3 – 5.30 pm) as part of Ben & Jerry's global Join Our Core initiative to empower the next generation of ethical business minds. Sundae School @ ChunkFest provides a forum for local social innovation heroes from various fields to share stories to inspire, entertain and get attendees thinking outside the daily grind – all over a scoop of ice cream on us! Registration is required.
Visit the event website for more details.