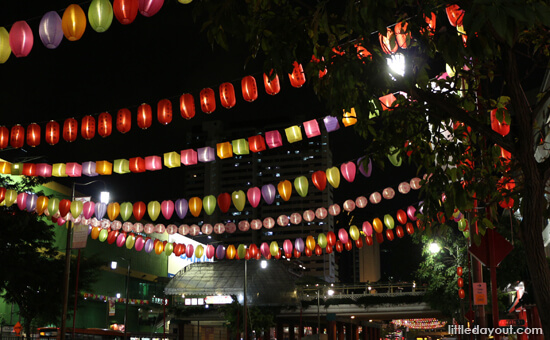 It is the time of year for kids to light up the lanterns and for adults to indulge in their favourite mooncakes. The Mid-Autumn Festival 2013 falls on 19 September, Thursday. If you are looking to take in the festivities, here are some Mid-Autumn activities taking place around Singapore for your enjoyment on the weekend before.
Mid-Autumn Festival @ The Gardens 2013
Gardens By The Bay celebrates the Mid-Autumn Festival with the Mid-Autumn Festival @ The Gardens 2013. Taking place at the outdoor gardens and The Meadow from 13 to 22 September, hand-crafted lantern displays with themes such as Jurassic Park and World of Fairy Tales will found around the Gardens. Accompanying stage performances and handicraft activities will bring the festivities to life while over at the Flower Dome, visitors can view a themed floral display that includes three dragonfly lanterns, pretty Chinese lanterns and traditional paper cut-outs that tell the myths and legends of the festival. Operating hours to the two conservatories are extended till 11.00 pm between 13 and 22 September and there is a 15% discount on admission fees to the Conservatories during this period.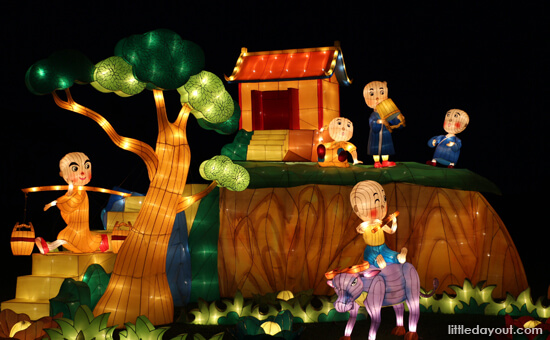 Chinatown Mid-Autumn Festival 2013 Light Up
With the theme "Kaleidoscope of Lanterns", 20,000 multi-coloured, decorative lanterns adorn the streets of Chinatown this year. Enjoy the bustle of street vendors and the sounds of nightly stage shows while walking around Chinatown's historic lanes in the evening. If you are shopping for lanterns, head to the junction of Smith Street and Trengganu Street where a large selection are on sale.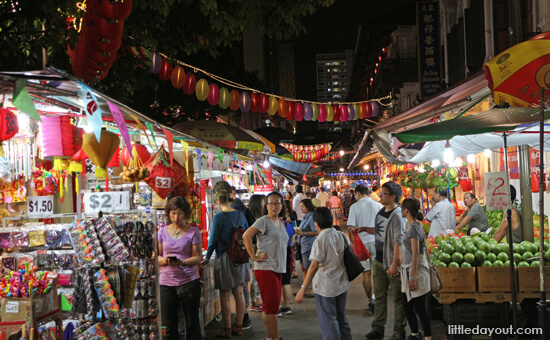 Moonfest 2013 at Esplanade
The Esplanade's Moonfest 2013 brings audiences both free and ticketed programmes in celebration of the Mid-Autumn Festival. While the ticketed parent-child workshops are already sold out, you can still join in the free programmes taking place between 13 to 15 September. Get crafty in Let's Print with Woodblocks! (14 & 15 September, 1.30 pm, 3.30 pm & 5.50 pm), take part in The Chang Er Rescue interactive storytelling session (14 September, 1.00 pm & 2.30 pm) and be dazzled by theTraditional Extravaganza performance at the Outdoor Theatre (13 September, 7.15 pm, 8.30 pm & 9.15 pm).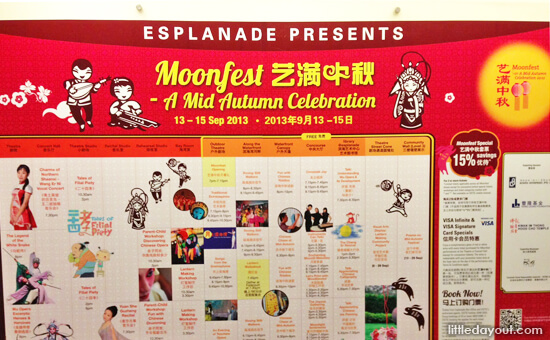 Chinese Garden Mid-Autumn Festival 2013 Presents: Jurassic Safari
Dinosaurs invade the Chinese Garden's Lantern Festival this year. Large animatronic dinosaurs (all with suspiciously similar growls and grunts) are scattered throughout the Garden. The organisers must have blown their entire budget on the dinosaurs this year because there are only a couple of oversized lanterns in the Garden. Personally, we preferred the usual kitsch, glowing lanterns to this year's growly dinosaurs, but there are plenty of kids who would be fascinated to see these creatures. Stage shows at 8.00 pm nightly and admission charges apply.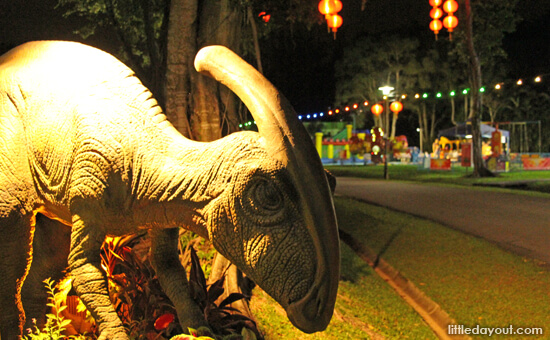 Wan Qing Mid-Autumn Festival 2013
Celebrate the Mid-Autumn Festival at the Sun Yat Sen Memorial Hall with free lantern-making workshops, arts and crafts demonstrations and cultural performances. Takes place 15 September from 10.00 am till 9.00 pm.
Downtown East's Mid-Autumn Festival Celebration
Watch the movie screening of "The Forbidden Kingdom" under the stars, be thrilled by wushu performances and a lighted dragon performance while sampling mooncakes and sipping tea. The Downtown East Mid-Autumn Festival celebrations take place 14 September, 7.00 pm at the Event Square & Courtyard.
VivoCity – The Largest Display of Hand-painted Lanterns
Since 2007, VivoCity has been organising record-breaking attempts every Mid-Autumn Festival. This year is no different with VivoCity vying to enter the Singapore Book of Records with The Largest Display of Hand-Painted Lanterns on 14 September. The record-breaking attempt starts from 5.30 pm at the Amphitheatre, Level 3 and you are invited to be part of it.
Lantern Walks
What is the Mid-Autumn Festival without kids playing with lanterns. Join in various lantern walks taking place around Singapore over the weekend, including the Mass Lantern Walk at Chinatown starting from Banda Street (15 September, 7.00 pm), the Esplanade's Moonfest Lantern Walkabout(14 September, 7.45 pm) and the Lantern Parade at Downtown East's Mid-Autumn Festival Celebration (14 September, 7.00 pm).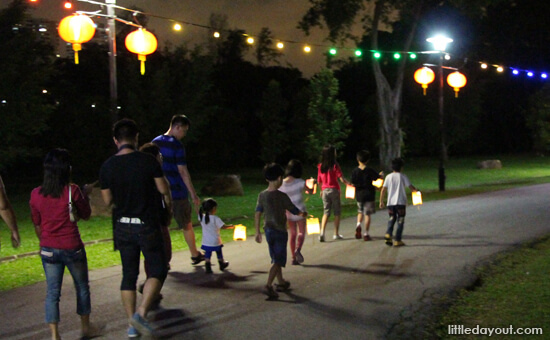 Mid-Autumn Festival Celebrations in the Heartlands
The festivities can also take place closer to home. Celebrations have been planned at selected HDB Neigbourhood Centres where there will be lantern design competitions, mooncakes and free traditional snacks such as Ding Ding and Dragon's Beard candy. These take place from 6.30 pm to 8.30 pm at Yew Tee Square, Depot Heights Shopping Centre, Vista Point and Sunshine Place on 14 September, and Limbang Shopping Centre, Loyang Point, Fajar Shopping Centre and Woodlands Mart on 15 September. Many Residential and Neighbourhood Committees also organise Mid-Autumn Festival celebrations, so keep a look out for them around your locale.
Have a moonlit Little Day Out!