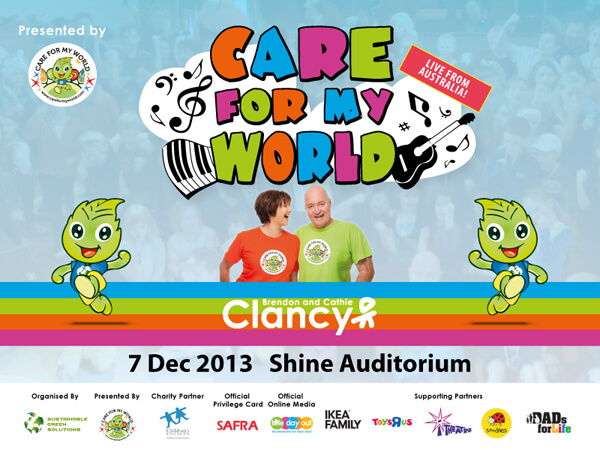 Care For My World is a fun-filled musical and educational show for children and families. You will laugh, sing and learn as Brendon, Cathie and Pio Pio (a mascot named after an extinct bird in New Zealand) show you how can make a difference to your environment, your habitat and to people in your world. Read more…
Learn with your children through different creative green innovations and educational programmes during the pre- and post-show exhibition. They will discover pens that can be re-used as toys, or even draw a piece of Mindmap Art to pledge their CARE FOR MY WORLD.
Watch Care For My World
Care For My World will be at the SHINE Auditorium at Shaw Tower, 100 Beach Road #03-01, Singapore 189702, on 7 December 2013, Saturday, at 3 pm.
Tickets are available from SISTIC.
PRICES:
Cat A – $45;
Cat B – $38;
Cat C – $28;
Cat D – $19
Family Package Special – 4 persons: $140 Cat B Tickets (Save $12)
Family Package Special – 5 persons: $170 Cat B Tickets (Save $20)
Recommended for 3- to 14-year-olds and families.
---
Little Day Out's "Care For My World Giveaway"
Stand a chance to win tickets to catch this fun musical show by answering a simple question in Little Day Out's "Care For My World Giveaway".
Participate and stand to win a family package of 4 Category A tickets (worth $152.00) to watch:
Care For My World Musical Show 2013
Presented by Sustainable Green Solutions Pte Ltd
on
Saturday, 7 December 2013, 3pm
at the SHINE Auditorium
Simply submit your answer to the question below by Sunday, 17 November 2013 to take part in the "Care For My World Giveaway":
Contest Question:
Q1 – When will the Care For My World Musical Show be held?
---
This Contest is Closed. 
Sign up for our eNewsletter to stay updated of future contests.
---
Terms and Conditions
Qualifying Entrants
1. This Contest is open only to residents of Singapore. Entrants under the age of thirteen (13) years old must seek parental and/or guardian consent before participating in the Contest.
Contest Entries
2. The Contest is valid from 8 November to 17 November 2013.
3. There will be 1 winner receiving a set of 4 Cat A tickets to the Sunday, 7 December 2013, 3 pm performance of Care For My World.
4. All entries must be received before 23:59 hours on 17 November 2013.
5. Representatives of Little Day Out will pick the Contest winners for the relevant tickets from eligible entries. No correspondence will be entertained about Little Day Out's decision.
6. The winners may be required to participate in a photo taking session during the issuing of the prizes. Pictures may be posted online or showcased for display purposes.
7. Little Day Out reserves the right to disqualify all entries that do not meet the rules and regulations of the Contest. These include entries submitted with invalid or incorrect information.
Prizes
8. Entries must be completed in full and made in the manner specified by the closing date. Failure to do so will disqualify the entry.
9. Winners must produce proof of identity e.g. NRIC or work permit pass and the printed prize notification email upon the prize collection.
10. Prizes are non-transferable and non-exchangeable for cash or other items and may be subject to availability. Value of the prizes may vary; Little Day Out reserves the right to replace any prizes with items of similar value without prior notice.
11. Little Day Out reserves the right to substitute the prizes for its price equivalent where necessary.
12. The winner of the Contest will be notified by via a prize notification email. Little Day Out reserves the rights to deal with all unclaimed prizes in any manner deemed fit.
13. The winner is required to respond within a week from notification date in order to be the eligible winner. The winner who does not respond will be forfeited.
14. Where applicable, prizes not collected shall be disposed of at Little Day Out 's sole discretion. Little Day Out 's decision regarding the award of all prizes, and/or in every situation including any not covered in these Terms and Conditions, shall be final and binding on all participants in the contest, and no queries, challenges or appeals may be made or entertained regarding Little Day Out 's decision on the same. The receipt by any winner of any prize under this Contest is conditional upon compliance with any and all applicable laws, rules and regulations.
15. Acceptance of any prize shall constitute consent on the winner's part to allow the use of the winner's name, image, voice and/or likeness by Little Day Out for editorial, advertising, promotional, marketing and/or other purposes without further compensation except where prohibited by law. Acceptance of any prize shall constitute a release and discharge of Little Day Out by each winner from any and all liability, claims, demands, causes of action, and/or damages which the winner may have, whether known or unknown at the present time, of any nature whatsoever, arising out of or relating to: (i) the contest, (ii) personal injury and/or property damage, theft or loss suffered by the winner as a result of the use and/or enjoyment of the prize, and/or (iii) any tax liabilities in relation to the contest, prize and/or use or enjoyment of the same.
16. In the event that any entrant is disqualified from the Contest, Little Day Out at its sole discretion may decide whether a replacement entrant should be selected. In this event, any further entrant will be selected on the same criteria as the original entrant and will be subject to the Terms and Conditions.
Liabilities
17. Little Day Out cannot accept any responsibility for any damage, loss, injury or disappointment suffered by any entrant entering the Contest or as a result of entering the Contest or accepting any prize. Little Day Out is not responsible for any safe custody, return, non-delivery or missing of entries, late, misdirected, problems or technical malfunction of any telephone network or lines, computer on-line systems, servers, or providers, computer equipment, software failure of any email or entry to be received on account of technical problems or traffic congestion on the Internet, telephone lines or at any web site, or any combination thereof, including any injury or damage to entrant's or any other person's computer or mobile telephone related to or resulting from participation or downloading any materials in the Contest.
18. By entering the Contest or accepting the prizes, You agree that no claim relating to such losses or injuries (including special, indirect and consequential losses) shall be asserted against Little Day Out, its parent companies, affiliates, directors, officers, employees or agents from any and all losses, damages, rights, claims and actions of any kind resulting from the Contest and acceptance of any prize, including without limitation, personal injuries, death and property damage.
Use of Personal Information
19. By entering the Contest, You agree:
a. to the use of your name and/or likeness, without compensation, for Little Day Out's promotional and marketing purposes; and
b. to the use of the information submitted on the contest entry form, without compensation, for Little Day Out 's promotional and marketing purposes.
20. Each individual participating to this Contest acknowledges that:
a. in respect of any Personal Information disclosed by her/him to Little Day Out or obtained by Little Day Out from her/him pursuant to this application:
she/he is authorized to disclose such Personal Information; such disclosure complies with any Privacy Legislation from any country, within the geographical scope of this competition, and the use of such Personal Information by Little Day Out as contemplated by this application (including, without limitation, the disclosure of such Personal Information to Little Day Out 's external agencies or third parties)
21. By participating in this Contest, you are also consenting to receive eNewsletters and updates from Little Day Out. You may choose to opt out of receiving these updates at anytime via the unsubscribe link attached to the email. By participating in this contest, you also accept the terms and conditions of this contest and agree to allow Little Day Out to republish your stories on the Little Day Out website and social media channels, and to participate in all promotional activities upon winning the prize.