It's been a busy year on the family front for Singapore.
The north-east (Sengkang, Punggol and East Coast) is an alluring area with a host of new offerings, like the Marine Cove playground, Waterway Point Playground, Compass One playground, and SAFRA Punggol Clubhouse.
There are also new play ideas like Diggersite (real excavators that are kid-sized), Kidzania (a city offering role-play jobs, also kid-sized), ArtScience Museum (art meets digital tech), and The Tinkering Studio @Science Centre (hands-on problem-solving).
Meanwhile, there are spots that help keep us city dwellers in touch with nature. The King of Hills have returned and there is lots to do at Bukit Timah Hill and its surrounding reserves, while the newly-opened Kranji Marshes offers one of the largest freshwater marshlands in Singapore.
---
-- Story continues below --
We had so much fun this year! Here is the best of 2016.

NEW PLAYGROUNDS IN EAST & NORTH-EAST
Marine Cove Playground
After two years of construction, Marine Cove at East Coast Park returned this year with a new open-concept look and family-friendly amenities.
Most importantly, it is also where you can find the AWESOME Marine Cove Playground.
Spread over 21,500 square metres, the new Marine Cove has been designed as a recreational space for families.
The 3,500 sqm playground will keep kids from the ages of two to 12 years old occupied with oodles and oodles of fun.
Waterway Point Playground
The long-awaited Waterway Point mall in Punggol opened in Jan this year, Punggolians rejoiced.
But North-Easters had to wait a while longer till its rooftop playground opened later in September.
Waterway Point Playground is an outdoor play zone which includes rope-climbing, slides and trampolines at the dry zone along with a water-tastic wet area for the kids to enjoy a bout of splishy-splashy fun.
Compass One Playground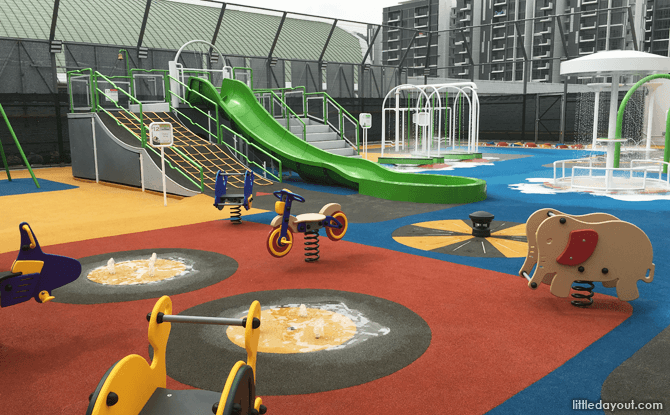 When shopping mall Compass One in Sengkang re-opened after renovations, Sengkangians flocked to check it out.
Its rooftop playground on the fourth floor is designed for children from two to 12 years old, and includes 17 wet and dry play elements.
Besides the iconic bright green waterslide at the centre of the playground, there is also a "Ninja Trail" that leads kids on a mini-water obstacle course.
SAFRA Punggol Clubhouse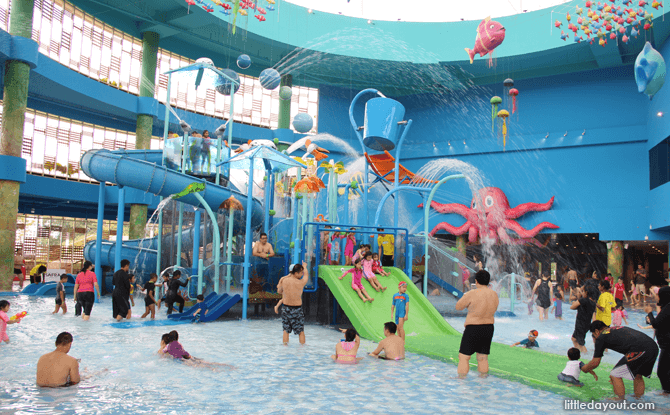 The newly-opened SAFRA Punggol clubhouse combines family recreation with a riverside view.
With offerings like a huge indoor water playground, a well-outfitted gym, a spa getaway, various restaurants and enrichment schools, the $64.4-million complex is a welcome addition to Punggol Waterway.
Located right next to the waterway – there are no gates – SAFRA Punggol is a curvy cascading five-storey building on a natural slope with direct access to the waterway footpath.
NEW PLAY IDEAS
Diggersite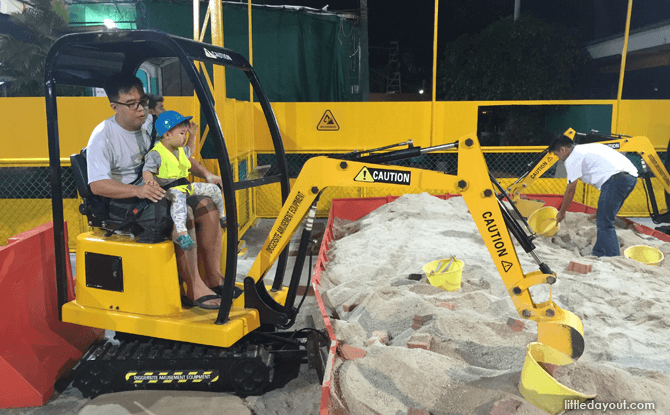 Get some serious play at Diggersite in East Coast and satisfy your construction site-crazy (inner) child.
Opened this year, Diggersite has construction machinery like excavators in kid-sized 5-minute rides, offering a fun and educational experience for all ages.
Adults may enjoy this as much as the kids!
ArtScience Museum
FUTURE WORLD: Where Art Meets Science, the new permanent exhibition at ArtScience Museum, opened its doors in March.
Immersive experiences combine community art with digital technology to let imagination take flight. Co-curated by Japanese multi-award winning art collective, teamLab, the exhibition is Singapore's largest digital playground.
With 15 digital installations that fuse cutting-edge technology with artistic sensibilities, visitors to the exhibition, especially young children, can throw themselves into an immersive and fantastical world.
KidZania Singapore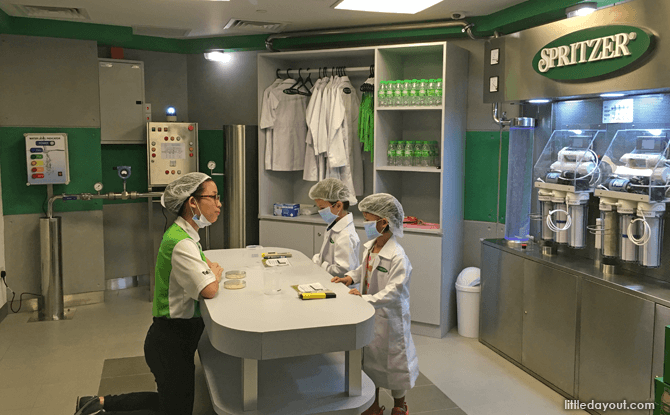 This is a place where kids get to take on real "jobs" in a kid-sized city.
In Kidzania, firemen rush to get a blaze under control, chefs are putting the finishing touches to pizzas, and aspiring actors rehearse conscientiously for their debut in front of a live audience.
Officially opened in April, KidZania Singapore is number 23 in the worldwide franchise which originated in Mexico, back in 1999.
The 7,600 sqm indoor play city has the floor space the equivalent of six Olympic-sized swimming pools.
The Tinkering Studio @Science Centre
The Tinkering Studio is a place where learning is by doing, getting things wrong is part of the process and experimentation rules.
The newly-opened studio is a collaboration between Science Centre Singapore and San Francisco-based science centre, The Exploratorium.
The Tinkering Studio is a hands-on activity space where kids are encouraged to fiddle around and come up with new ideas.
Made up of various activity stations, kids can concoct solutions to challenges posted, or even choose to redefine the problem and set their own challenges.
Playeum: Children's Centre for Creativity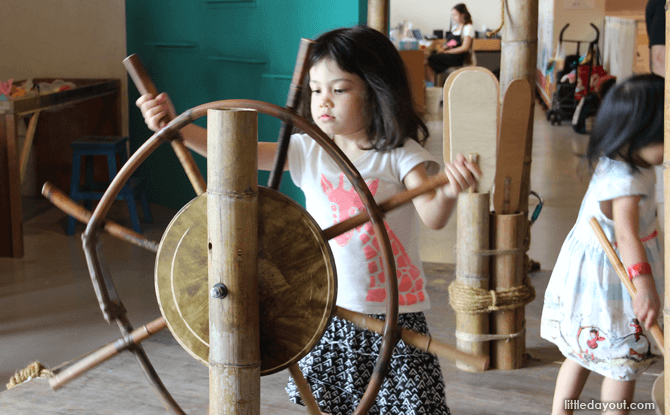 Since opening in September 2015, Playeum's Children's Centre for Creativity has been the new "it" place to go with young kids. It has a reputation of hands-on, open-ended play.
In November, Playeum opened exclusively for Little Day Out readers for a preview of their third – and latest – exhibition which combines stories with play.
A bright, airy space, full of possibilities. A large ship awaits adventures in the middle of the room; while colourful igloo-caves quietly beckon; and at the side, a shore of sand warmly welcomes you. A World Full of Stories is great fun for kids who love to weave their own stories. It runs till April 2017.
NATURE SPOTS
Kranji Marshes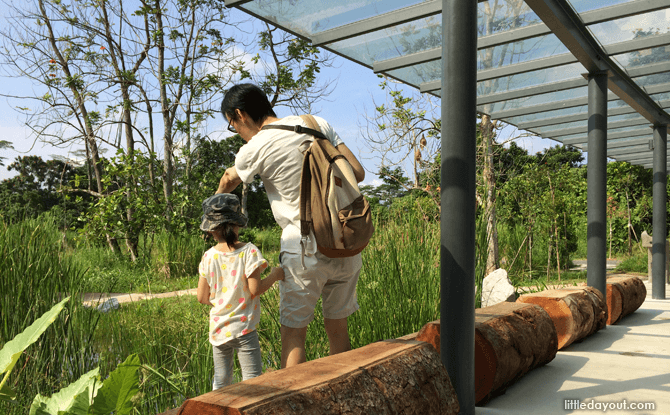 Newly opened in February 2016, Kranji Marshes is a world away from the typical Singapore city life.
The 56.8-hectare marshland is one of the largest freshwater marshes in Singapore, and home to more than 170 species of birds, 54 species of butterflies, and 33 species of dragonflies.
Peaceful and inviting, the Marshes are a good change from the usual activity-packed, high-tech man-made destinations that kids are more accustomed to.
Bukit Timah Nature Reserve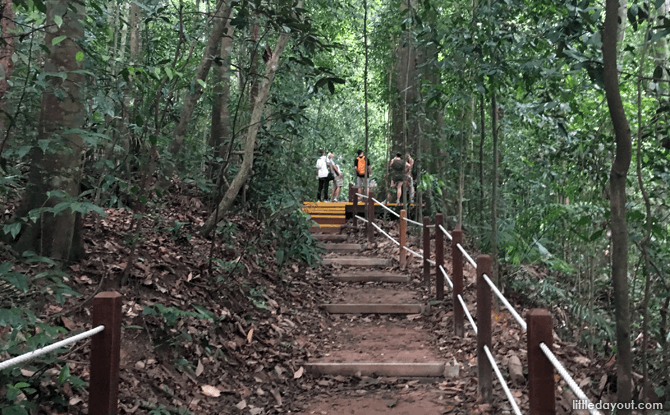 The king of Singapore's hills returned this year. All hail Bukit Timah Hill and the surrounding Bukit Timah Nature Reserve.
After being closed for two years and partially reopened in 2015, Bukit Timah Hill and Bukit Timah Nature Reserve welcomed visitors again after a $14-million revamp.
Closed in Sept 2014 to enhance visitor safety, the two-year downtime resulted in reinforced trail steps and rope railing which help to better define the trails. There are also raised boardwalks that make the visitor experience more pleasant while protecting the natural environment.
Look out for hidden caves and other fun things to do at Bukit Timah Hill!