Experience the festive spirit at Christmas Wonderland 2017, taking place at Gardens by the Bay from 1 to 26 December 2017 with its trademark luminarie light sculptures, Christmas market and yuletide performances.
Christmas Wonderland 2017 will set across a 57,000 square metre fairground with admission fees starting from $4. This will provide visitors access to multiple attractions, amusements, and acts. Here are 9 highlights you can look forward to at Christmas Wonderland 2017.
1. Outdoor Skating Rink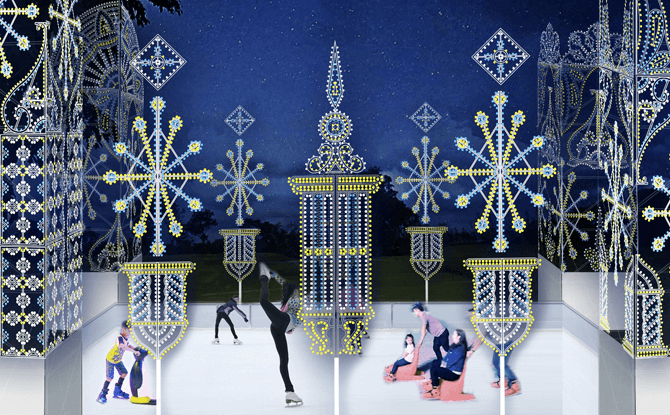 Ever seen movies with people skating around in an outdoor rink? Christmas Wonderland 2017 will allow you to live this with a 240 square metre outdoor synthetic skating rink. This rink, specially brought in from Switzerland, will be at The Meadow at Gardens by the Bay.
2. Circus Abyssinia Performances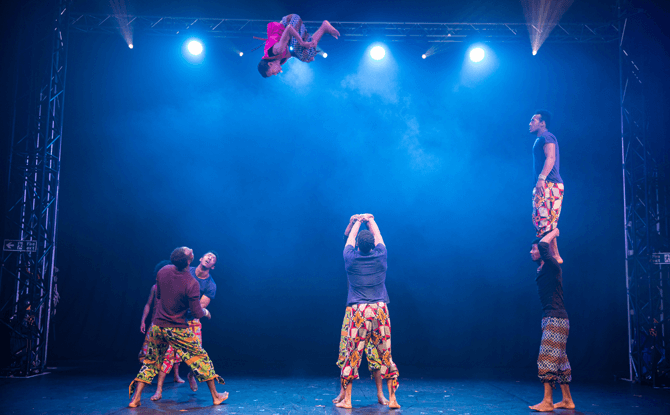 Be captivated by the gravity-defying stunts and skills of Circus Abyssinia as the African group perform in Asia for the first time at Christmas Wonderland 2017. Watch Circus Abyssinia's Ethiopian Dreams performance at The Meadow on Tuesdays to Sunday and on Christmas Day.
3. Santa's Grotto
Looking for Santa? Step into Santa's Grotto at the Christmas Wonderland 2017 fairground. With flying, life-sized reindeers, a wooden Alpine House and photo opportunities with Santa, we hope you have been nice this year. Santa Grotto visitors will receive a lucky draw ticket with prizes such as free carnival rides, Circus Abyssinia tickets and food and beverage vouchers given away daily. There is also a Grand Prize of a trip for two to Lapland, Finland.
4. SAVOUR: Christmas Wonderland
Tuck into gourmet delights at SAVOUR: Christmas Wonderland dining experience at Christmas Wonderland 2017. Curated by Savour Events, this festive food festival will feature celebrity chefs from award-winning restaurants such as Shoukouwa and Saint Pierre. There will also be a special Wine Market with wines from around the world.
5. Luminarie Light Sculptures
Christmas Wonderland would not be the same without its handcrafted luminarie light sculptures from Italy. This year, visitors can expect to be dazzled by more than 70 of the luminarie sculptures including a 13-metre-tall Christmas "tree". The welcome arches at The Meadow and Dragonfly bridges also infuses Singapore's Indian, Chinese and Malay elements into its design.
6. Blizzard Time
The 22.5-metre-tall Spalliera luminaire will be the site of the popular Blizzard Time where visitors will be able to experience "snowfall". This year, the number of Blizzard Time sessions has been expanded to five times daily, up from three sessions in the past.
7. Performances at Cassa Armonica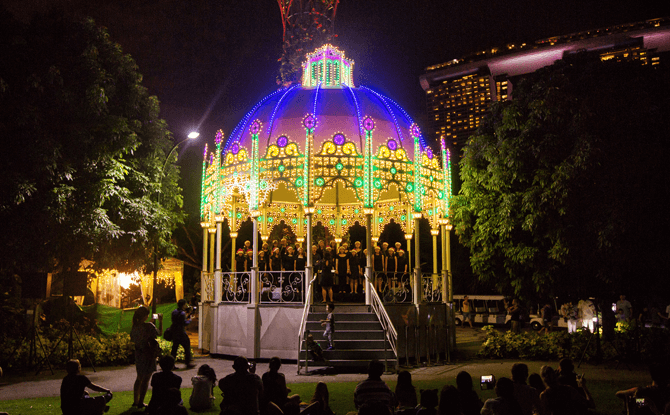 Choirs and singer-songwriter performers will take to the stage at the eight-metre wide Cassa Armonica gazebo, bringing yuletide cheer to visitors and celebrating the festive spirit in music and song.
8. Carnival Rides and Games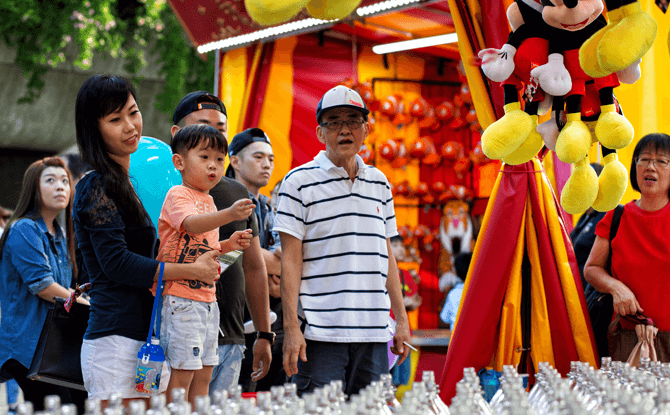 Enjoy the festive atmosphere with carnival attractions that the whole family can enjoy at Christmas Wonderland 2017. There are eight carnival rides at the fairground this year. This includes a carousel, Ferris wheel, bumper cars and a Christmas train. Step up to any of the 11 carnival stalls to test your skills with games such as Ring Toss, Lobster Pot and Milk Can Toss.
9. Festive Market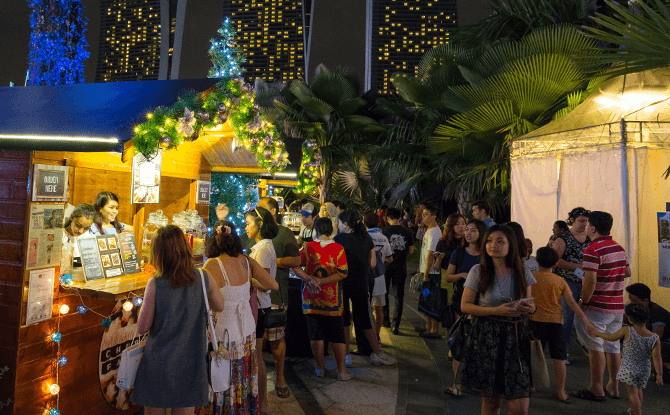 The European-style Festive Market returns at this year's Christmas Wonderland at Supertree Grove. Shop and dine with vendors such as The Racelette Factory and Propupstore.
What Else Is Taking Place At Gardens By The Bay
Other highlights to look out for around Gardens by the Bay during the Christmas season include a special edition of the free Garden Rhapsody light-and-sound show. This will feature popular festive tunes.
The Poinsettia Wishes floral display will be ongoing at the Flower Dome from 10 November 2017 to 8 January 2018. A bundled ticketing option for Gardens by the Bay's cooled conservatories and Christmas Wonderland 2017 at a discounted rate will also be available for purchase online.
Christmas Wonderland 2017 is a ticketed event with admission starting from $4. Admission charges vary according to dates. Each paying adult can bring in up to three children under 0.9 metres free of charge. Tickets are available online or onsite at the event.
Christmas Wonderland 2017
Dates: 1 to 26 December 2017
Time: 4 pm to 11 pm daily
Admission charges apply with additional charges for some attractions within the event grounds.
Website