Log cakes, also known as Yule logs, are a Christmas treat. Traditionally made from chocolate, they hark back to a time in Europe when a fresh log would be lit to create a fire for the family to gather around. While we are not likely to be lighting any log fires anytime soon, we can still gather around delicious log cakes in Singapore 2017 for a wonderful time with family and friends.
Log Cakes In Singapore 2017
Here are some log cakes in Singapore 2017 and where to get them this Christmas. Take note the some of these may require pre-ordering.
---
1. Rainbow Yule Log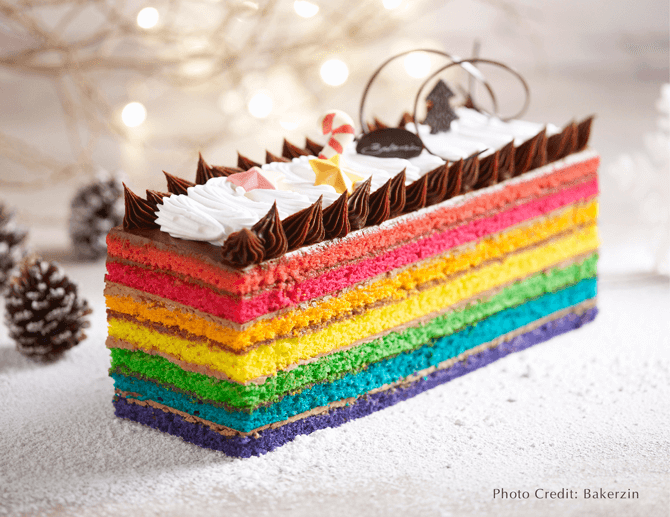 Bakerzin Singapore
$56.07
Indulge in delectable (and pretty-looking) log cakes from Bakerzin. The Rainbow Yule Log shines with seven colourful layers of beautiful light sponge filled with chocolate buttercream and orange ganache. A perfect indulgence for chocolate lovers is the Triplette Chocolat Cake Log with three different flavours of chocolate in one log cake. The Coconut Passion Yule Log combines desiccated coconut with tangy sweet passion cream for white Christmasy creation!
---
2. Salted Caramel Yule Log
PrimaDéli
Regular – $43.80, 1 kg – $54.80
The Salted Caramel Yule Log from PrimaDéli brings together light and fluffy vanilla sponge cake layers with fillings of salted caramel cream and crunchy caramel biscuits. Beautifully decorated with stars, it is also covered with a caramel buttercream and caramel sauce. The Yule Log is part of PrimaDéli's Christmas Collection which includes other sweet treats such as a rich Enchanted Carousel cake and Santa's cottage cake. Available in stores until 25 December 2017.
---
3. Durian Gula Melaka Yule Log
Lime Restaurant, PARKROYAL on Pickering
500 gm – $30, 1 kg – $58
Sample log cakes in Singapore 2017 with a local twist from the Lime restaurant at PARKROYAL on Pickering. In addition to the Durian Gula Melaka Yule Log, other flavours available include Chocolate Yuze, Pandan Coconut and Matcha Azuki. Available until 30 December 2017.
---
4. Zesty Logs
Goodwood Park Hotel
Two logs, 500 gm total – $52 a pair
What's better than one log cake? Two, of course. Goodwood Park Hotel's Zesty Logs consists of two tree 'stumps' and comes in two citrusy flavours – Apple mousse calamansi cream with chiffon sponge and Caraibe Chocolate Orange scented cream with flourless chocolate sponge. Goodwood Park Hotel's indulgent "Mao Shan Wang" Durian Christmas log cake also returns by popular demand at $69 for 500 gm. These sweet treats are available from 1 to 26 December 2017.
---
5. La Bûche de Noël
Joël Robuchon Patisserie, Resorts World Sentosa
$120+
Enjoy an exquisite treat with a handcrafted log cake by chief pastry chef Antonio Benites. La Bûche de Noël is a traditional Christmas log stuffed with almonds, acai jelly and Piedmont hazelnut praline. The log cake is available only at Joël Robuchon Patisserie for pre-orders from 7 to 21 December.
---
6. Red Velvet Yule Log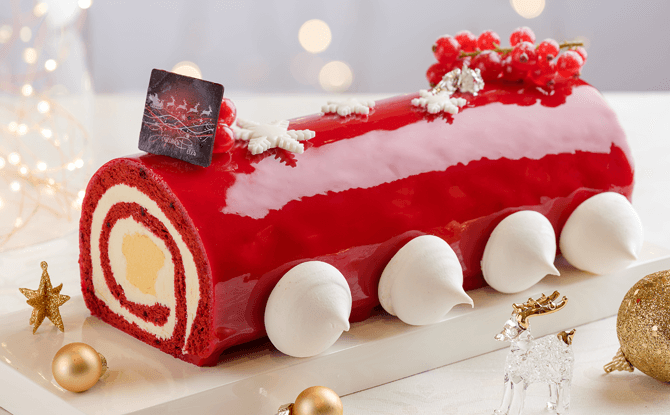 Marriot Singapore Tang Plaza
1 kg – $68
Decked up in Christmas colours is the Red Velvet Log Cake. Marriot Singapore Tang Plaza also offers log cakes in Singapore 2017 in other flavours such as Traditional Chocolate Fudge and Coffee Praline Dulcey. Other festive cakes include Baked Speculos Caramel Lotus Cookies Cheesecake and Black Forest Bûche de Noël.
---
7. Mango Yuzu Log Cake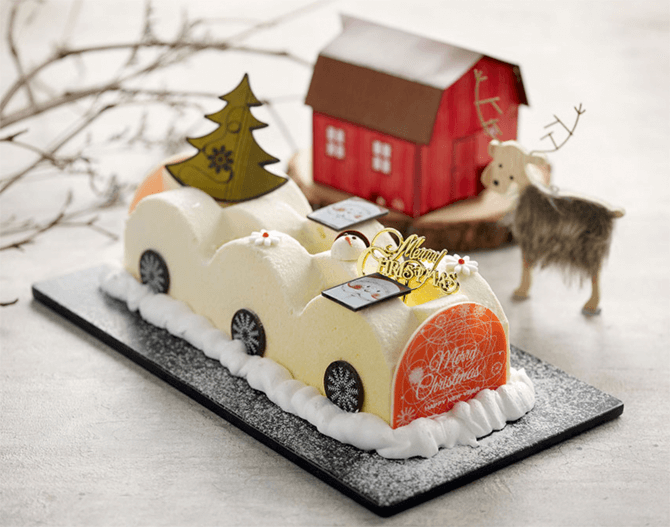 Jack's Place
1 kg – $45.80
Taste the refreshing flavours of mango and yuzu in this log cake in Singapore 2017 from Jack's Place. The Yuzu Mango Mousse log cake is accompanied with Yuzu Mango Curd with Peach, Passion Compote and Hazelnut Croquant. Jack's Place also has a more traditional Chocolate Chestnut Praline log cake available.
---
8. Yuzu Green Tea Polenta Log Cake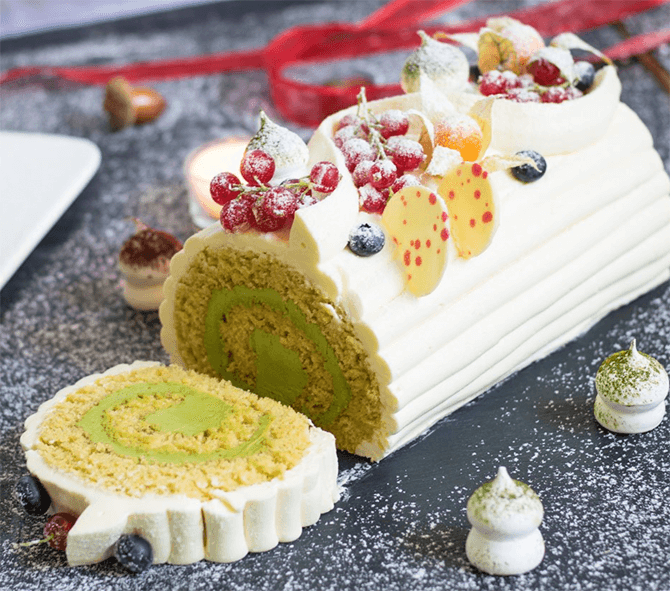 Cedele
Good for eight serves – $68
Cedele combines yuzu with the flavours of green tea in this log cake from moist polenta and filled with matcha cream, finished with a yuzu cream cheese frosting. Other log cakes in Singapore 2017 available from Cedele include Chocolate Flourless Log Cake and Dark Rum Tiramisu Log Cake.
More Stories on Christmas: