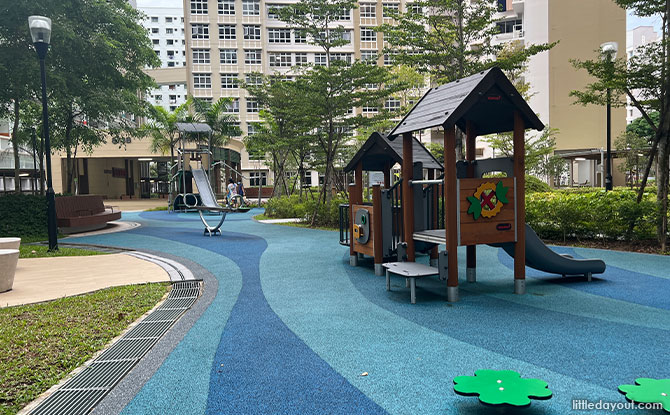 Tampines GreenFlora is located along Tampines Street 85. It has various facilities such as a playground, an open space and a fitness corner. According to the Housing and Development Board's site, the development comprises 319 units of 4-, 5-room and 3Gen flats and was completed in 2020 in the midst of the Covid-19 pandemic.
---
Resting areas at Tampines GreenFlora
Anyone in Tampines GreenFlora will notice a large number of trees and greenery around the area. There are various wooden trellises that add to the "natural and wooden theme" of the development. The design of these wooden trellises was similar to that of those in Tampines GreenBloom, as they can also create a play of lights and shadows as one walks through them. There are also different seating areas and benches around the area to rest at.
---
-- Story continues below --
---
Tampines GreenFlora Playground and Fitness Corner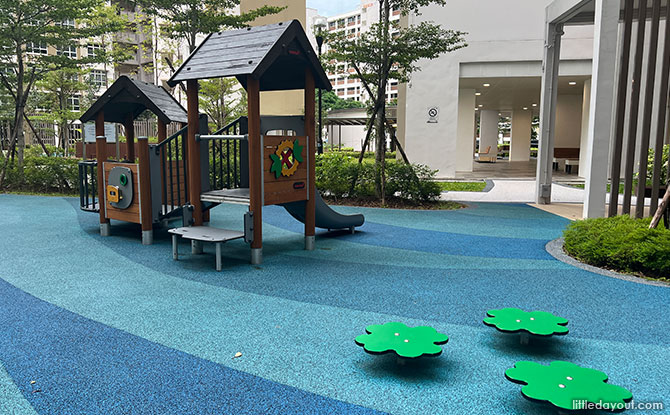 The playground at Tampines GreenFlora is pretty easy to find and it is located in close proximity to the adult-sized fitness corner, meaning children and adults can enjoy playtime together.
The playground has a main playhouse that has two different roofs and is interconnected with an elevated ramp. The playground with the higher platform is where children can slide down a short slide while the lower platform has more interactive play elements such as movable beads and a small "mailbox". There are also a few small lily pads that children can jump across.
Another play element to enjoy is the see-saw which has a circular handle, instead of the usual bar to hold. We think that this might be ergonomically more pleasant to hold as compared to the older and more traditional design of a see-saw.
For slightly older kids, there is another play structure with a much taller slide and it also comes complete with a climbing ladder and some ropes.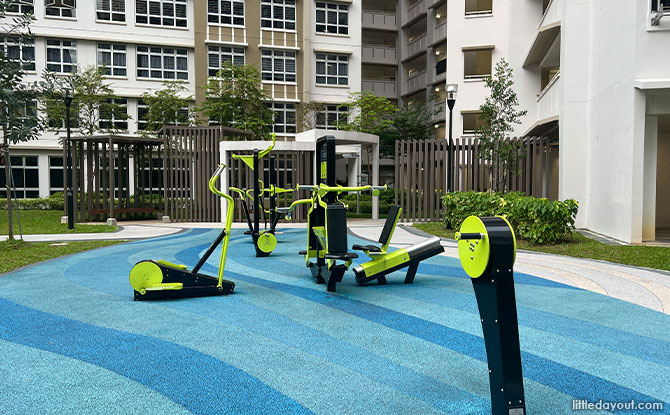 The fitness area's machines are bright lime green and black. The variety of equipment allows users to do a mix of lower and upper body exercises with some machines that focus specifically on the legs and others that are great for working biceps.
---
Tampines GreenFlora Open Sheltered Area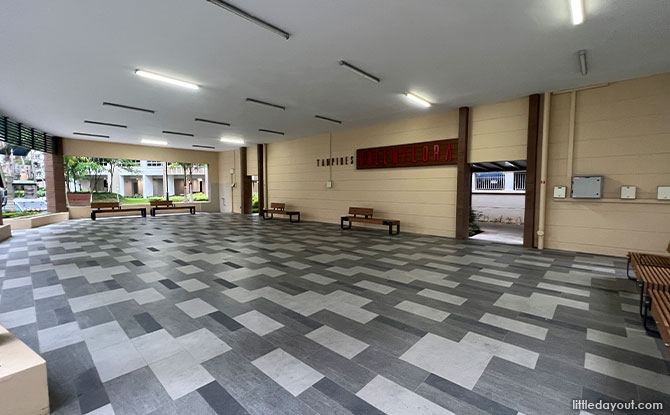 On especially sunny days, the open sheltered area at Tampines GreenFlora is a great place to take shelter from the heat. This area is probably most frequently used for community activities for the residents.
---
Tampines GreenFlora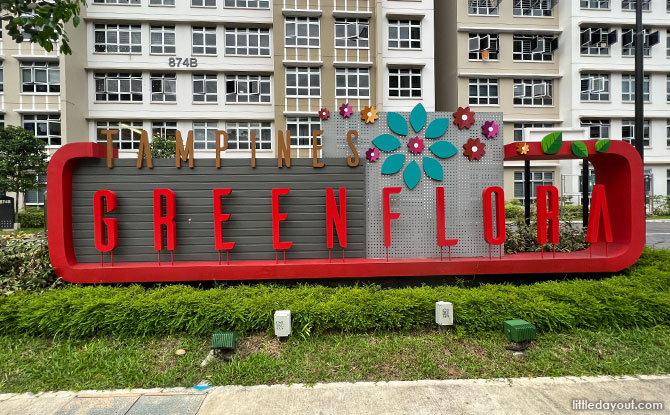 Tampines GreenFlora is located just a short walk away from Tampines GreenBloom and Tampines Green Forest Park & Playground. All of them are located near Tampines Avenue 8.