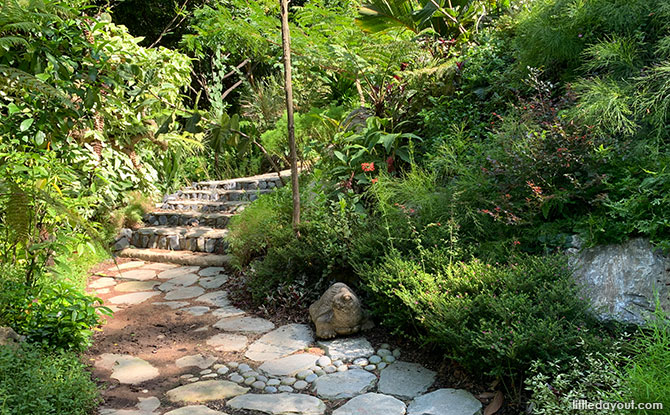 The Rock Garden at HortPark opened in 2021 but it still seems to be well-hidden and undiscovered spot. Even though small, it is filled with interesting and unusual looking plants waiting to be discovered.
Located across the main path from the HortPark children's playground, the Rock Garden is named after the rocky path which creates a small loop around the little alcove. From the walkway, the only clue to it is the cobblestone trail which leads the way in.
Even though small, the Rock Garden is divided into three sections. These are the Canyon, the Boulder Valley and the Grotto.
---
Visiting the 3 Zones at the Rock Garden, HortPark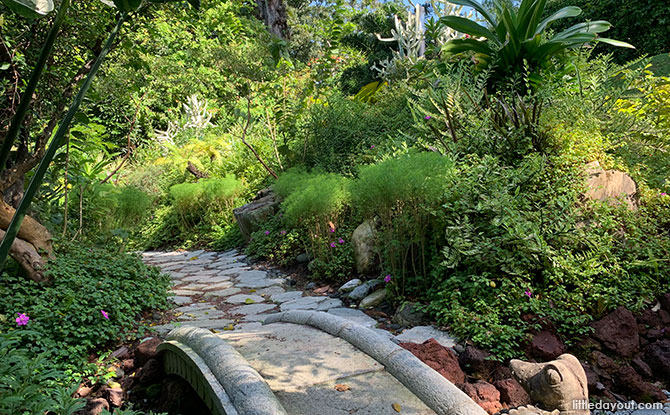 ---
-- Story continues below --
In the Canyon, there are plants with different unique forms.
Across a small stone bridge is the Boulder Valley. In this section of the HortPark Rock Garden, there are plants with spiky and twisty leaves or stems.
The last zone, the Grotto, features plants with droopy forms.
---
Plants to Keep A Look Out for on a Visit
With so many different plant types and forms packed into the small space of the Rock Garden, it is a great spot for those who enjoy botanical art. In fact, that was one of the reasons why the Rock Garden was set up in the first place.
However, even if you aren't into sketching plants, you can still have a fun treasure hunt around the Rock Garden trying to spot the many different shapes and forms of plants. It is a visual treasure hunt which will put your powers of observation to the test.
Here are some fascinating plants that you can look for at the HortPark Rock Garden.
---
Duck's Foot Tree – Leaves which look like webbed feet

---
Codiaeum "Mother and Daughter" – Pairs of spoon-shaped leaves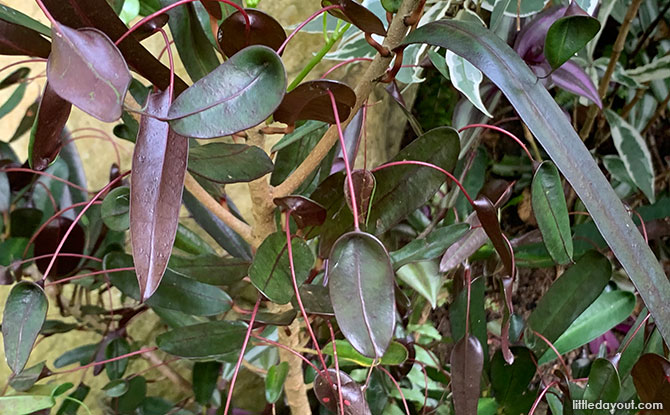 ---
Pink Rose Cactus – Thorny stems

---
Spiny Black Olive – DNA-shaped stems

---
Sea Holly – Looks like Christmas Holly

---
Pencil Tree – Antler-looking stems

---
Indian Screw Tree – Twisted Pod

---
Croton – Twisted Leaves

---
Zigzag Plant – Zigzag Stem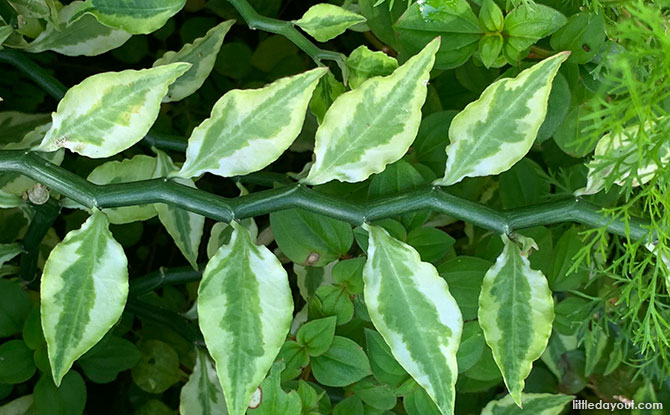 Have fun trying to spot these plants while at HortPark's Rock Garden.
The garden can be found on the opposite side of the road from the start of the children's playground, if you are coming from the main building. The scarecrow at the children's playground also looks directly in the direction of the Rock Garden.