Through Outdoor School Singapore's day adventure camps for children (aged 5 to 9), little learners will get to discover nature parks in Singapore while developing ecological awareness, empathy and intelligence, growing up to be risk-taking, responsible and resilient citizens.
---
Outdoor School Singapore Holiday Camps 2022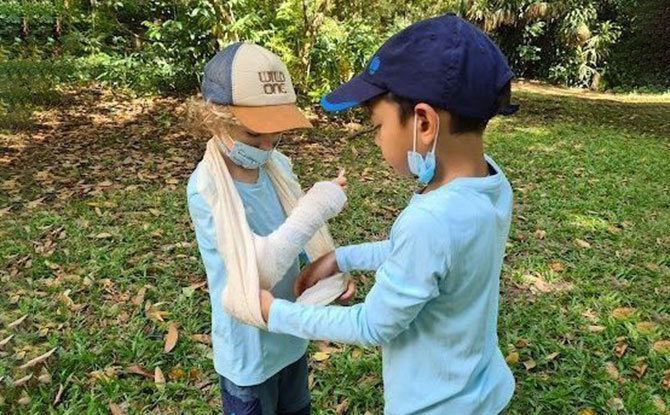 Sign up for full-day (6 hours) drop-off camps. Choose from a series of survival-themed camps running from now till end of the year.
1. Tall Timber
Learn the basics to survive the outdoors through knot-tying. With the knowledge of various knots, our explorers will get to build their own shelters and survival tools such as a fishing rod. Get more details here.
2. Jungle Rescuers
Learn about nature's strengths and how they overcome adversities. Apply the same resilience through improvisational first-aid techniques and outdoor risk assessments when braving our daily mission. Get more details here.
3. Kampong Kakis
Conquer the ultimate survival test at Pulau Ubin. Lead your team to navigate around the last kampong in Singapore. Observe how mankind can co-exist harmoniously with nature. Get more details here.
Base Camp is located at 229 Mountbatten Road, Mountbatten Square, Singapore 398007. Transportation will be provided between Base Camp and the respective parks (varies across holiday camps).
Get more details of camps available here.
---
Why OSS?
– Child-led programme: Children will take the lead when outdoors – from navigating around the park and organising friends to solve missions, to taking care of their own meals and wellbeing.
– Children will hone life-skills like resilience, communication and problem-solving through age-appropriate activities throughout the programme
– Trained & experienced instructors: Instructors practice nature pedagogy in their teaching and is equipped with ecological awareness to guide children's learning.
– Complimentary transportation (between Base Camps and respective parks), meal and snacks provided.
---
Enjoy $57 off Holiday Camps in October
Enter "SG57" upon checkout to enjoy $57 off Holiday Camps in October! Offer is valid while stocks last. Offer cannot be used in conjunction with any other discounts or promotions, unless otherwise stated.
Get more camp details here.
Have any questions? Drop an email to letsgo@outdoorschool.sg.