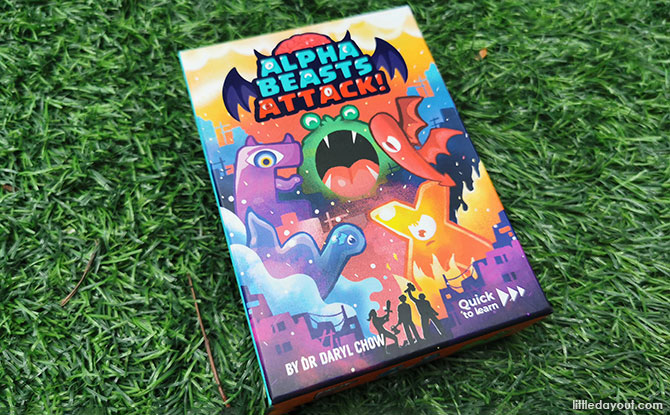 Alphabeasts Attack! is a co-operative strategy word game by Origame that will boost your child's literacy skills. Players will need to work together, form words with specific letters and rules to defend earth from marauding Alphabeasts!
Co-operative games also mean less tension among siblings (yay!) and a chance to work as a team rather than compete with each other.
---
How to Play Alphabeasts Attack!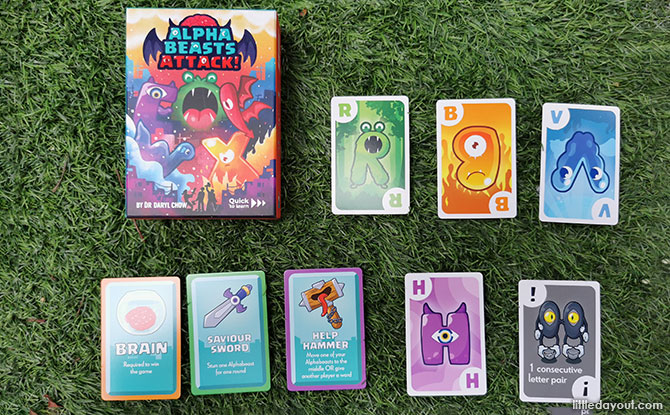 The aim of the game is to strike down Alphabeasts by forming a word containing it and not get scarred by undefeated beasts. The game ends once you have sufficient brains based on the number of players. However, you lose the game when you are inflicted scars according to the number of players.
---
-- Story continues below --
Before playing determine the difficulty level for the game. For a kid-friendly option, remove all Z, Q, J, X, V and all Alphabosses. Otherwise pit your brains to the challenge!
The setup will require some supervision from the adults – the player guide given to each player should help players setup the play. If in doubt, check the setup guide in the manual.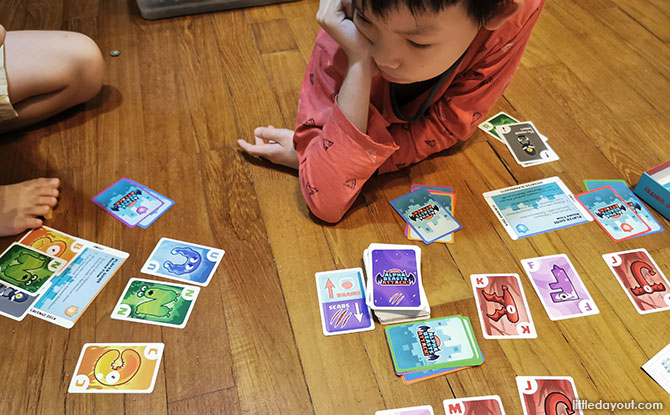 Each player is dealt eight player cards, with the starting cards marked with a shield face-up on the left and the rest facing down on the right. Each player has 3 Alphabeast cards. Everyone should defend against the beasts by thinking of a word containing as many of the Alphabeast letters attacking them. Alphabosses state conditions that need to be fulfilled when forming the word.
Undefeated Alphabeasts and Alphabosses will become scars placed underneath the Defence Status card. The rest of the defeated beasts will go into the discard pile.
Players can choose to use items such as Help Hammers and Saviour Sword to assist them.
---
Alphabeasts Attack! Review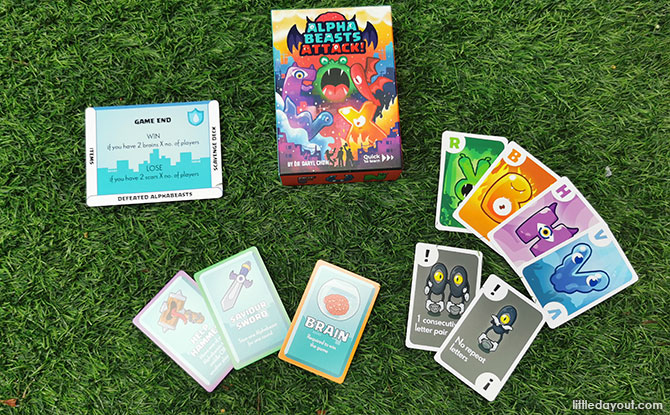 This is a game suitable for anyone learning to read and spell! We see this as a literacy-focused game that encourages everyone to help each other. It was a tad challenging to setup the game in the beginning, but we got accustomed to the flow and setup quite quickly.
We like how a seemingly inane task like spelling is gamified using beasts and weapons. It is a great way to bond as a family and hone our spelling skills without spellcheck activated.
You may also be interested in Origame's Reef Rescue game.
---
Take Part in Our Giveaway for a Chance to Win Your Own Set of Alphabeasts Attack!
This giveaway has closed. The winner will be announced shortly.