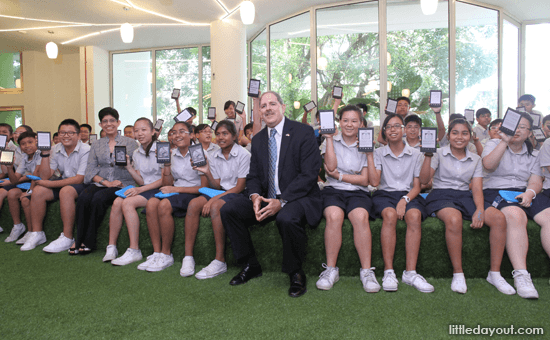 From today, 12 July 2013, library members can borrow 400 Sony eReaders from four public libraries – Geylang East, Toa Payoh, Jurong West and Ang Mo Kio – courtesy of a donation by the Embassy of the United States in Singapore.
Chief Executive Officer of National Library Board (NLB) Mrs Elaine Ng said that this generous donation will benefit Singaporeans especially those who do not have the means to own such electronic devices.
"These eReaders will appeal to our library patrons of all ages, from students to senior citizens, where they can read at their leisure and convenience," added Mrs Ng.
Chargé d'Affaires of the US Embassy Louis Mazel said that these eReaders will benefit library patrons and can be used to check out thousands of titles anywhere with a wireless connection. "This programme of lending eReaders to its patrons makes the NLB among the most forward-leaning library systems in the world and we are proud to support it."


Students from Manjusri Secondary School holding the palm-sized Sony eReaders with Mr Louis Mazel, Chargé d'Affaires, Embassy of the United States, Singapore and Guest-of-Honour Dr Fatimah Lateef, Member of Parliament, Marine Parade GRC.
---
-- Story continues below --
Five schools – St Anthony's Canossian Secondary School, Manjusri Secondary School, Naval Base Secondary School, Pioneer Primary School and Zhonghua Secondary School – were involved in the pilot run of the eReaders. The eReaders were brought to the schools where students were taught how to use them and had the chance to explore the device on their own.
Feedback from these sessions allowed NLB to improve the compulsory beginner classes that are held for members who want to borrow the device.
The expansion of the eDevice loan service was officiated by Dr Fatimah Lateef, Member of Parliament for the Marine Parade Group Representation Constituency, in conjunction with Geylang East Public Library's 25th anniversary celebrations.
Click here to find out more about the eDevices available for loan at public libraries and how to borrow an eReader.