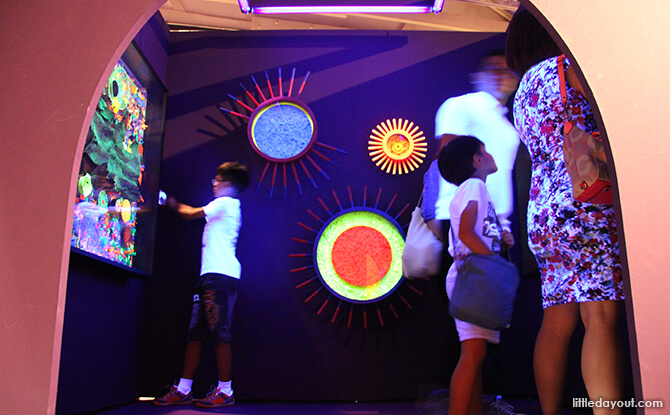 If the imagination can be a real, tactile thing you can see and run your fingers across, then an adventurous good time at Imaginarium: A Voyage of Big Ideas is just the thing the doctor ordered.
The fifth edition of Singapore Art Museum's annual contemporary art exhibition for children is dollops of fun, bursting with colours, and transports adventurers to magical worlds.
Put on your explorer hats and take a trip to the far, far edges of the mind's fancy.
Trees

It's easy to miss the first installation right outside of SAM at 8Q – so look out for it. Your journey into Imaginarium begins here at Trees by Takashi Kuribayashi.
Cut-up parts of a tree and terrariums are sealed in glass boxes, and assembled together to look like a new hybrid tree. Japanese artist Kuribayashi found a tree chopped down to make way for redevelopment in Singapore, and scoured the island for leaves and small plants to create this piece.
As time passes, the terrariums and parts of the tree will decay, which contribute to giving new life to new organisms and ecosystems. Through this, the artist highlights our relationship with nature and our responsibility to protect it.
We Built This Estate!

Right after you step into SAM at 8Q, you will see a cavernous, inviting hall that looks like a mini-city. Follow the little road into this installation, and huge Tetris-shaped blocks greet you.
Inspired by urban planning, Singpaore artist Chiang Yu Xiang's We Built This Estate! offers visitors the opportunity to become architects and builders of their own make-believe cities, using these brightly-coloured life-size blocks. Kids will love bounching around the Tetris blocks, and building their fantasy structures.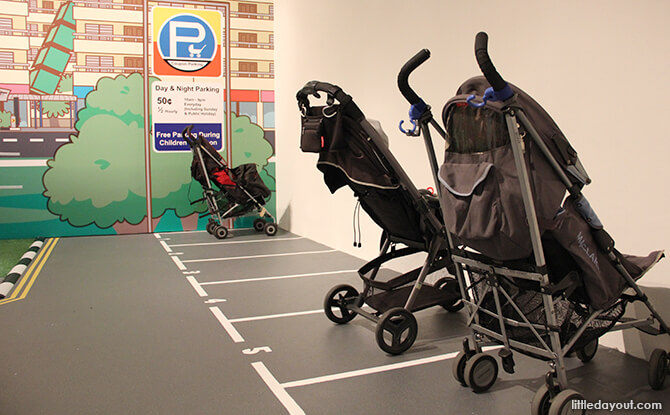 Hey, you can even park your kid's stroller at these "carpark lots" while you traipse upstairs to the other halls. No parking coupons needed.
Imagine-a-doodle

As you head up the stairs to the second level, you will notice illustrations crawling across the walls all the way up to the fourth level of SAM at 8Q, adorning every wall. Imagine-a-doodle by the Singapore collective Band of Doodlers tell the stories of Singapore's folklore and an imagined vision of the future.
See if you can spot MRT trains, buses and cars from Singapore's current cityscapes, as you follow adorable characters travelling back and forth through time in Singapore's past, present, and future. The artwork by the collective of over 150 artists tell the Singapore story in an animated, whimsical way.
moonroom

When you reach the second level of the building, the moonroom is a carefree, open space with kid-sized tables and chairs, designed for exploration and learning. The moonroom's workshops and hands-on activities, like origami, give kids and parents a chance to kick back and try their hand at making art together.
Look out for the step-by-step graphics on each of the tables, guiding the process of engaging with art. We found it helpful that SAM at 8Q's staff are on hand at the installations in every hall, to guide and help visitors along, especially since most of the artworks are interactive.
Let's Make! Studio
Onward, to the third floor! Housed in a large, open space, Singaporean artist Izziyana Suhaimi's Let's Make! Studio explores new realms through embroidery, yarn, and textiles.
Visitors are encouraged to create their own tapestries or artwork using provided yarn and textiles, either by weaving or assembling, to capture their thoughts about Singapore's future. When they're done, they will add their works on the wall.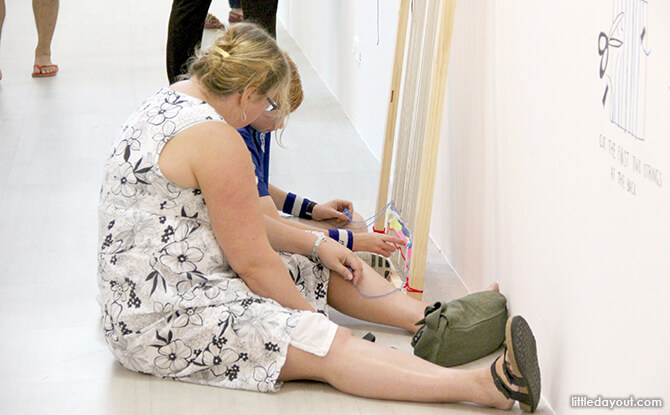 There's a pretty cool weaving apparatus available if you're up for a challenge.
Green II: Interstellar Overdrive
Skip over to the next artwork installation by Singapore-based artist Vincent Twardzik. The tots will ooh and ah in this room filled with bicycles and strange-looking machines.
The various installations come alive when you pedal away on the stationary bikes, which are hooked up to power various nifty gadgets.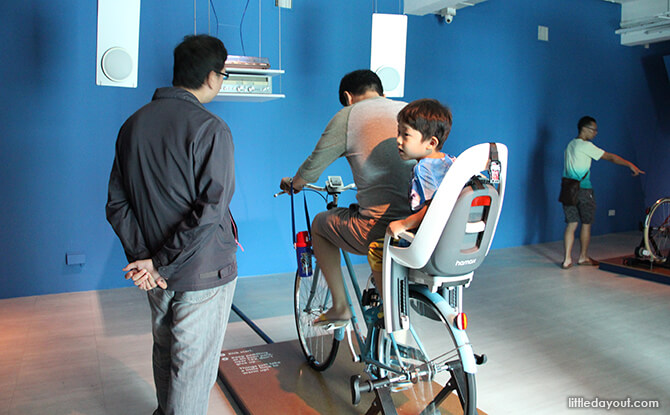 There's a vinyl record player which plays stutteringly, because it takes some verve to get enough electrical power going with the bike pedalling. But hang in there and pedal hard, because you'll get it in time!
A constellation of stars await at another stationary bike, which start to light up and twinkle in a beautiful tapestry.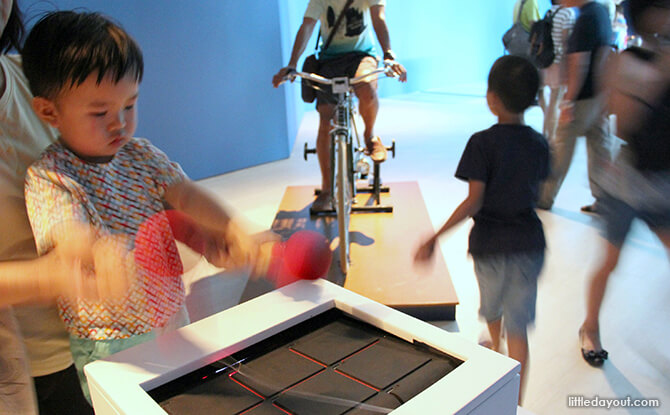 A rather fun contraption is the electronic drum. You can pedal away to power the drum while your kid pounds away with the drum sticks, and activate some electronic drum loops.
Twardzik's installation reminds us to think of energy sources and how future cities might be powered – and of course, the need for sustainable energy.
Get ready to put on a sweater for the young ones, because this room is somehow colder than the rest.
Dream House
On the fourth floor, the littlies running around in the larger-than-life installation, Dream House, will feel like Hansel and Gretel in the Gingerbread House.
In a yummy palette of various pastel colours, South Korean artist Jeeyoung Lee's wonderland house has sugar cookies for the floor and candysticks for trees.
After entering the gingerbread house, the kids will go absolutely nuts about the "garden" at the back of the house.
There are plenty of white trees which the little ones can hang multi-coloured sweets from.
As a nod to the rich, extravagant dreams and wishes of our childhood, Dream House is an open, colourful space to enjoy the memories of childhood rewards and treats; and as you plant the sweets, think of how childhood desires can be cultivated and brought to life.
Kiko's Secrets
The last installation, also on the fourth floor, is a magical place which will end your visit on a wondrous note. Kiko's Secrets offers three giant "magic" boxes that look like small huts.
Sri Lankan-born and Vietnam-based artist Kumkum Fernando wants you to step away from thinking "outside the box" in the name of creativity, but instead, delve into the box and probe at what you already know.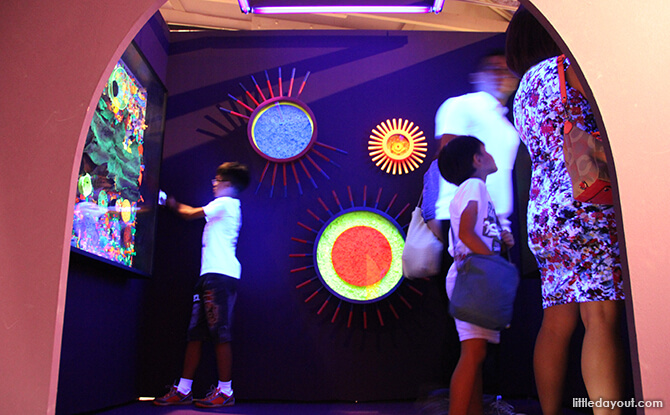 Within each of these boxes lie many delicious – and really quirky – secrets to be uncovered (or forgotten). Built around three themes – the woods, the city, and the sky – each magic box is familiar yet strange at the same time.
Visitors can touch and feel, as well as interact with the artworks, and disover new things about the artistic structures and spaces.
Have fun reading the prose aloud with your child, displayed at the door of each hut-box. It makes the experience even more magical.
Kiko's Secrets is probably the installation which your family will spend the most time yet, because there are so many secrets to unearth.
Imaginarium: A Voyage of Big Ideas will be at SAM at 8Q from 14 March 2015 to 19 July 2015. For more information on Imaginarium's workshops, film screenings, and other fun activities for parents and kids, see here.
8 Queen Street, Singapore 188535
Monday – Sunday: 10 am – 7 pm
Last admission to the museum is at 6.15 pm.
Entry is free for Singapore citizens.