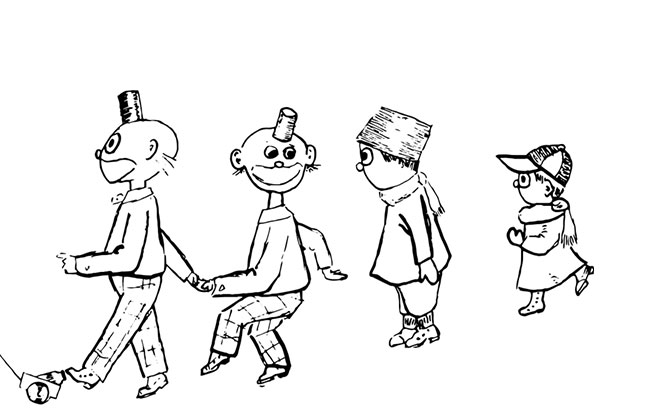 A game that is straightforward as it is fun, Follow The Leader is a game with many variations and is especially popular amongst little ones who love to copy adults. This group game can be used for various situations in the classroom and at parties as well. It is different from Simon Says as players will always have to follow the leader. Here's how to play Follow The Leader.
---
What you need to play Follow The Leader
A group of players of at least 4 people or more
---
How to play Follow The Leader
As the game suggests, there is one rule, where a leader will be picked and players must mimic the person's actions for the rest of the game. Any player who fails to mimic the actions has to sit out of the game.
The most straightforward version of Follow The Leader starts by having players in a circle and a leader is selected. The leader will then do a series of movements with their body such as moving like certain animals or doing certain facial expressions.
---
Variations of Follow The Leader
The variations of the game is where the fun truly begins.
Pied Piper
The leader will stand at the front and the rest of the players are going to follow behind while trying to keep a reasonable gap in between one another. The leader will be at the front of the group and lead the group through a series of moves that can be done while moving around a space. This includes doing simple jumps, hops or skips. They can move fast or slow and at different heights as well.
Find The leader
Similar to the game Wink Murder, one player will be the detective and will close their eyes. Another player will be the leader and everyone will know who the leader is except for the detective. The leader has to lead the group through a series of moves without the rest of the players giving away the identity of the leader. The detective has to guess who the leader is based on the eye contact of the group or identify the first person to change the action.
Follow What I Say
This variation test the listening skills of the players as the leader will have to say an instruction and players have to follow the leader's words instead of actions. An example of this would be the leader saying "jump left" while they jump right, and other players have to follow the leader by jumping left.
Follow The Rhythm
This is a fun game to play with instruments or any object that can make a beat. The leader will start by setting a beat and the other players will follow. This can also be done by clapping and stomping on the ground.