When we have a bad day, all we want to do is hunker down by the fireplace, nest a hot cup of chocolate in our hands, and slowly sip away the blues.
Except that we don't really have fireplaces here.
Here's a delectable list of the places in Singapore where you can take the little ones for a chocolate fix. Easter or not, chocolate is a good idea any time of the year.
CHOCOLATE DINING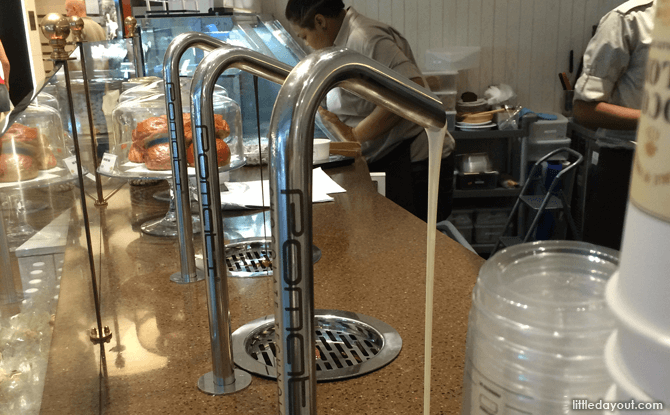 It's a dream come true – liquid chocolate on tap, anyone? Cocoa Colony, at Shaw Centre is the newest kid on the (chocolate) block.
This cosy four-seater cafe and takeaway corner, inspired by the cocoa beans and chocolate cafes found in Ecuador, serves up various imaginations of the confectionery, and even hot dark, milk, and white chocolate on tap.
Amazonian Liquid Gold can be drizzled onto anything you fancy from the store, like the gelato brioche, or mixed into cocoa drinks and coffee. Don't miss Cocoa 38, their classic hot cocoa drink.
Nestle a creamy hot cocoa in your hands with specialty chocolate cafe Max Brenner's signature Hug Mug; or have fun building your own hot choc drink with Suckao, where you can melt small choc bits in a fondue-like cup perched above a naked flame, then suck your drink using a nifty steel straw which also doubles up as a long spoon.
There are plenty of other desserts to suit any chocoholic – including choc waffles, crepes, pizzas (yup, choc pizza), and The Fantastic Popsicle Chocolate Fondue – a really fun vanilla ice cream popsicle which you can dip, D-I-Y style, in melted choc, crunchy wafer balls, and candied hazelnut bits.
Look up Max Brenner's locations at The Esplanade Mall or VivoCity.
Chocolate Buffet at The Fullerton Hotel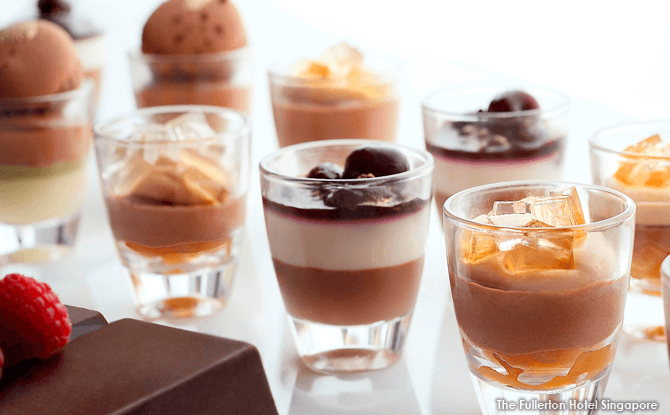 Go out on a limb and treat the family to the popular Chocolate Buffet at The Fullerton Hotel, located at The Courtyard, available every Friday and Saturday from 8 pm to 11 pm.
To celebrate Easter 2015, the buffet has added specially crafted Easter Chocolate Pralines to the extensive menu.
The Chocolate Buffet at The Courtyard, The Fullerton Hotel Singapore, is an ongoing promotion. To celebrate Easter, the buffet has has added specially crafted Easter delights such as the exquisite Easter Chocolate Pralines.
Meanwhile, during Easter weekend – and any other weekend – you can also enjoy signatures like Chocolate Bread and Butter Pudding, Macaé Chocolate Tarts, Chocolate Crème Brûlée, Salted Popcorn and Dark Chocolate Mousse, a chocolate fountain served with fresh fruits and marshmallows, ice-creams and more.
Be sure to pay the Hot Chocolate Connoisseurs' Bar a visit, where the chef will whip up a fresh cup of hot chocolate according to your choice from a selection of eight different percentages of cocoa.
The Easter Weekend Chocolate Buffet will only be on April 3 and 4 2015.
Royal Animal Kingdom at Shangri-La
How about some animalicious chocolate eggs? At Shangri-La Hotel, The Line Shop has a special Easter treat available from 28 March to 5 April 2015.
Up for grabs are the Royal Animal Kingdom Collection featuring six chocolate eggs with animal hoodies, such as panda, sheep, elephant, cow, tiger and pig, topped with a crown. Inspired by the Lunar Year of the Goat, the pastry team created the marshmallow-covered King Sheep Egg, among other adorable animals.
Started by former banker-turned baker Matthew Chow in 2012, Matt's The Chocolate Shop specialises in dark chocolate fudge treats.
Don't miss the moist, rich Dark Chocolate Cake covered in smooth chocolate ganache, his handcrafted dark chocolate truffles made of 100% pure cacao, or the much-raved-about Tiramisu.
The Amoy Street outlet has limited seating, so patrons mostly do take-away orders. But you can have your cake and eat it there – Matt's shop has drinks like Iced Matcha Latte, among others.
Visit Matt's locations here.
Awfully Chocolate started way back in 1998 selling only one cake – a simple, back-to-basics chocolate fudge cake, rich but not cloyingly so.
The successful chocolate specialist's menu has since exploded to include a delish ice-cream, a unique cold poached chocolate dessert, a White Chocolate Butterscotch Roll that's really heavenly, and a host of other delectable goodies.
Rock up to one of Awfully Chocolate's nine outlets and get your chocolate fix awfully quick.
Fondue marries the best of gooey chocolatey goodness and the fun of dining together with people you love.
La Fondue offers an extensive chocolate fondue menu, including La Fondue Flaming Chocolate made of dark chocolate and rum flambeed on the side, Cookies 'N Cream, Black Forest, and Rum and Raisin, among many other choices.
Of course, you can make a meal out of your trip there, as they have cheese fondues too, as well as meat and seafood fondues – pick from cooking methods like grill, bourguignon (deep-fry) or broth.
La Fondue is located at Dempsey.
CANDY STORES
There are lots of chocolates to be found at confection shop The Cocoa Trees, which has nine outlets in Singapore since the brand started 15 years ago.
Some of the more popular brands of chocs and sweets include Hanuta, Zaini, Kagi, Jelly Belly, Toblerone, Ritter Sport, and Kinder.
Take your pick of wafers, sweets, gummies, biscuits, spreads, chips, and even gift options like ready-made hampers and customised gift boxes.
The Cocoa Trees can be found at various spots in Changi Airport, and across the island.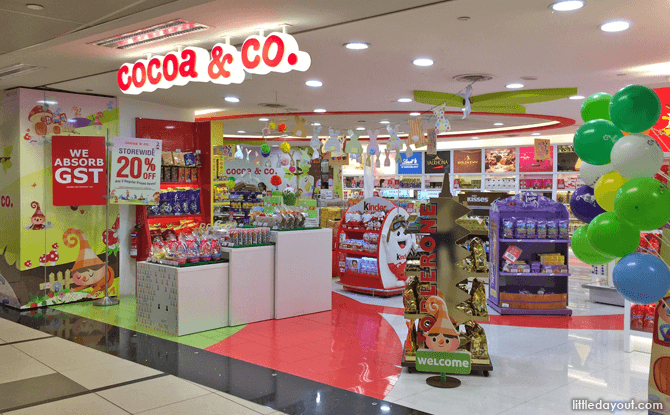 Run by the same folks as The Cocoa Trees, Cocoa & Co. is a similar concept store offering sweets and chocs in a staggering amount of choices, with five outlets in Singapore.
Located only at Changi Airport in transit lounges within Terminal 1 and Terminal 2, and at basement 2 of Terminal 3, Cocoa & Co. is a fun, cheery shop offering well-known confection brands like Valrhona, Lindt, M&M's and others.
Check out their chocoholic Easter collection.
This candy store looks premium and serious, but it's really a quirky shop selling all manners of sweets and chocs.
The brand first started in Taiwan in 1997, and the moniker Sophisca stands for Smile, Oishii, Personal, High Quality, International, Sentimental, Care and Artlessness. We're not really sure what it means, but all the fun sweets – like their chocolate covered potato chips, for one – serve to make us forget why we asked the question in the first place.
With an outlet at Changi Airport Terminal 3 and another at Ion Orchard, Sophisca serves up colourful candies in pretty packaging.
Chocz is a homegrown brand that makes handcrafted Swiss chocolates, truffle cakes, and other choc confections.
You'll be drawn to their glass displays offering rows and rows of velvety pralines.
With outlets at Esplanade Mall and Leisure Park Kallang, the shop also offers chocolate appreciation workshops and chocolate-making workshops.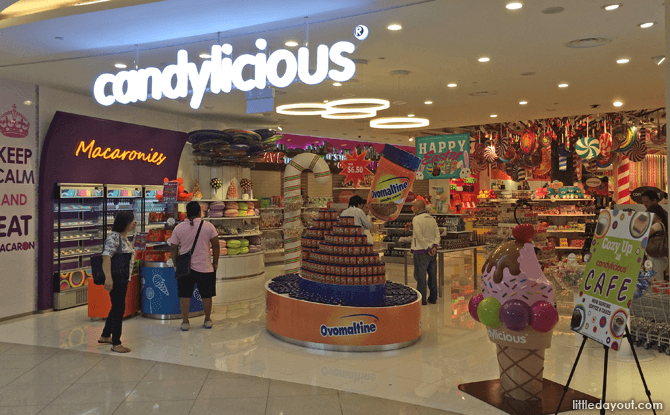 With three outlets in Singapore, this candy shop has a Willy Wonka's worth of sweets, lollipops and candy-related merchandise. And of course, they have chocolates too!
Their aim is to make the world a happier place through candy. If you want to join in, visit their outlets at Resorts World Sentosa, Ngee Ann City or VivoCity. If you dig through the shelves of candy to the rear of the VivoCity outlet, you will find a sit down café where you can indulge your sweet tooth before heading back to candy shopping.
The next time you catch a flight in or out of Changi Airport, stop by Asia-Pacific's biggest M&M flagship outlet for M&M's candies and collectibles not found anywhere else in Singapore.
M&M's concept store first opened in January 2012 at Changi Airport's Terminal 3 Departure Transit Lounge and another larger colourful store quickly followed in August 2012 at Terminal 2 Departure Transit Lounge to cater to all with a soft spot for their iconic chocolate buttons in a crunchy shell.
But much more than just the famous candies, you will find all things M&M's from exclusive novelties, souvenirs, toys, candy dispensers and travel accessories.
A world of cheerful chocolates greets you in the form of a giant Hershey's Kiss at Hershey's Chocolate World.
Be enchanted in this delightful world with all things Hershey's including giant chocolate bars, Hershey's memorabilia and customised products.
The company, founded by Milton Hershey in rural central Pennsylvania in the U.S. more than a century ago, continues to delight kids today with its delicious milk chocolate bar, drops, nuggets, kisses, fudge and more.
For more on other sweet treats (not just chocs), see Little Day Out's list of best places to placate your sweet tooth in Singapore.