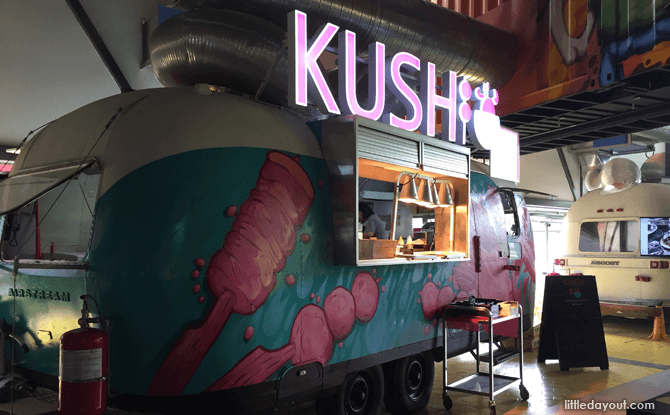 When one dad was tuning in on a trendy place to bring his cool 12 year-old daughter on an exclusive father-daughter date, he zoomed in on Timbre. Timbre @ The Arts House to be exact. With good food and drinks, live music featuring homegrown talents and an after-dinner stroll by Singapore River, Timbre+ had all the strapping to make it a sweet memorable date bar none.
But don't be fooled. Timbre+, the new kid on the Timbre block that descended on the Singapore F&B scene at one-north on 1 April 2016, is an entirely different creature altogether. It is an "urban gastropark", a modernised hawker centre with affordable casual eats and restaurant-grade food set amidst container blocks exuding hipster skate-park vibes. Unlike its predecessors, the founder of Timbre Group has deliberately carved Timbre+ out on a bigger scale, with a curated mishmash of chef owners, as well as young hawkers and the experienced old-timers.
Here are 10 pointers we've dished up for you before you pack the whole family for a little day out!
+ Fast Facts
73A Ayer Rajah Crescent
JTC LaunchPad @ one-north
Singapore 139957
Nearest MRT: one-north
Opening Hours: Mondays to Thursdays, 6 am to 12 am, Fridays and Saturdays: 6 am to 1 am, closed on Sundays
Live Music Performances: Monday, Wednesday to Saturday nights
---
-- Story continues below --
+1. Industrial Space within Chic Sci-fi Zone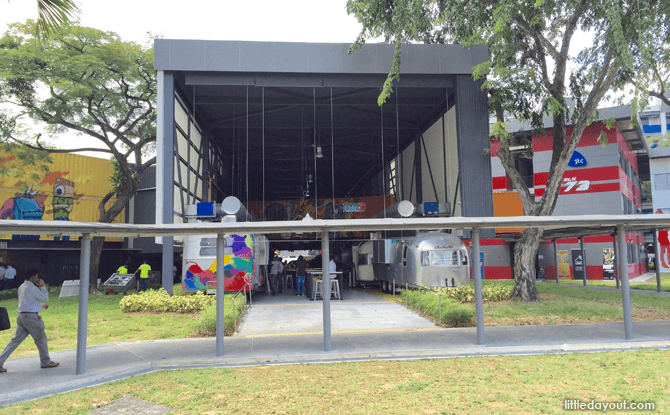 Before Timbre+ came into being, this space used to be a canteen right smack in the JTC flatted factory industrial estate.
Now, the surrounding JTC blocks have turned into launchpads for young startup companies. And the region beyond has grown into the info-comms technologies, media, science and engineering hub with state-of-the-art buildings bearing futuristic names like Fusionopolis, Connexis, Symbiosis, Synthesis, Innovis, Kinesis, Solaris, Galaxis and the like.
Hence, if you attempt to land a seat on a weekday for lunch, you're potentially facing a 40,000 strong crowd starved of good hawker food for the last three years in the one-north district.
+2. Young and Old-time Hawkers alongside Restaurant Brands
21 hawker stalls and 14 restaurant brands occupying the same 24,000 sq ft pad with 700 seats? It's a curious marriage but it works. The hawkers are the early birds that start from 6 am and sell out by 6 pm, and the restaurants take the later shift from 11 am till midnight.
All these years, Timbre has been about developing local music talents and now Timbre+ is into promoting local culinary talent, so it's certainly a new dining concept worth supporting. Some of the old guards at the canteen have returned and there are new F&B entrepreneurs on the scene.
Here are some highlights of the very reasonably priced good local food: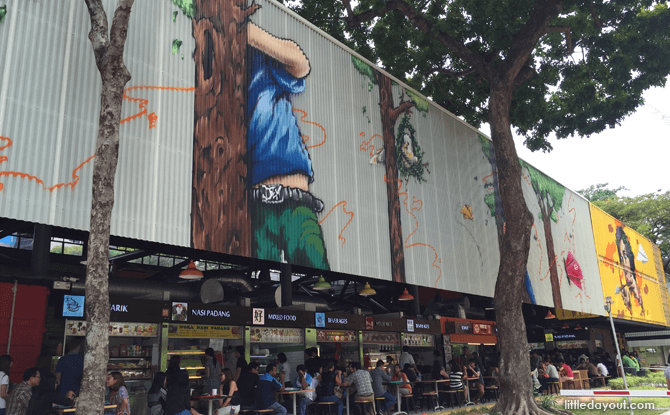 Wong Kee Wanton Noodles & Roasted Delights from Maxwell market:  The cleaning lady making her rounds declared that this stall has the longest queue. If you have a child who hates vegetables, they may take easily to these yummy spinach or tomato flavoured noodles.
Nam Heng Hainan Chicken Rice, run by a third-generation owner from the old canteen
The Fishball Story from Golden Mile Food Centre, inspired by a grandmother's handmade springy fishballs
Ban Mian with its freshly made flour noodles and a fast-moving queue
Economy Rice, Nasi Padang, Soup Noodles and Fruit Juices starting from $2.30.
Restaurant offerings include:
Big Bern's American Grill by Bernie Utchenik, creator of Botak Jones
Chit Chaat Chai with Indian street food
Cajun seafood-in-a-bag chain Dancing Crab Shack by the TungLok Group
D's Joint by Damian D' Silva's of Immigrants Gastrobar in Joo Chiat and Soul Kitchen in Purvis Street fame
Dusk by Slake with its soups and light, healthy Asian dishes
Casual French fare from Garcons
Grilled meat and vegetables on skewers by Kush
Spanish tapas and paella from Portico Platos
Deep-dish pizzas with unusual toppings and crusts from The World Is Flat by Tanuki Raw
Two Wings with a 40-year-old fried chicken recipe.
+3. Colourful Container Park
With vibrant murals, graffiti-like artworks painted onto the caravans and containers by local artists, the entire space is a visual feast to behold. We imagined how fun it would be if we could stomp through the containers that are stacked and interwoven together in an interesting fashion above our heads. However, it seems like the ones overhead have been cleverly used to funnel off the cooking fumes (with some space probably for storage) and the ones on the ground have been repurposed into stalls by the cooks.
+4. Fun Food Trucks
It feels like these American-styled Airstream caravans have driven in to your office to deliver you lunch, but these food trucks aren't mobile. Walking through this caravan park is like being at a graffiti art exhibition with good views of the kitchen space.
+5. Be a Big Fan of No Air-con
True to the roots of hawker fare, there is no air-con. Get ready to say it. It's hot. H.O.T. To beat the heat, there are ginormous fans installed so you feel the constant breeze even within the inner zones. Be prepared to brave the heat or simply come in the evenings where there's music on Monday and Wednesday to Saturday nights!
+6. The $1 Tray Return Policy

A brilliant idea we say – this saves manpower and 'rewards' us for being responsible in cleaning up after ourselves. The rent-a-supermarket-trolley-with-a-coin concept is now rolled out here at Timbre+ in snazzy style.
When you order your food, you pay a dollar more upfront. Bring your tray back to the blinking lights hole-in-the-wall, watch it disappear into the "mouths" of the caricatures down the conveyor belt, and a dollar coin spits out like jackpot. We're sure the kids will be clamouring to return the empty bowls on the trays after your meal, on your behalf.
+7. Use of Technology

Check out this cool self-ordering system at Garcons food truck. This smart waiter takes your order and your cash too!
+8. Baby Chairs by the Bottle Shop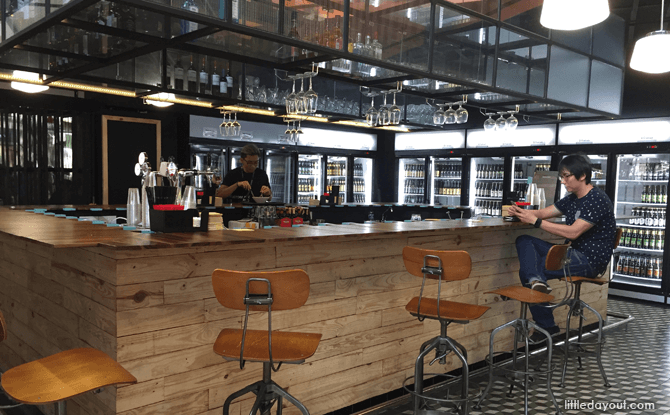 How thoughtful. This could jolly well be the first hawker centre with baby chairs. Well, they are aptly situated on the side of the Bottle Shop so that the island bar and the surrounding row of chillers with over 200 seasonal and limited edition beers, Japanese whiskies and wines can distract us.
+9. Play Court

We're not too sure if this is open to the public. There are no chains around it and it's too good a well-paved court to be left empty. Situated near the back of Timbre+, this is a great court for the kids to stretch their legs and have a dose of fun in the hot sun before or after tucking in.
+10. Huge Live Music Stage

Timbre has always been about music. And at Timbre+, you see the biggest live music stage within the Group. Take a look at the number of subwoofers and speakers around this music stage. Need we say more? Even if you are situated on the outskirts of this gastropark, you can still hear the loud vibes.
Well, the stage has certainly been set for the next musical festival. Till then, enjoy your family feast at this hot new music dining experience with a wider variety of glorious food!
Timbre+
73A Ayer Rajah Crescent
JTC LaunchPad @ one-north
Singapore 139957
Opening Hours: Mondays to Thursdays, 6 am to 12 am, Fridays and Saturdays: 6 am to 1 am, closed on Sundays