We love receiving red packets or ang baos! Well, okay, okay, for married adults, it may have been some time since we received mountains of ang baos and they may evoke the opposite emotion instead since as we have to hand them out. Nonetheless, exchanging red packets is very much a treasured Chinese New Year tradition.
However, what do we do after we have extracted out all the contents from the red packets.
Inevitably, there will be a pile of empty red packets to deal with. What can we do with these empty red packets after Chinese New Year? Here are some ideas.
What To Do With Red Packets After Chinese New Year
---
1. Reuse the Red Packets for Next Year's CNY Crafts
---
-- Story continues below --
Red packets are great materials for craft making. In the lead up to each Chinese New Year, many children (especially preschoolers) make ang bao crafts.
We've seen red packet ang bao fish, cool-looking fans and intricate lanterns made from red packets. We have even come across pineapples fashioned out of ang baos!
Rather than using new, unused ang baos for each year's Chinese New Year crafts, save the red packets from this year and set them aside for next year's crafts. It is a simple way help the environment by simply planning ahead in advance.
---
2. Make a Decorative Year-round Centrepiece
Red packets need not only be used for decorations during the festive period.
In fact, it is possible to turn them into beautiful, inspired pieces that you can display throughout the year. Check out this beautiful Plum Blossom display made from red packets.
---
3. Recycle the Ang Baos
This one may seem obvious but it bears repeating – don't just throw away the red packets – recycle them instead.
The banks seem to be taking the lead on this.
You can look for bank branches to recycle your used red packets.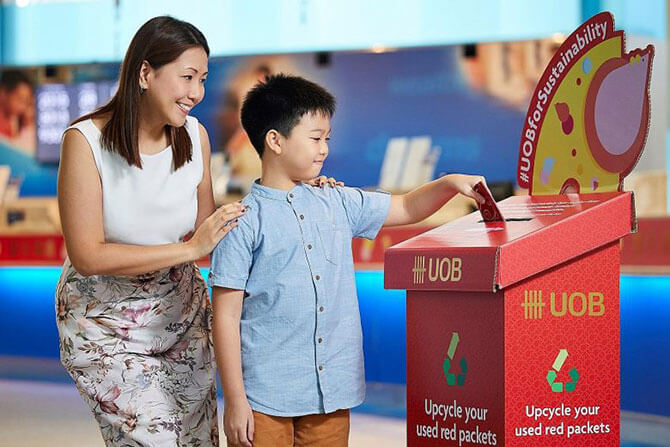 Of course, there is no need to go too far away to recycle the ang baos.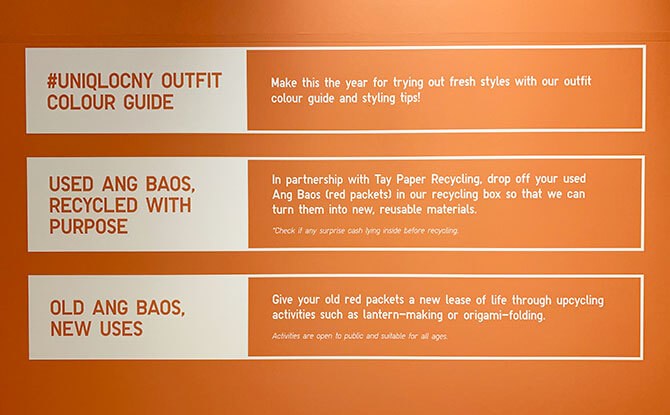 Red packets can also be recycled at the humble blue recycling bins found around our neighbourhoods.
---
4. Save for a Discount
Finally, we thought we'd give a shout-out to these red packets that we received at the 313 Somerset Ben & Jerry's Scoop Shop. It has a 10% discount printed on it, valid till 31 March 2020. Sweet!