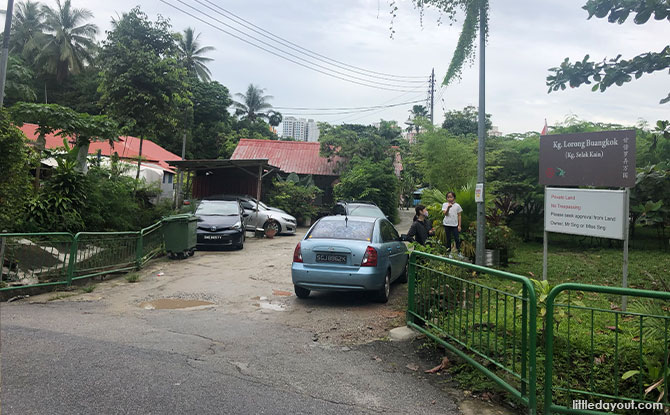 Growing up in modern Singapore, it can be hard to fathom what it must have been like in the past when much of the island was still rural. However, on a recent visit to Kampong Lorong Buangkok, led by Let's Go Tour, a group of us had a chance to have an interesting and eye-opening kampong experience.
---
Visiting Kampong Lorong Buangkok: Mainland Singapore's Last Remaining Village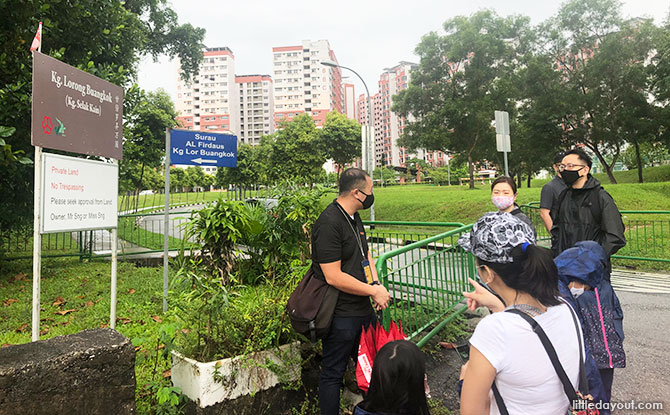 Kampong Lorong Buangkok is Singapore's last remaining kampong in Singapore. The kampong is a private property located off Yio Chu Kang and can be visited by members of the public, but visiting the kampong with tour operator Let's Go Tour has its perks of getting access to certain spots within the kampong.
This tour experience is part of Let's Go Tour's "This is Home" tour series and caters to families with kids, with stories and activities incorporated to keep even young ones engaged and interested.
---
-- Story continues below --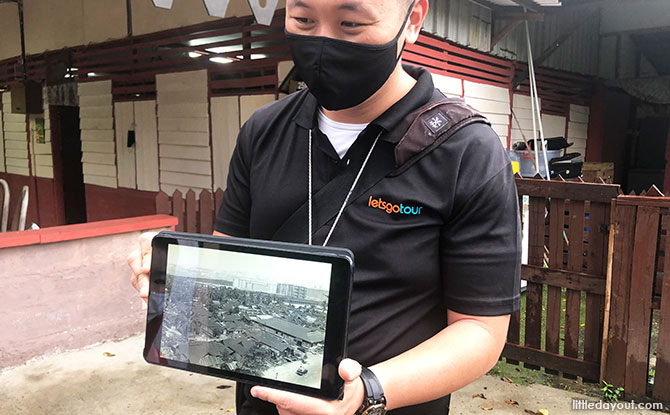 The land which Kampong Lorong Buangkok sits on was originally swampland. It is owned by Madam Sng Mui Hong, who inherited it from her father who originally purchased it in 1956.
Even till today, the kampong spirit is strong in the village. There are currently 26 families staying in the kampong. Madam Sng rents out the various homes which can be found at Kampong Lorong Buangkok to her tenants for around $30 a month, many of which are descendants of first-generation residents. Some long-term renters only have to pay $4.50 a month!
---
Rural Life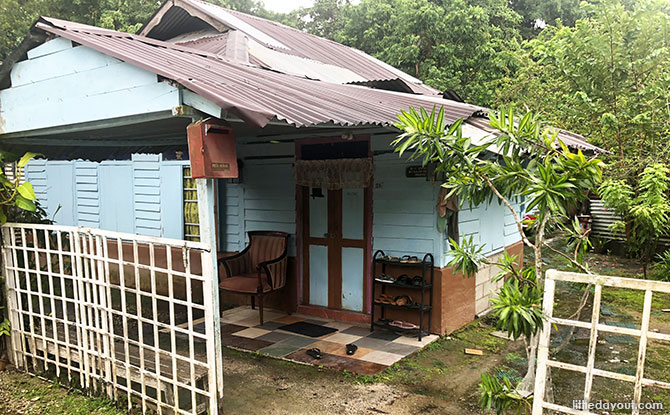 The sights of old, rural Singapore came to life from the entrance of the kampong itself. It did seem odd that right next to the kampong were tall HDB flats – but in Singapore, it is not unusual for the old and new to sit side-by-side.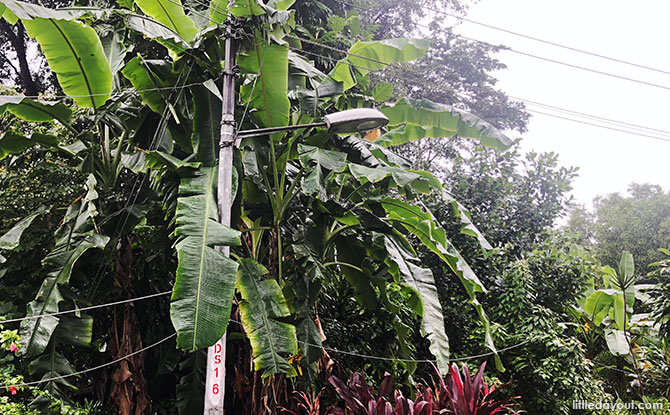 Most of the electrical cables in Singapore are buried underground. However, at Kampong Lorong Buangkok, electrical cables still run overhead, converging at the old-style lampposts.
Other than the electric wires hanging overhead, we also saw the water level indicator that was used in the past to indicate when water levels were too high during heavy rains. Thankfully, due to our drainage systems, flooding is less common than it was in the past.
The zinc-roofed, wooden houses were a throwback to the past and around us, we could hear chickens clucking away. One particular sign that stood out to us was a sign that had the numbers 1954 on it. We later found out that the numbers were actually a four-digit postal code used in the past.
---
Kampong Lorong Buangkok Home Visit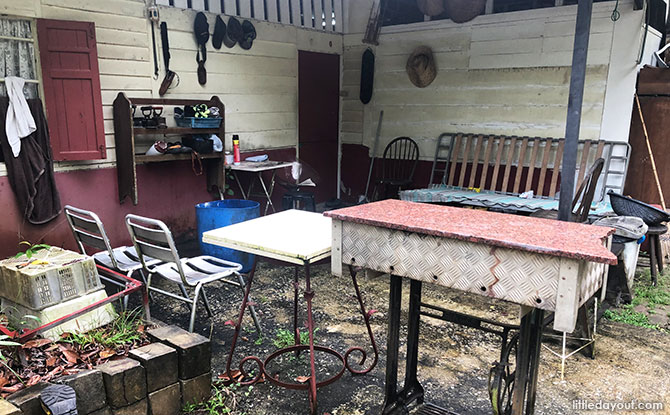 A highlight of the Let's Go Tour experience is a chance to pay a visit within one of the kampong houses.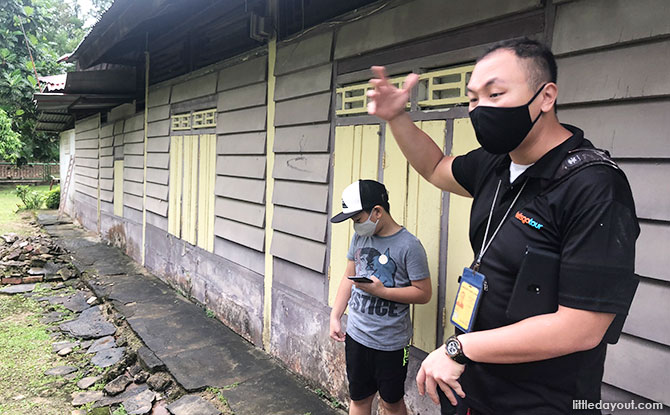 We noticed from the outside of the house that the houses are significantly longer lengthwise. We soon found out that the house was constructed this way due to the practice in the past of charging rent via the size of your front door or the height of your house.
Due to the generous plots of land in the area, many house-owners chose to expand their houses lengthwise instead to "hack" the system. A bigger plot of land also meant that many houses had backyards with interesting flora and fauna. From banana trees to bamboo plants, we heard many interesting stories shared by our guide.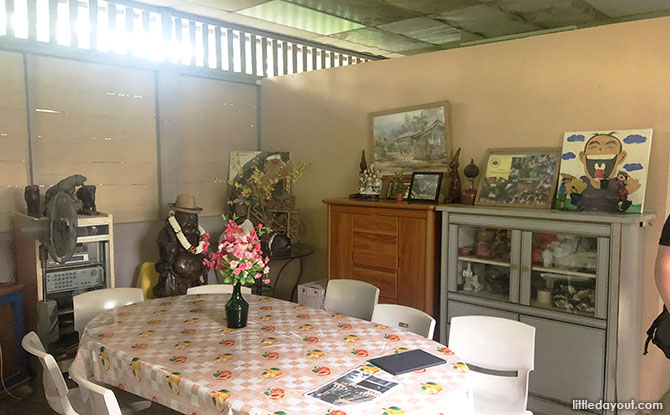 As we stepped into the room, many of us were greeted with a wave of nostalgia. We spotted many old school household items such as VCR player, charcoal irons, and a singer sewing machine. Unlike many modern houses, there was no air conditioning and we were kept cool with the whirring of the standing electrical fan.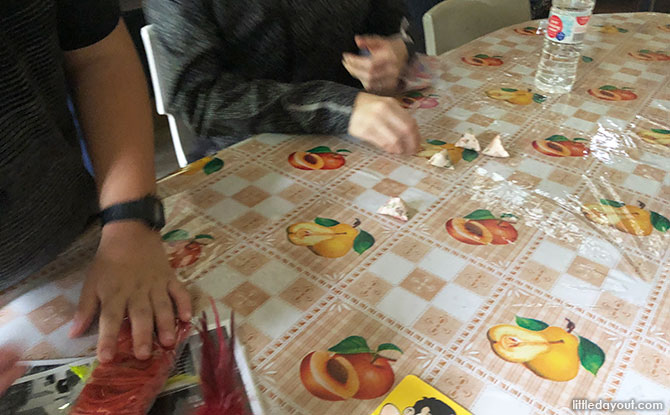 On the table, there were old-fashioned childhood games. No need for charging up a device with these past-times. The kids got to try mum and dad's old school games such as five stones, chapteh, pick-up sticks and the classic "country eraser fight".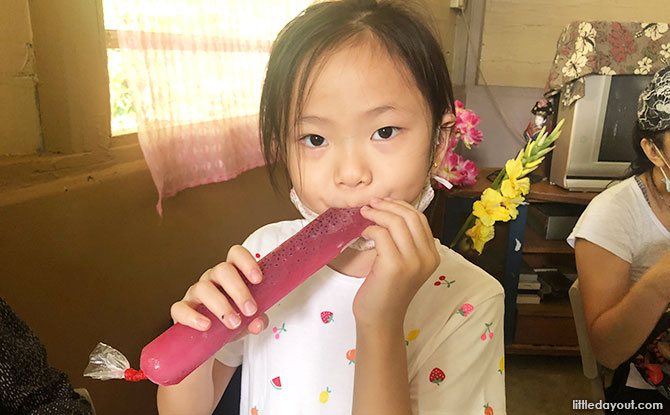 A treat for the kids was a flavoured ice-pops, something that is hard to come by nowadays. Parents had fun reminiscing the good ole days where this would be sold at 20 cents or less. The kids got a taste of it as a sweet way to end the tour. What an experience!
---
Let's Go Tour's Kampong Experience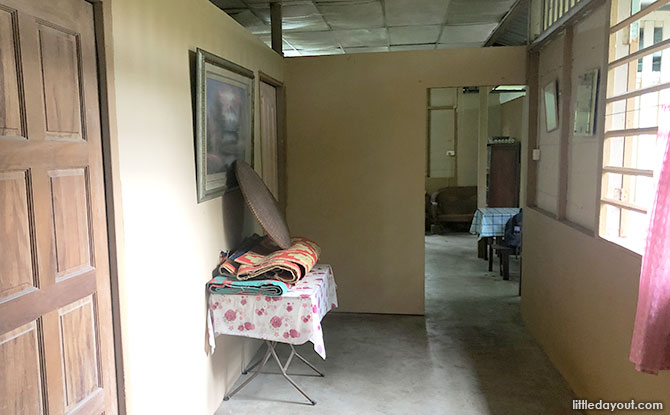 Let's Go Tour's kampong tour lasts around two hours. It was a wonderful privilege for us to be able to pay a visit to the village and enter a glimpse of the past. It was also especially enjoyable for us to experience the warmth of those staying there as we saw them give us friendly waves as they sat on the front porch. The visit is one that will stay in our memories for some time.
This story is part of a series of tours in collaboration with Let's Go Tour Singapore. Check out more tours offered by Let's Go Tour Singapore here. When you make a booking for this Kampong Experience Tour and any other tour on Let's Go Tour Singapore's website, don't forget to quote "LDO" in the Special Concerns field on the booking form or let them know you first heard it from Little Day Out. Your booking will help us earn a small fee. There is no additional cost to you and goes towards supporting Little Day Out's efforts to deliver the best news and reporting for families.