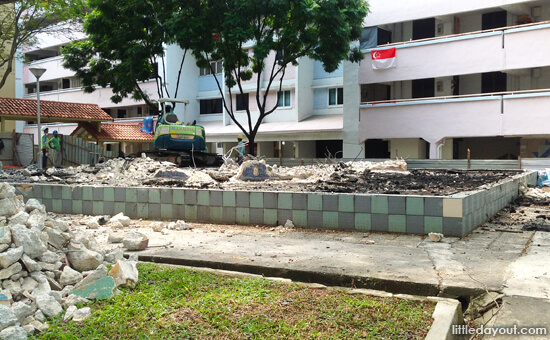 When we arrived, the place was level. Another part of Singapore's past had given way to the future.
The signboard on the hoarding said 'Neigbourhood Renewal' and the process was being done with typical efficiency. Where an old 'heritage playground' used to stand, the remnants of rubble were being cleared up.
The Dove Playground at Blk 219, Bukit Batok Street 21 is gone. Previously, one of only two left in Singapore (the other one being at Dakota Crescent, near Kallang), it has been swept away into the past.
Although we had personally never spent any time playing at the Bukit Batok Dove Playground during our childhood, the playground was reminiscent of the time growing up in the 1970s and 1980s when mosaic- and terrazzo-clad playgrounds, such as the Dove Playground, could be found all over Singapore.
Designed by Mr Khor Ean Ghee from the Housing & Development Board (HDB) in the 1970s, they helped to define a generation growing up. These were playgrounds for a different time – a time before the need for soft-padded playground floors, disclaimer of liability signboards and domestic helpers nearby with cartoon-decorated water bottles.
In 2012, Singapore Memory Project commissioned an ebook, Mosaic Memories, to help journal some of these playgrounds from our past. It featured the Dove Playground, albeit the one at Dakota Crescent. The ebook also captured how a young family took a trip down memory lane with their children at that old playground. (While we haven't been to Dakota Crescent for some time, we do hope that the Dove Playground there is still around.)
It feels like a pity that such markers of our past are so easily done away with. No doubt that a new playground will come up in its place but even as we forge ahead to the future, places from our past are very much a part of our identity. 'Corny' as it may sound, the past is what makes us who we are today and it is something, in a small way, that we can pass on to our children as well.
So, if you have ever thought of bringing your kids to explore a 'heritage playground' or just to do something as a family activity, our suggestion is simple – 'don't wait'.
Go for a good ole little day out this weekend!
Dove Playground at Bukit Batok St 21 before it was demolished.
Terrazo slides and mosaic structures at the old Dove Playground at Bukit Batok.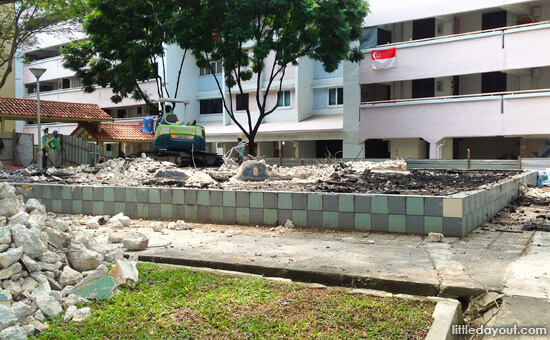 Spot where the Dove Playground at Bukit Batok used to be (Taken on 23 Aug 2013).