From themed runs to family walks, competitive races for kids to stroller pushing races, there are plenty of running events in 2017 in Singapore that families can participate in together. Running events can be a great way for families to stay active while have fun along with the rest of the running community.
Here are some family-friendly running events that you can also look forward to in 2017. Get ready to lace up those shoes and start running as family.

Safari Zoo Run
Saturday, February 18, 2017
"Run for Wildlife" at the Safari Zoo Run 2017. The race shines the spotlight on four animal icons, Ah Meng the Orangutan, Chawang the Asian Elephant, Canola the Manatee and Sunny the Hornbill. Each animal icon represents an endangered wildlife species and selected conservation projects. Runners can choose to join a team and funding by Wildlife Reserves Singapore for the conservation projects will be allocated based on team scores.
Families with kids as young as four years old can take part in a non-competitive 5.5 km or 2.5 km Safari Zoo Family Run. Kids between six to 12 can also participate in a competitive 2.5 km Safari Zoo Kids Dash. Children below three participate for free.
Registration closes January 15, 2017.
Get more details at www.safarizoo.run
Run for Hope
Sunday, Feb 19, 2017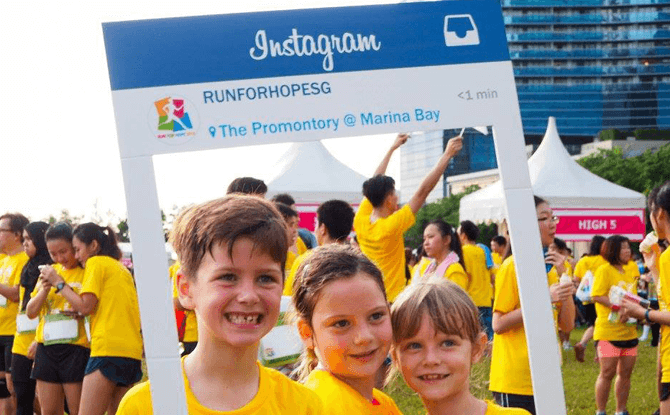 Organised to raise awareness and to support cancer research, proceeds from Run for Hope goes toward the national Cancer Centre Research Fund. This is the 24th year of the run and comprises of two non-competitive run categories – 10 km run and a 3.5 km Family Run/Walk. Registration fees rane from $50 to $55 for adults and $32 for Juniors / Youth. Ages four and below have free entry. Group registrations also available.
Last date for registration is February 2, 2017.
More details available at www.runforhope.sg
Herbalife Marina Run
Saturday, February 25, 2017
Take in the sights around Marina Bay including the Marina Barrage and Gardens by the Bay at this running event. Individual race categories include 5 km, 10 km and 21 km. Families can take part in the 5 km fun run around Gardens by the Bay East. This non-competitive run is open to ages five and above. In addition to an event t-shirt and finisher's medal, each participant will also receive a water pistol. Watch out for water fights!
Online registration closes January 31, 2017.
More details available at www.marinarun.com.sg
OSIM Sundown Marathon
Saturday, March 25, 2017
Beat the heat and run at night at the OSIM Sundown Marathon 2017. Kids between six to 12 years old can take part in a 5 km Fun Run accompanied by a registered 5 km adult participant. 5 km Fun Run participants get a Race Singlet, Finisher's Medal, Personalised Race Bib and Goodie Bag.
Registration closes on February 28, 2017.
Visit the race website at www.sundownmarathon.com
Cold Storage Kids Run
Sunday, May 28, 2017
The Cold Storage Kids Run returns for its 10th year on 28 May 2017 at Palawan Green, Sentosa, from 7.15 am to 12 pm. Based on events from previous years, race categories include competitive sprint events for distances between 800 m to 1.6 km, family fun categories where parent and child can team up to race and even a stroller race! If you wish to be notified when registration is opened, to send info@kidsrun.com.sg with the subject title "I WANT IN".
POSB Passion Run for Kids
Typically September
The annual charity race, Run for Kids, is organised by POSB and People's Association. It is held to support children through character development programmes under the People's Association Community Development Fund. Race categories typically include 10 km competitive adult races and 800 m and 1.2 km competitive races for kids from seven to 12. There is also a non-competitive 3.5 km Family Walk that families can participate in together and a race day carnival.
For updates, visit the race website here.
Great Eastern Women's Run
Typically November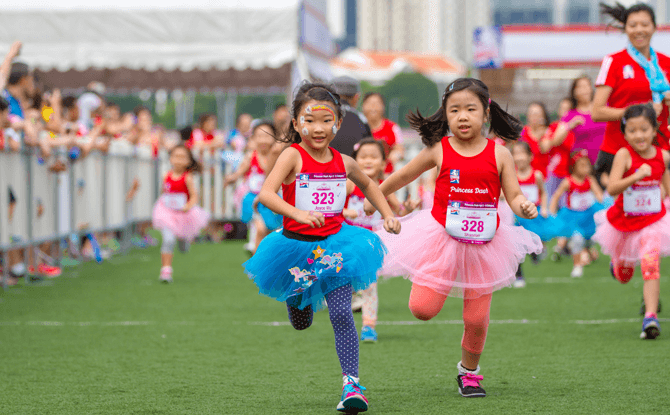 The Great Eastern Women's Run is open to female runners of all levels. It also supports women-related causes with its popular 'Don A Tutu For A Cause' is an initiative where participants can make a minimum donation of $5 in exchange for a tutu.
A highlight of the run is the 100m Princess Dash, introduced in 2015. Specially for young girls aged three to nine, girls can don colourful tutus and compete alongside their mothers. They receive a "Finisher Tiara" on completing the race.
Get the latest updates on the Great Eastern Women's Run at www.greateasternwomensrun.com.
Standard Chartered Marathon Singapore
December 2017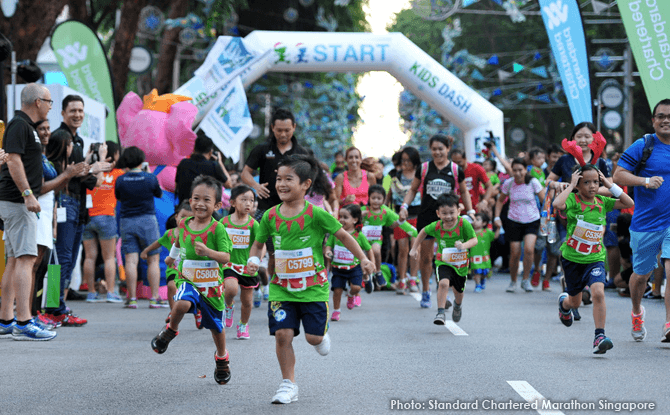 Kids may not be ready to take on 42.195 km but they still participate in the Standard Chartered Marathon Singapore's Kids Dash. This non-competitive race is divided into different age categories with participants getting a race pack of goodies. In 2016, the Kids Dash was a 600 m race held on the Saturday before the Sunday of the main marathon. This was to allow parents to accompany their kids for the Kids Dash and still participate in the marathon.
This year, the Kids Dash will be held on Saturday, 2 December 2017. Further details will be available around April to May 2017.
Stay tuned at the race website, www.marathonsingapore.com