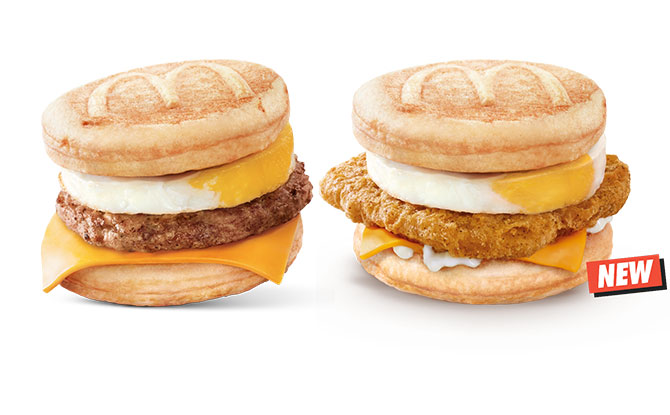 All-day McGriddles is returning to McDonald's Singapore from 28 February 2022 for a limited time and, this time around, there is a new addition to the line-up – Chicken McGriddles with Egg.
---
Chicken McGriddles with Egg
In addition to the Sausage McGriddles and McGriddles Stack which we are familiar with, McDonald's Singapore is launching the Chicken McGriddles with Egg. What is that you may be asking?
The Chicken McGriddles with Egg features the maple-flavoured griddle cakes with a crispy chicken patty, layered with melted cheese, a round egg, and a touch of mayo. This will be available from $5.90.
We can't quite imagine what exactly it will taste like. Looks like we'll have to wait till 28 February to find out.
---
-- Story continues below --
Returning Sweet Treats: Chocolate Pie, KIT KAT McFlurry and McCafe Kopi Frappe
Other items returning to the McDonald's Singapore menu for a limited time are the Chocolate Pie (from $1.50) and the KIT KAT McFlurry (from $3).
Another item that we've tried and love is the refreshing McCafe Kopi Frappe (from $4.50)