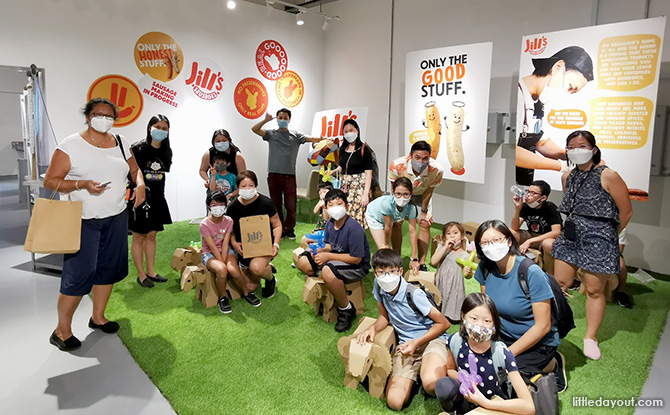 Ever wondered what a sausage factory is like?
We headed behind the scenes at a special BTS factory tour at Jill's Sausages – a homegrown sausage factory. It was an eye-opener for the sausage lovers! Furthermore, we got a glimpse of how nasties-free sausages are made.
Jill's Sausages – All About Nasties-free Sausages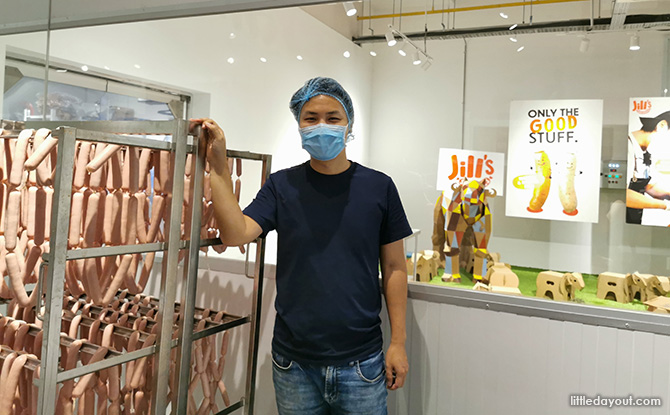 If you think our sausages are usually imported, here's your chance to support a local sausage-maker – Nicholas and his team! On a quest to make healthy sausages without nitrates, preservatives and other nasties, Nicholas succeeded in starting Jill's Sausages first at a humble wet market stall and expanded to a boutique factory space due to overwhelming demand!
Two groups of readers had the opportunity to visit the space and learn some tricks of the trade. Why do sausages taste so good? They got to know the "secret ingredients"! Shhh!
---
-- Story continues below --
Jill's Sausages Factory Tour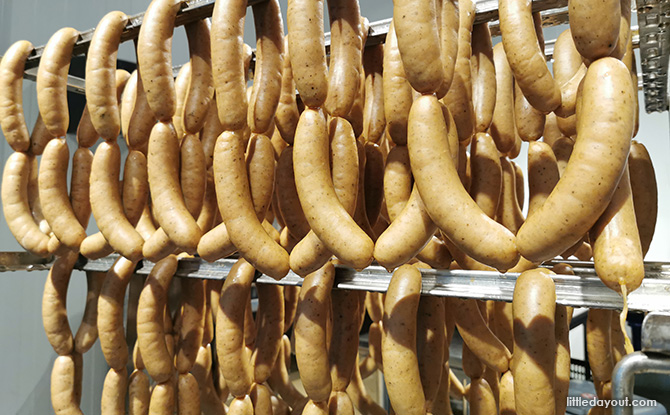 Actually, there really is nothing to hide at Jill's Sausages. The brightly lit space with huge glass windows were designed intentionally to show that there are no secrets to hide! Nicholas hopes to emphasise the transparency of the trade and show visitors and consumers what the process behind healthy sausages is.
Filling Sausages & Dog-Making Competition
First, we were given a safety briefing and then gowned up with disposable aprons and hair nets. Hygiene was key in this space. Hands were washed thoroughly and surgical gloves were worn. Then we began our adventure with a hands-on segment.
Ever wondered how sausages are so tasty? One big reason is the seasoning, we smelt the herbs that went into the sausage fillings – paprika, oregano, basil, sage. Yum!
Everyone tried filling sausages into the casings. It took teamwork with one person winding the lever that pushes the fillings while the other held on the casings to ensure an even spread and length of sausages. Families tried it together for their first ever attempt to make artisanal sausages.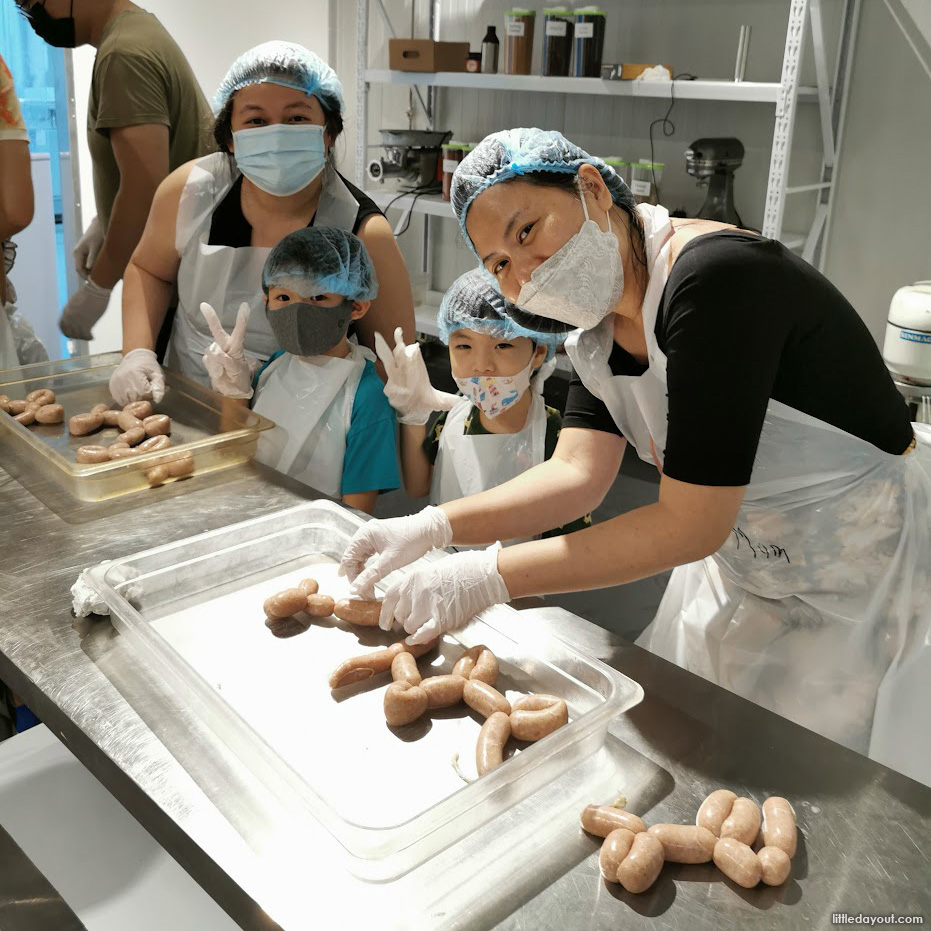 After everyone had their turn, we embarked on a dog-sausage competition. The family that can twist the sausages according to the shape of a dog got to take home their dog sausage! Time given was 15 minutes, child and parent tried their best to twist the sausages. We could certainly tell who had balloon sculpting experiences.
Factory Tour & Taste Test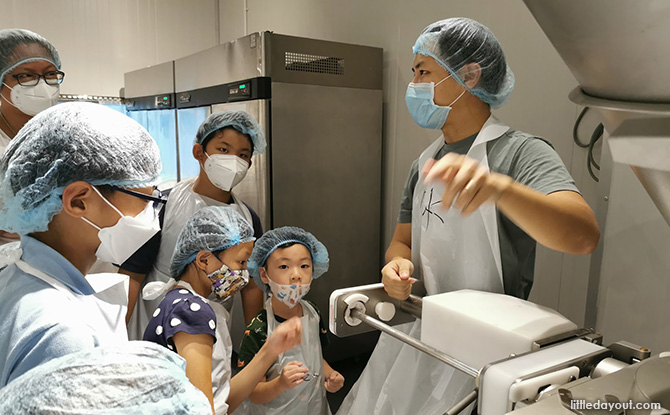 To make more sausages to meet the demand, bigger machines are required. For safety reasons, machines were not operational at the time of visit. We were given a tour of various kinds of machines, the ones that did the magic of filling sausages automatically with possible length and width adjustments, others that grind and blend and machines for smoking or making of hams.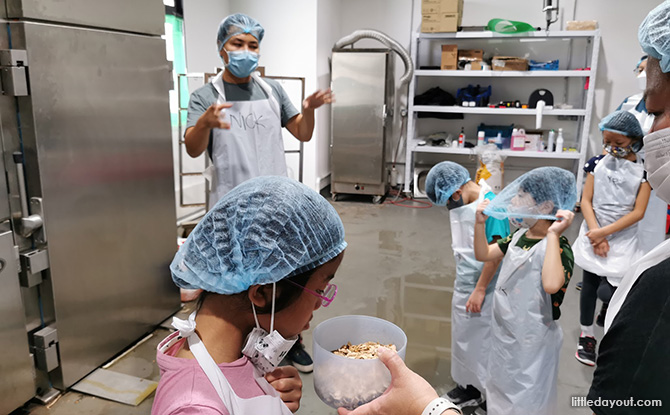 Smell something? Yes, sausages cooking! We were shown the huge oven just for sausages. Special wood chips were used for smoking the best sausages.
Perhaps the best way to discern best sausages was to taste them and we did! We were shown various sausages and ham without packaging, tasted them and had to figure out which was Jill's Sausages. Of course the tastier, fresher, healthier ones – Jill's!
Participants were also quizzed on the sausage-making process. The little ones were so attentive and thoughtfully answered the questions correctly.
The best way to learn is always a multi-sensorial and hands-on experience.
Future Dates for Jill's Sausages
If you are interested in future behind-the-scenes tours by Jill's Sausages or other partners, subscribe to our mailing list here.