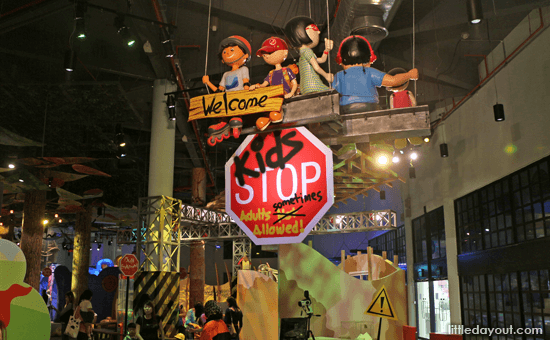 From 6 June 2014, children between 18 months and eight years old can look forward to a new learning playground, KidsSTOP. Singapore's first and only children's science centre, its facilities and programmes will encourage children to Imagine, Experience, Discover and Dream.
Spanning 3,000 square metres within the Omni Theatre building, KidsSTOP's 17 zones and feature areas will provide young children a safe and fun environment to learn through play and exploration.
Key highlights at the new facility include a Dino Pit where kids will be able to dig for fossils and a seven-metre slide, Giant J, that provides participants the sensation of free-fall.
Complementing the many activity areas at KidsSTOP will be new science programmes designed for younger children. These will cater to three different age groups – three to four year olds, five to six year olds and Primary One and Two students. Drama, music, role-playing and story telling will also be used to create a highly stimulating environment for the children.
---
-- Story continues below --
Mr Gerald Tee, Director, KidsSTOP, Science Centre Board said, "KidsSTOP developed these educational programmes because we understand that children are curious learners who need to engaged from a young age. The interactive activities under KidsSTOP education programmes will help to spare interest in science among young ones."
Mrs Jodie Ong, 35, home-maker and mother of two pre-school children shared, "The various science activities at KidsSTOP will enable my children to learn more about science, not just as an academic subject. I look forward to them learning about how science comes into play in their daily lives."
KidsSTOP will be officially opened by Mr Heng Swee Keat, Minister for Eduction, on 5 June 2014.
Related Article: See Little Day Out's full article on KidsSTOP, the new children's science centre.