Once there lived three friends. An Ant – who never seemed to have time for play or relaxation. A Grasshopper, with nothing to do all day. And Caterpillar.
All day long Ant would work hard, collecting and storing food in her larder. Grasshopper would laugh, and say. 'Why do you work so hard? Come, and rest a while. Summer is here; why waste the sunshine in labour and toil?'
Whilst Caterpillar calmly carried on, doing what caterpillars do best…
But Summer does not last long – and soon Winter and the frozen cold will come… What will happen to the three friends then?
I Theatre's first children's theatre production for 2014 is a fast-paced and interactive musical, full of fun. Based on the famous Aesop's Fable, audiences will encounter colourful characters, puppets and tuneful, catchy songs.
Enter the wonderful world of insects imagined up by the creative minds at I Theatre. Specially created with the younger audience in mind, The Ant and the Grasshopper will have unexpected twists and turns to keep even the grown-ups engaged, involved and on their toes!
Opening I Theatre's 2014 season, The Ant and the Grasshopper will explore key themes relevant to young children, including friendship, rewards for hard work and how to use your time wisely. The children's theatre production will also explore other themes such as balancing the arts, leisure and work, how to work smart, generosity and judging others.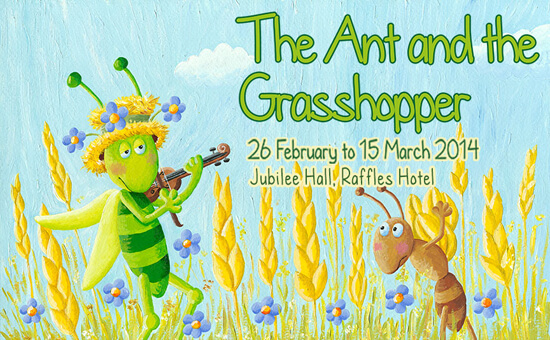 I Theatre's Creative Team
This latest I Theatre production is written and directed by Brian Seward with fun and unforgettable music composed and arranged by Julian Wong. Cathy Kee is behind the crazy choreography for the performance.
Experienced and multi-talented performers Alecia Kim Chua, Erwin Shah Ismail, Elizabeth Loh and Daphne Ong will bring the story to life on stage.
The specially created costumes and puppets by the best of local and international craftspeople will be used in the production. The show will be set in the wonderful, magical tiny world of the insects, designed by award winning production designer Eucien Chia.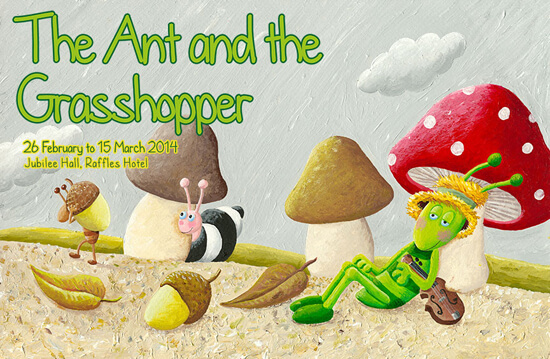 The Ant and the Grasshopper
26 February to 15 March 2014
Jubilee Hall, Raffles Hotel
Most suitable for 3 to 12 year olds and families
50 minutes with a meet-and-greet
Tickets available through
SISTIC Website www.sistic.com.sg
SISTIC Hotline (65) 6348 5555
And SISTIC Authorised Agents islandwide
Ticketing Sales
Ticket sales start 26 October 2013
Early bird sales end 15 January 2014
Ticket Prices
Standard adult/child – $32 (Cat 1), $30 (Cat 2)
Family package of 4 – $30.40 (Cat 1), $28.50 (Cat 2)
Big Family package of 5 – $28.80 (Cat 1), $27 (Cat 2)
Early Bird Prices
Standard adult/child – $28.80 (Cat 1), $27 (Cat 2)
Family package of 4 – $27.20 (Cat 1), $25.50 (Cat 2)
Big Family package of 5 – $25.60 (Cat 1), $24 (Cat 2)
Educational Groups can approach I Theatre for reduced ticket prices. I Theatre will also provide teachers who book tickets with a Resource and Stimulus Pack with pre- and post-show activities and lesson ideas.
Get the The Ant and the Grasshopper Printables – Fun Activity Pack and more from Little Day Out Shop now!