Events List Navigation
Every Saturday and Sunday, we present Weekends at The Artground – where we provide a variety of art-related 30-minute drop-in programmes for families and children to engage in together. These include gardening inspired activities, storytelling, music, dance, movement, theatre as well as arts & craft.
Find out more »
+ Export Events
Search by:
All | Workshops | Holiday Programmes | Exhibitions | Theatre | Nature | Outings
Explore, create and learn through our specially curated holiday camps for ages 3 to 12.
Not sure what to do during the school holidays? Check out our age-appropriate fun holiday workshops. They are action-packed and full of activities, workshops that will make your child go WOW!
Our wholesome Interactive–Schema–Math sessions are specially programmed to boost your child's cognitive abilities in a fun and exciting manner through Digital Learning, Tactile Learning, Neuro Gaming, Schematic Learning and Life Skills Learning platforms.
Try something new and pick up a skill at it! If you have a child aged 7 – 14 years old, these two fun workshops will keep you actively engaged.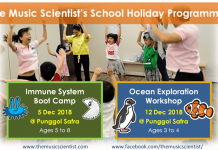 The Music Scientist offers fun and educational science and music workshops for children aged 3 to 8 years old.
Our holiday programmes provide enriching and exciting experiences for children to explore and investigate a wide range of STEM concepts. Learning comes alive with lots of hands-on activities, experiments and crafts.
Superheroes, unite! We're having our year-end Open House and we want you to join us at our heroes' hangout with over $1000 worth of vouchers to be won!
Arts in Your Neighbourhood (AYN) brings fun and enriching arts experiences right to your doorstep! This November, we travel to northern Singapore to rediscover the neighbourhood of Woodland.
Discovery Camps runs across the local and international summer school holidays. We start our winter season on 19 Nov until 4 Jan!
Through narration in English, dance and drama, Ganga – The Heavenly Princess is about our precious oceans and rivers, and why we shouldn't take them for granted.
Attend this exclusive session to gain unique and valuable insights of two internationally-recognised experts on early childhood education and the effects of musical and literacy-based activities on young children.
Have you ever been envious of children who are able to pick up an instrument and create beautiful music? Well, your child can now attain the skill too at the Believer Music School Holiday Program & 2-Day Music Adventure Camps 2018! Quote and get a 12% discount as a Little Day Out reader!
Immerse yourself in the festive season with us here at SAFRA Tampines from November to December for an unforgettable experience! There's something for everyone this Christmas!
Eye Level is offering FREE Diagnostic Test and Lesson at all Learning Centres across Singapore!
Empower your child and help them achieve their full potential at MindChamps' workshops this year-end 2018 school holidays! Quote LDO10 to enjoy a 10% discount as a Little Day Out reader.
Christmas is all about family, so we say get into a merry mood together, join us and cook up a storm with your little ones!
Calling all brave warriors! You have been selected for a special assignment – help Learning Horizon find a missing treasure!
Win up to $2,700 worth of Sephora,GRAB and CapitaLand vouchers at our Superheroes Open House! At our heroes' hangout, your little one gets a chance to fire up their armour, unleash their superpowers and defeat the villains.
The Night Before Christmas is about Eddie the mouse's adventure and also about friendship, sharing and the real spirit of Christmas. Full of merry touches with plenty of live music and songs, it's a perfect introduction to live theatre for young children. Quote LDONBC2018 and enjoy a 10% discount as a Little Day Out reader!
Featuring a line up of familiar nursery rhyme characters, Nursery Crimes will delight and entertain adventurous minds.
Amidst the lush greenery, centered around the tranquil Punggol Waterway Park, SAFRA Punggol's Oasis Paradise boasts an exciting suite of family activities, arts & crafts, performances, attractive SAFRA member redemptions and more!
The Grandstand is back again with our 2-day holiday camp, and this time it's bigger and better!
School holidays are here, what better time to let your kids try out the different genres of dances at our one-day dance camp, or simply have a good time grooving to their favourite tunes with our workshops themed on hit animated movies?