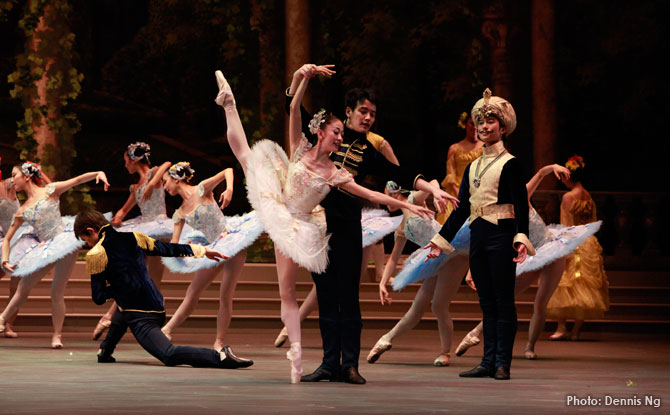 Little Day Out chats with Ms Rosa Park, Senior Artist at the Singapore Dance Theatre, to learn how to help children appreciate dance; and how we as parents can empower our children to pursue their dreams.
The soft classical music lingered in the background even as I made my way to the meeting room of the Singapore Dance Theatre (SDT). Turning my attention away from the group of young ballet dancers practising for their next performance, I smiled at the lovely lady I was here to meet – Rosa Park, a renowned dancer with years of experience playing principal or soloist positions in the various companies she has danced with. This has included full-length classical ballets such as Swan Lake, Sleeping Beauty and Romeo & Juliet.
About the Dance Appreciation Series: Introduction to Ballet Classics
The SDT will be reproducing excerpts of some of these famous performances in its upcoming Dance Appreciation Series, to be showcased in conjunction with Esplanade Presents Octoburst! 2014 – A Children's Festival.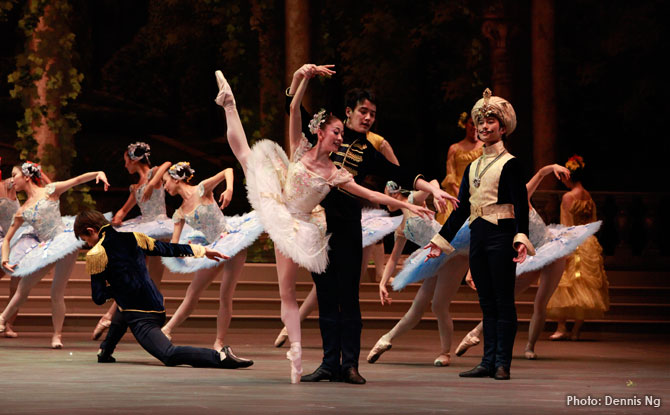 The Dance Appreciation Series (DAS), Rosa explained, aims to educate children about dance through exposure to the performing arts. A narration discussing each piece takes place before the dance begins, and children will learn about various aspects of the dance. For instance, what each movement means, and why the dancers move in a certain manner. In addition, the DAS features excerpts of famous ballets, which will be of more interest to children, in bite-size portions to cater to the children's shorter attention spans.
What can children look forward to when they come to the DAS?
For the segment from Sleeping Beauty, Rosa revealed that there is a sequence where she dances with four princes one after another, all the while balancing on one foot. And during the Don Quixoteexcerpt, there just might be the possibility that Rosa will have to do 32 fouettes! (A series of fouettes appears as multiple turns on one leg, with the other leg propelling the body around and around with a whipping motion.)
What can parents do to help their children benefit more from the DAS?
Rosa shared that families should just come ready to allow their children to be fully engaged in their first encounter with this art form. For other full-length ballet performances, parents could even read the ballet's story to the child prior to the show.
Would children as young as two years old be able to enjoy dance?
The DAS is recommended for two-year-olds and above. Rosa emphasised that for young children, it is important to expose them to different life experiences at an early age and to help them to appreciate the nuances of each experience as it occurs. Being a mother of two, Rosa has brought her own daughters to watch ballets since a young age, and they have both developed a keen interest in ballet and especially the beautiful tu-tus.
What is one key difference between DAS and other ballet performances?
The DAS will be held in the Esplanade Concert Hall where audiences will be close to the dancers. The proximity and the more intimate and cosy setting will allow audiences to better relate to the dances. "I can't imagine doing DAS in Fort Canning like Ballet Under the Stars. It's too huge and it will be difficult for audiences to understand what is going on despite the explanations."
So how then did SDT's Senior Artist come to love ballet?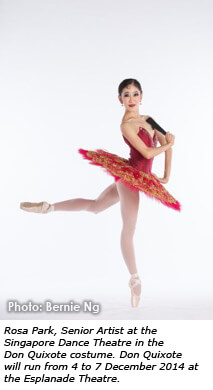 Rosa shared that she was first drawn to the ballet due to the lovely costumes on stage. Of course, dancing is hard work and although she first started out at the age of four, it was only later at the age of nine that she chose to pursue her interest through rigorous training.
Rosa continues to oscillate between pursuing her career as a dancer and her other interests in life. Even now, she still finds it a challenge to juggle her role as a dancer and a mother at home. But it has been her love of the stage that keeps her going. "Sometimes, during rehearsals it's very hard, and I tell myself I don't want to do this anymore. But when I get on stage I get excited once again and I know I'll keep on going."
As I left the meeting room, I couldn't help but feel that I had been swept away by my conversation with Rosa, whose delightful countenance was a breath of fresh air. The words of the SDT's Senior Artist resounded in my ears: "I wish that all children can find out what they really like and are good at; and pursue their dreams… Dance could be one such way; especially in Singapore."
Perhaps it's not only about appreciating the dance; but more – to glide along in tandem with the spirit of the dance; to live each moment as it is, and to pursue your dreams wherever they take you.
The Dance Appreciation Series: Introduction to Ballet Classics will be held at the Esplanade Concert Hall on 3 October at 1 pm and 4 pm. It is suitable for children from two and above. Told through narration and dance excerpts, this hour-long performance specially created for our young audiences will feature some of the world's most famous classical ballets like Sleeping Beauty, Swan Lake, Don Quixote, Nutcracker and La Bayadere! Children are encouraged to come dressed in their favourite character costumes and to take photographs with the cast after the show.