As many would know, Yu Sheng is an iconic dish in all Chinese New Year celebrations. Used to symbolise prosperity and good wishes all around, welcome the "Moo" Year with these super cute Year of the Ox Yu Shengs!
---
Year of the Ox Yu Sheng
Full Of Luck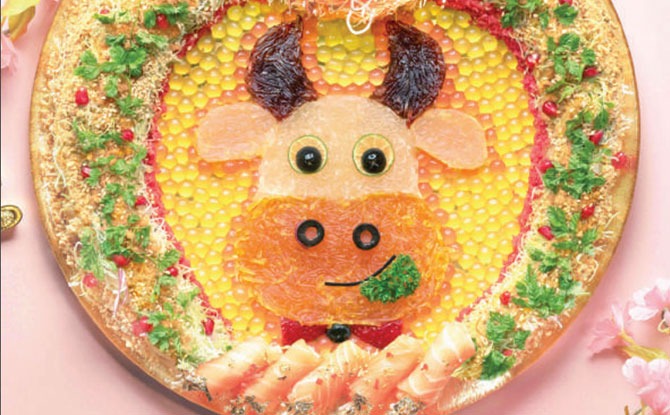 Located at Holland Village and serving signature classic Cantonese cuisine in a vibrant and contemporary setting, the Full Of Luck aims to deliver "affordably priced dishes with high-quality ingredients". Their Prosperity Lo Hei with Smoked Salmon and Yuzu Sauce is shaped in a cute cow design with floral looking motifs around the edges.
---
CNY Year Of The Ox Salmon Yu Sheng
---
-- Story continues below --
Learn how to DIY this homemade cow yu sheng! Prepare the various ingredients needed and follow the step by step tutorial on how to properly shape the ox yu sheng for a memorable centrepiece!
---
Capitol Kempinski
If you're planning to stay home this Chinese New Year, you can still enjoy a great New Year's feast in the comfort of your home. Capitol Kempinski has a range of handcrafted and limited-edition takeaway goodies including 15 Stamford by Alvin Leung's Salmon Yu Sheng Platter, which comes laden with premium vegetable slaw, plum dressing and crackling fresh skin crisps. Diners may further customise their platter with add on options including Hiramasa kingfish, Hokkaido scallop and Maine lobster!
---
Year of the Ox Abalone "Cow Yee Sang"
This fruity cow Yu Sheng is a different take on the usual mix of ingredients used to make Yu Sheng. In this dish, there are ingredients such as strawberries, pineapples, blueberry and more.
---
Hua Ting Restaurant
Hua Ting Restaurant, a top Cantonese restaurant in Singapore offers a delectable Chinese fine dining experience in Singapore. Guests are invited to toss to prosperity with Hua Ting's 金牛报喜 Ox-picious Yu Sheng – Whole Abalone "Lo Hei" crafted by award-winning Masterchef Lap Fai.
Editor's note: Unfortunately, Hua Ting's Yu Sheng is currently out of stock.
---
One Sushi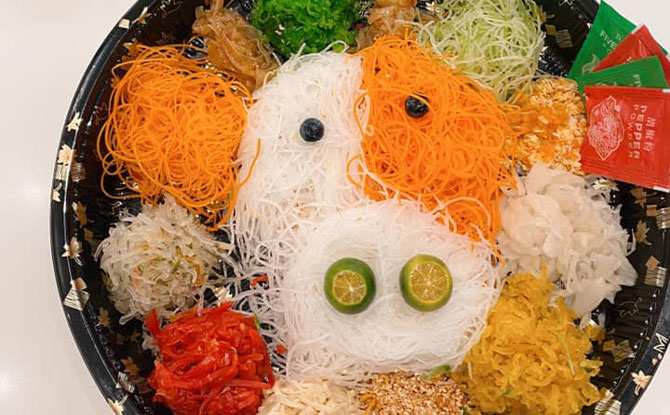 One Sushi is serving their cute Lobster Treasure Yu Sheng that serves 6 to 8 people at an attractive price of $48.80! They are also offering a Salmon Prosperity Yu Sheng. This Yu Sheng is available via self-collection only and needs to be ordered a day in advance.
Read about an awesome 3-for-2 deal available for Chinese New Year 2021 here.