The Singapore Math curriculum is one of the best in the world, but it is also known to be tough. How do we get our kids to do well in it?
The best solution is to cultivate a love for Math from a young age to build a strong foundation in the subject.
It is, however, not easy to do that. Young kids are not able to focus for long stretches of time, so lessons need to be short and well-planned with age-appropriate content to resonate with them, and fun to keep children interested and motivated to learn new things.
When we were introduced to Creta Class' 15-minute animated lessons with cute characters, colourful animation through story-telling based videos and interactive math quizzes, we thought they were just what young children needed to have a good start in Math. That prompted us to give the app a try.
---
-- Story continues below --
The result? Our 4-year-old and 5-year-old took a liking to the adorable characters and had fun learning. When asked if he wanted to attempt another lesson after completing his first one, the 4-year-old replied, "Yes!" readily.
Having gone through a free trial of the app, here are some of the things that we like about it:
---
Only 15 Minutes of Learning a Day – Anywhere, Anytime
We think that Creta Class has found the right balance between limiting screentime and maximising learning opportunities. The app does not give access to all its lessons at one go, but rather, releases one per weekday so kids only clock about 15 minutes of screentime daily and enjoy a break during the weekend.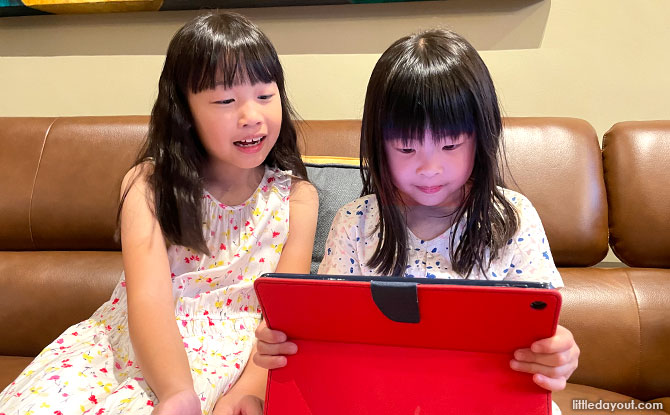 Our 5-year-old completed all the components in Day 1's lesson, even though she was not keen to do any Math at first! The short-lesson format worked to keep her focus.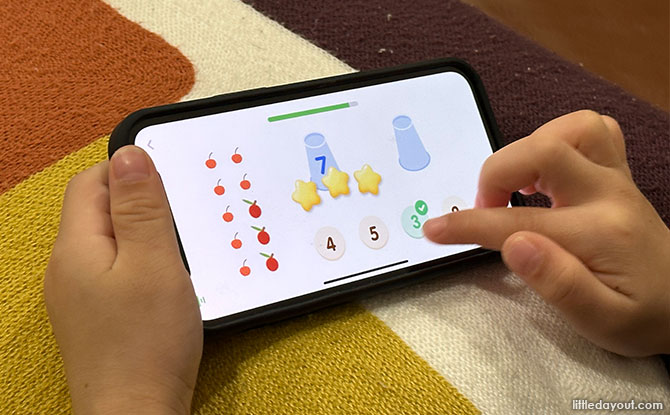 As the classes are available on both the mobile phone and tablet, it is easy to take advantage of pockets of free time to get the kids learning – wherever, whenever – and convenient to switch between screens.
---
The Systematic Curriculum is Aligned with MOE's Framework
Creta Class' curriculum is systematically planned, based on the cognitive development of children aged 3 to 8.
The content is aligned with MOE's Nurturing Early Learners framework and is age-appropriate. Interactive exercises and storytelling animations are used to teach children Math concepts such as numbers, geometry, logic and pattern in a fun and progressive way.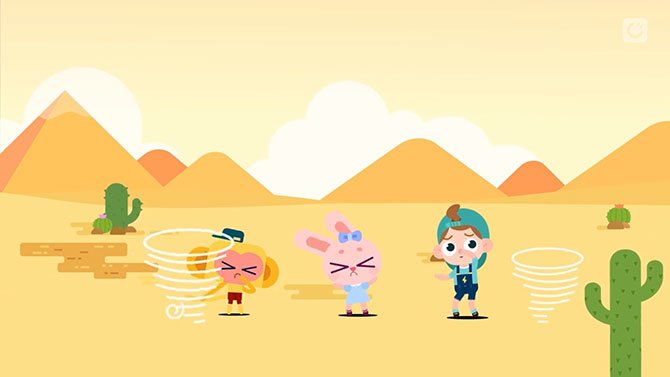 At her first lesson, our little Math explorer learnt how to use the number-shape combination method to count more efficiently through an immersive story about a sandstorm in the desert. The video resembled an episode of a cartoon, with the Math component cleverly embedded in the storyline.
The lessons for the rest of the week build upon what has been learnt, teaching children to add and subtract using the number-shape combination method. This helps little ones to gain knowledge systematically.
---
Classes are Structured to be Fun and Interactive to Stimulate Interest and Build Confidence in Math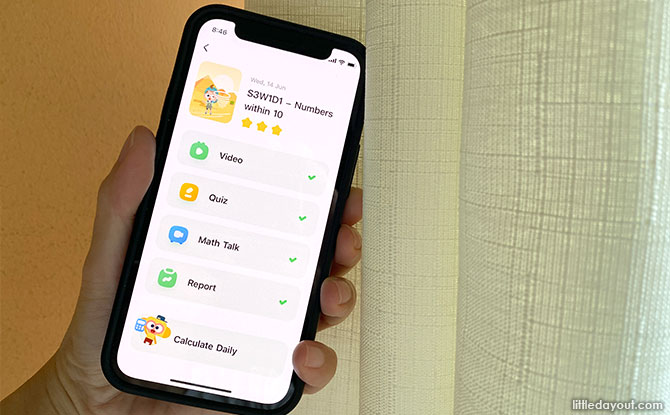 We also like the innovative way in which each day's lesson is structured. It starts with an interactive video that teaches a Math concept through an animated story.
Like we mentioned earlier, this video is created to feel like a cartoon so that kids get drawn into the storyline first, before they are introduced to a Math concept.
At certain points in the video, children are asked to respond. Giving the correct answer helps to move the story along.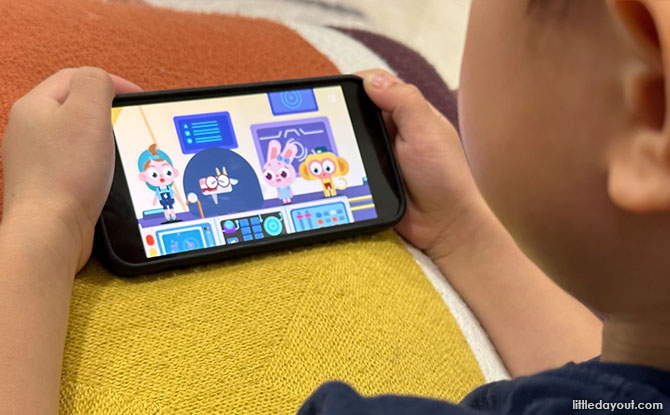 Our 4-year-old was so engrossed in the story that he did not even get distracted when his brother started playing a game on the iPad next to him.
After the video, a short quiz follows, allowing little ones to put what they have just learnt into practice.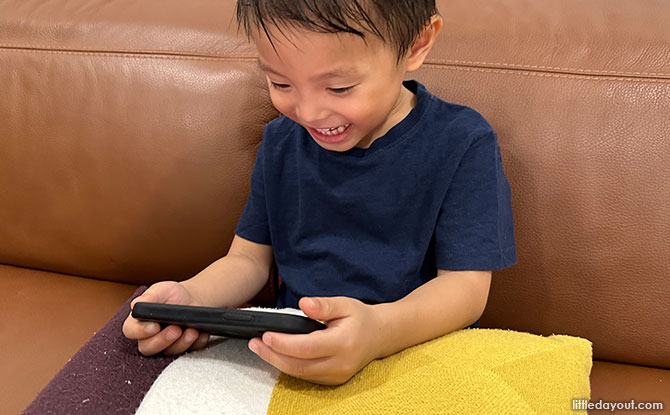 Our little Math whiz was very motivated to do well. Every time he earned three stars for giving the correct answer, his face lit up!
The third segment is Math Talk, which allows little learners to record their answers to a question posed. Saying the answer out loud not only helps them to sharpen their thinking skills, but also encourages them to express themselves and gain confidence in the process.
Our 5-year-old was very curious about this segment. She was very eager to record her answer and was delighted to hear her own voice being played back!
At the end of every class, a report is generated so that parents can keep track of their children's progress.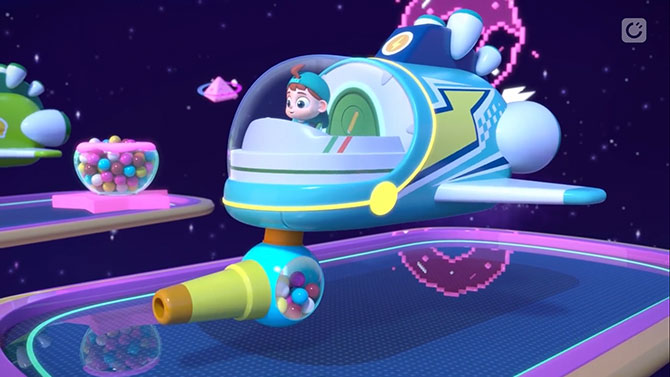 On Day 5 of each week, this format gives way to a Math game with 3D animation and exciting challenges, helping kids review what they have learnt in a fun way.
Our competitive 4-year-old enjoyed the first week's space race-themed game, intensely solving Math problems to help his team win the race.
---
The Content is Based on the Research of a Team of Top AI Experts
The content of Creta Class is backed by research conducted by a team of AI experts with qualifications from Ivy League schools and other prestigious universities.
By studying factors such as the interaction patterns, language behaviour and cognitive preferences of children, they are able to establish effective learning paths to achieve successful outcomes.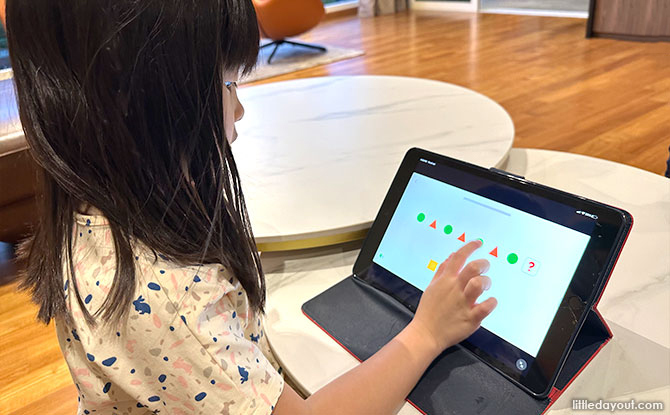 This could be the reason both kids could always complete their lessons in one sitting and were motivated to give their best responses in the Math challenges.
---
Mentor Service
We appreciate that the app also includes a service where a mentor updates parents on what the kids are learning via WhatsApp. It is reassuring to know that we have a direct line of support, should we need any help in this Math learning journey.
---
Creta Class: An Award-winning Math App
Creta Class is a Math mobile app for kids aged 3 to 8. It focuses on building a strong foundation in the subject, empowering kids to grasp mathematical concepts easily.
If you have not heard of Creta Class before, you should try it out now! The math app has been well-received in countries such as Korea, Japan, India and the United States, where users have benefited from its fun and engaging Math lessons.
Much recognition – both global and local – has been accorded to Creta Class, including The Mom's Choice Awards, Academics' Choice Awards and ReseMom Editors' Choice Awards. It is also Education App Store-certified at the highest 5-star level and KidSAFE Seal Program-listed.
---
Try Creta Class for Free for Two Weeks
Creta Class is available for download. Those who are interested in getting the app can take up a free two-week trial before making the final decision.
Free trial plus fun lessons that cultivate good learning habits. You do the Math!
Get more information on Creta Class.
This feature is brought to you by Creta Class.