A partnership between City Developments Limited, National Parks Board and Singapore Botanic Gardens, the "Change the Present Save the Future" is an exhibition that lets visitors learn how Singapore has been working to mitigate the effects of urbanisation and climate change. It is available as a virtual tour and as a physical exhibition.
The exhibit is located at the CDL Green Gallery and will be running from 15 July 2021 to March 2022. The exhibition was officially launched by Ms Grace Fu, Minister for Sustainability and the Environment of Singapore
---
Change the Present Save the Future Exhibition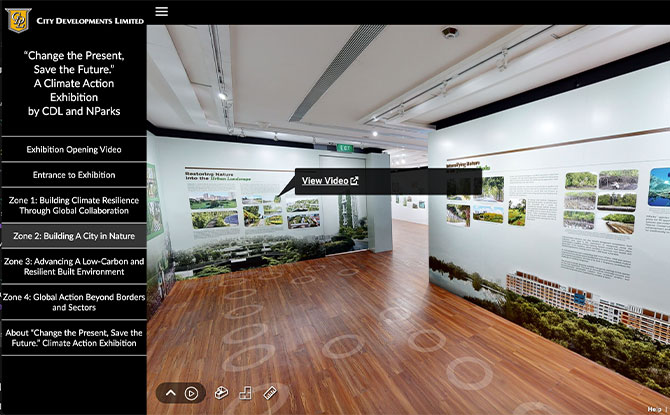 With multiple contactless interactive displays, the exhibition takes visitors across four zones: Building Climate Resilience Through Global Collaboration, Building A City in Nature, Advancing A Low-Carbon and Resilient Built Environment and Global Action Beyond Borders and Sectors. The exhibition aims to call for action to support both global and national climate efforts.
CDL is the first Singapore real estate developer to sign World GBC's net-zero carbon building's commitment and is evidence of CDL's commitment to ensure that they are held accountable to take steps towards making Singapore's buildings net-zero by 2050.
---
Virtual tour of Change the Present Save the Future Exhibition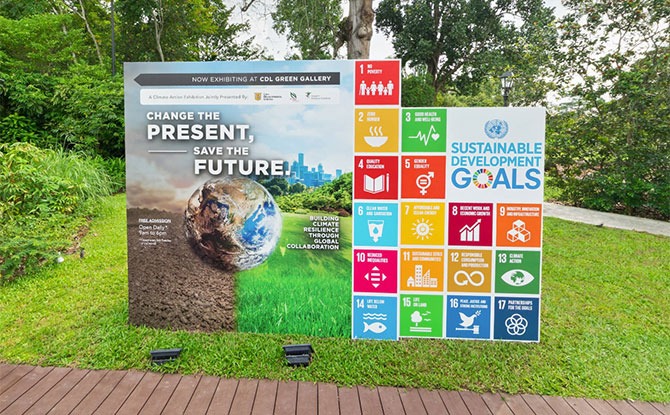 In the virtual tour, visitors will start the tour at the front of the CDL Green Gallery, opposite the Heritage Museum. After watching the exhibition opening video, visitors can also view the signboard at the front which has its 17 sustainable development goals on display. After that, they can explore the surrounding area through a 360-degree camera and zoom in to read the various information panels. There are also videos that can be watched and interacted with.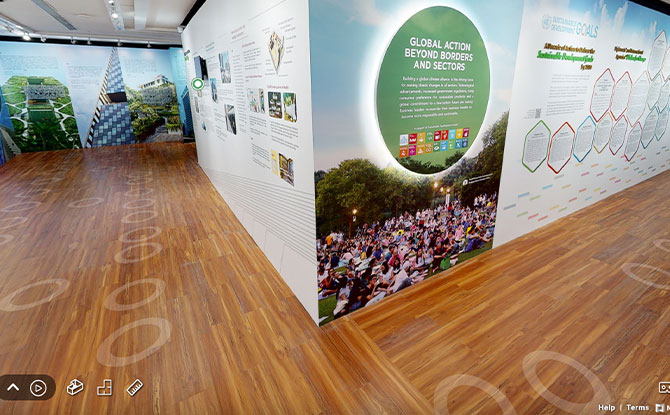 The information panels further elaborate and explain the present situation of how buildings in Singapore are built to help conserve Singapore's natural heritage and enhance the resilience of our natural ecosystems.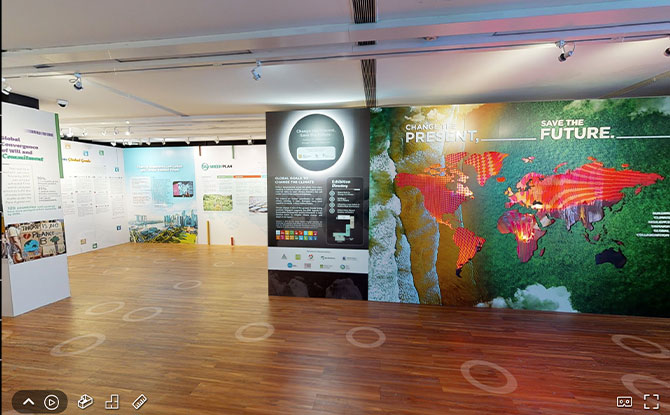 It also shares how technological advancements, increased government regulations as well as a consumer's preference for sustainable products is causing business leaders to reexamine their business models to become more responsible and sustainable.
Read more about the Change the Present Save the Future exhibition here and take the virtual tour here.