Launched in conjunction with Singapore Bicentennial, the BalikSG Augmented Reality (AR) app brings history to life along the Singapore River.
The app is large and should be downloaded over Wi-Fi before venturing out on the trail. Along the Singapore River, there are various BalikSG makers which can be scanned using the AR app and, voilah, before your eyes, characters from the past appear – visible only through the lens of the phone's camera.
BalikSG Augmented Reality App
You will get to interact with characters from Singapore's past along the Singapore River Trail.
Watch the video below to see the BalikSG app in action for yourself.


Another BalikSG trail, this time centred around Fort Canning Park, will be released later this year.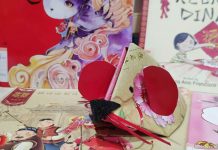 Dong dong chang! Right on the heels of Christmas is another important season for the Chinese – the Lunar New Year, of course. Remembering...
No visit to Seoul with the family is complete without a visit to South Korea's biggest theme park: Everland! We had an awesome day...
FEATURED LISTINGS