Children can look forward to a new generation of thematic playgrounds at new Housing & Development Board (HDB) projects.
Playgrounds are an integral part of every housing estate. In the past, unique HDB playgrounds, such as the dragon playgrounds from the 1970s and 1980s, have provided unique play spots for children and continue to hold dear in the memory of many Singaporeans.
Now, HDB is embarking on a new generation of thematic playgrounds to encourage imaginative play in children. These new HDB thematic playgrounds will be based on three key principles – helping to build a stronger town identity, enhancing the play experience for kids and fostering closer bonds within the community.
Designs of the new HDB thematic playgrounds will take into account each town's character and distinct features. They could reflect the location's history, site context or theme.
---
Story continues below
Guess who is heralding Christmas at Bedok Point this year – the Minions! Join Kevin, Stuart and Bob from 19 to 24 November for...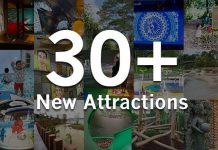 2019 has been a busy year. Can you believe that 33 new family-friendly places and attractions have opened in Singapore in just this year...
---
The playground equipment will aim to support an array of activities such as climbing, swinging and balancing to instil confidence and resilience in children.
As community gathering spots, playgrounds will also be designed to encourage interaction. Features supporting this include storyboards to act as conversation starters.
HDB Thematic Playgrounds
Currently, six HDB thematic playgrounds have been completed.
Two army-themed playgrounds can be found at Keat Hong, one at Block 817B Choa Chu Kang Avenue 1 and the other at Block 815C Choa Chu Kang Avenue 7. These pay homage to the military camps formerly located in the vicinity.
At Sengkang, which means 'prosperous harbour', there is a sunken ship playground at Block 286C Compassvale Crescent.
Woodlands, which in the past was a heavily-wooded area, has a grasshopper and ant playground at Block 573B Woodlands Drive.
A double-decker ship playground beckons at Block 121B Canberra Street. This is a nod to Sembawang's heritage as a naval base.
An undulating playground at Toa Payoh Crest, Block 131 Lorong 1 Toa Payoh references Toa Payoh's name in Hokkien, which means "big swamp".
Upcoming Playgrounds in Dawson, Bukit Panjang and Clementi
Nine more HDB thematic playgrounds are set to be unveiled by 2021. These will be located at Bukit Panjang, Dawson and Clementi.
Five of these new HDB thematic playgrounds will be located in the Dawson estate. These include a Wonderland Playground at Dawson Vista, inspired by the classic tale of Alice in Wonderland, a spider-themed playground at SkyParc @ Dawson and a Giant Green Net playground at Forfar Heights.
Guess who is heralding Christmas at Bedok Point this year – the Minions! Join Kevin, Stuart and Bob from 19 to 24 November for...
This year-end 2019 season, Frozen at Changi Airport is a treat for fans of Disney's latest movie. For those who are planning to make...
FEATURED LISTINGS