Beaming
Adjective
Kid-friendly Description: Smiling widely.
In a Sentence: Peter was beaming from ear to ear when he spotted his favourite ice cream at the supermarket.
Photo credit: Cubmundo via VisualHunt / CC BY-SA
---
In , Little Day Out introduces words to help children expand their vocabulary. Each Word of the Day is accompanied by a description and example of how it can be used in a sentence.
This #WOTD is powered by Cornerstone Learning Centre, professional builders for Primary English and Mathematics.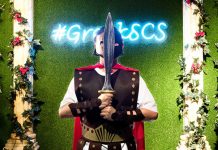 Grab the explorer passport and embark on a journey around the globe at Science Centre Singapore this school holidays! Travel back in time to Ancient...
Changi City Point is amping up the fun for kids and families during the 2018 year-end holidays with a host of exciting activities. Enjoy...
FEATURED LISTINGS