Scarf
Noun
Kid-friendly Description: A long piece of cloth that is worn around the neck or head.
In a Sentence: Judy wore a scarf to keep her neck warm.
Photo via Visualhunt.com
---
About #WOTD
In #WOTD, Little Day Out introduces words to help children expand their vocabulary. Each Word of the Day is accompanied by a description and example of how it can be used in a sentence.
With the gloom of the COVID-19 news, Mr Brown, Singapore's Blogfather, and Mr Benjamin "Miyagi" Lee have brought some levity to the situation with...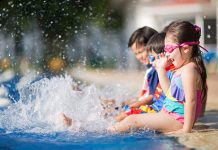 Even if you have no intention of nurturing your child to become the next Joseph Schooling, swimming is a life skill that is very...
FEATURED LISTINGS