Look inside a box of LEGO before you even purchase it at the new LEGO Certified Store in Plaza Singapura.
Augmented Reality with LEGO Digibox
The store, which opened 13 April 2017, is the first in Singapore to be fitted with a LEGO Digital Box (DigiBox) station. LEGO Digibox provides customers with an interactive 3D digital experience before they even make a purchase.
Hold up a box of LEGO to Digibox's camera and see the contents as a virtual, assembled 3D model with animation on a screen.
---
Story continues below
West is best and we have the biggest bouncy playground to prove it. Bouncy Paradise which was last seen with its pop-up at PeopleUp@Pandan....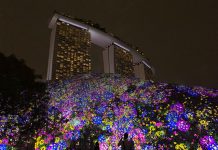 Future Together at Gardens by the Bay, a digital art exhibition, caps off the Singapore Bicentennial commemorations with interactive installations that encapsulate the hope...
---
LEGO Digibox was developed using Intel technology and has been described a way to "take what's in the box, out of the box, without opening the box."
"The introduction of the Digibox adds another element of interactivity and enables LEGO fans to understand the potential of the products in a whole new way. We expect it to be a popular new feature among adult and child LEGO fans alike", said George Papasolomontos, Managing Director, Bricks World.
Opening Specials at LEGO Certified Store Plaza Singapura
The LEGO Certified Store at Plaza Singapura is the sixth in Singapore to be managed by Bricks World Singapore. To celebrate the store's opening, there will be special in-store promotions such as sure-win scratch cards and discounts of up 35% off on selected LEGO sets.
The LEGO Certified Store at Plaza Singapura is located at #03-17, 68 Orchard Road, Singapore.
Not just another light show, Magical Shores at Siloso, Sentosa is Singapore's first beach light show. Now "screening" on the sand, Magical Shores Sentosa...
Singapore's shores are teeming with wildlife we wouldn't usually notice. Getting to an intertidal zone during periods of low tide is the best way...
FEATURED LISTINGS