West Coast Park is well-known for its awesome adventure playground filled with fun play equipment, towering pyramid and obstacle courses to challenge kids of all ages.
Did you know that you could also rent a fun "mode-of-transportation" to explore the park?
Watch the video to find out more.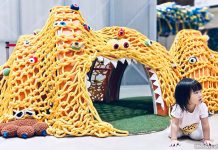 The Artground ushers in the new year with Wild Rumpus, a brand new installation by artist and designer, Adeline Loo, featuring some of the...
#BuySingLit 2019 is back with more than 80 programmes in March 2019. This year, #BuySingLit, which encourages more people to read locally written literature,...
FEATURED LISTINGS