One of my childhood memories is going to watch a kungfu master with my father.
This was at a hotel along Coleman Street and the room setting was sparse with the focus on the pugilistic master. Over the evening, the old master demonstrated his strength and performed feats like chopping his way through various objects, even pushed a wooden chopstick through a tabletop.
As we left, I remember my father joking that he would practise the same chopstick act, starting out with a piece of cake first.
SHAOLIN, now on at MasterCards Theatre, Marina Bay Sands, is completely different from my own childhood experience.
---
Story continues below
This Sunday, 8 December 2019, Ben & Jerry's will be handing out free ice cream in support of International Migrant Workers' Day in mid-December....
Start the festivities right with UE Malls this Christmas season! Christmas Adventures @ UE Malls is happening on 7 & 8 December 2019 where you...
---
It is a slick, theatrical production that brings together thumping house music with the pugilistic arts.
The story begins with the betrayal of the monks, forcing five Shaolin elders to go into hiding where they raise up an army of warriors.
However, the storyline just serves as a backdrop for the monks to demonstrate their kung fu skills.
This is done in turn as monks step forward to showcase different Shaolin fighting styles, including many inspired by animals in the natural world.
There are also dexterous displays of weapon play with monks taking turns to wield weapons such as the flying dart, spears and even fans.
And, of course, no kungfu show would be complete without superhuman, don't-try-this-at-home feats. Shaolin has its fair share of flying debris and skin-on-sharp-objects moments too.
All this is done to the soundtrack of screaming electric guitars, dramatic lighting and a changing videoscape in the background. Traditional Chinese instruments like the dizi (flute) and sheng (mouth-blown reed instrument) help create haunting melodies to complement the action on stage.
At times, the pacing felt overly-theatrical and drawn out, but it still had younger members of the audience at the edge of their seats during high-tension moments.
SHAOLIN is an eclectic mix of theatre and traditional martial arts. If you or your kids are big kung fu fans and wish to catch these legendary monks in action, this is an opportunity to do so.
SHAOLIN
Sands Theatre, MasterCard Theatres at Marina Bay Sands
Wed, 13 to Sun, 31 Jul 2016
Tue to Fri: 7.30 pm
Sat: 2.00 pm & 7.30 pm
Sun: 1.00 pm & 6.00 pm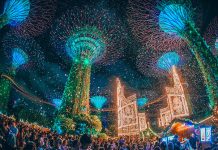 It's the most wonderful time of the year – most of us should agree. And honestly, who else does more jaw-dropping Christmas displays than...
Let it snow, let it snow, let it snow in Singapore 2019. Dreaming of a white Christmas in tropical Singapore? Well, you can have...
FEATURED LISTINGS