Does your child have a flair for performing?
Wild Rice is looking for 30 children from five to 12 years old for its year-end pantomime Monkey Goes West, a cheeky re-telling of the beloved Chinese classic set within today's Singapore.
Under Wild Rice's First Stage! programme, children will participate in vocal, dance and movement classes and have the opportunity to experience performing alongside professional actors.
Auditions will take place on 27 and 29 June 2014. Registration for auditions closes on 25 June 2014.
Children need to commit to workshop, rehearsals and performances starting from September onwards. Full details can be found in the audition notice below.
Japanese organising consultant and author, Marie Kondo's latest venture Tidying Up with Marie Kondo premiered on Netflix on 1 January 2019, and it has sparked...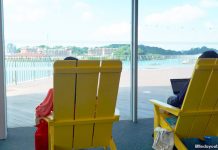 The new library@harbourfront, located within VivoCity shopping mall, brings the reading experience closer to the masses with its opening on Saturday, 12 January 2019. The...
FEATURED LISTINGS