Sentosa's Port of Lost Wonder is Singapore's first kids' club by the beach.
Located at Palawan Beach, Sentosa, the Port of Lost Wonder has kid-friendly activities organised throughout the day that kids can take part in. Join in fun activities such as Bubble Party, Pots & Planks and Teach Us Wild. Kids get to use their own special currency, Curios, at the Port of Lost Wonder as well.
The centrepiece of the Port of Lost Wonder is a massive Pirate Ship water play area, filled with splashing fountains, water cannons and swooshing slides. Little buccaneers can storm the decks and have a jolly good time under its sails.
Now, you can download this FREE colouring activity sheet of the Port of Lost Wonder's iconic Pirate Ship and see how you can create your very own splash of colour to the high seas.
Download the Port of Lost Wonder Pirate Ship colouring sheet today!
Related Article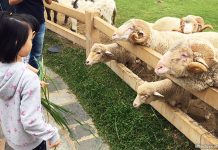 Sprinkled with quaint Italian-inspired villages, wineries with vineyards and flower fields against a mountainous backdrop, the region of Khao Yai near Bangkok, Thailand, offers...
Usher in Chinese New Year 2019 at HarbourFront Centre with family-friendly activities, including LIVE character performances, meet-and-greets, colouring and interactive walls, craft activities and...
FEATURED LISTINGS