S'pore Discovery Centre provides a look into what makes Singapore unique and Singaporeans who they are. There are different multimedia and interactive exhibitions throughout the centre that provides a means for visitors to learn about Singapore.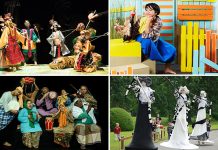 Arts in Your Neighbourhood (AYN) - an initiative by the National Arts Council (NAC) - returns for its 11th edition this November with close...
Nestled unobtrusively in the basement of KK Women's and Children's Hospital (KKH) is a small bank that packs a big punch. Even though the...

FEATURED LISTINGS