MOSH! is a immersive digital edutainment facility using multi-media technology from Japan for families. It is located at Sentosa's Palawan Kidz City.
Useful Information
Address:
31 Beach View, Sentosa
Contact: +65 6238 8296
Visit Website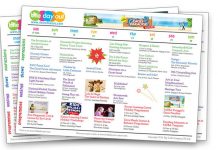 The school holidays 2018 are here! The year-end school break in Singapore takes place from 17 November to 31 December 2018 and it is...
10, 9, 8,… 3, 2, 1! Hands in the air! Experience the exhilaration of a fun cooking competition – together as a family – at...

FEATURED LISTINGS