Fidgets is an indoor playground found at Grandstand along Bukit Timah Road.
Useful Information
Address:
200 Turf Club Rd, #03-10,The Grandstand, The Grandstand, Singapore 287994
Contact: +65 6466 7611
Visit Website
AMK Hub, Jurong Point and Thomson Plaza are having a Pokémon-themed Christmas this year and, with so many Pokémon activities, you will definitely want...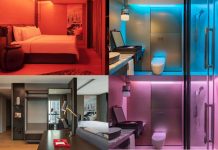 Lighting that adapts to a guest's body rhythm, a multisensorial Experience Shower and an in-room wellness wall. These are some of the features at...
FEATURED LISTINGS