Fidgets is an indoor playground found at Grandstand along Bukit Timah Road.
Useful Information
Address:
200 Turf Club Rd, #03-10,The Grandstand, The Grandstand, Singapore 287994
Contact: +65 6466 7611
Visit Website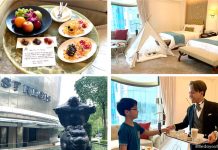 Right from the moment we arrived at The St. Regis Singapore, we were transported to a realm of old-world charm and graceful elegance. Beautiful...
Schools and Institutes of Higher Learning will implement full home-based learning from Wednesday, 8 April 2020, onwards. In addition, preschools and student care centres...
FEATURED LISTINGS