With real construction machinery, kids get to live out their construction dreams at Diggersite, East Coast.
Useful Information
Address:
Raintree Cove, 1020 East Coast Parkway #01-04, Singapore 449878
Contact: N/A
Visit Website
#BuySingLit 2019 is back with more than 80 programmes in March 2019. This year, #BuySingLit, which encourages more people to read locally written literature,...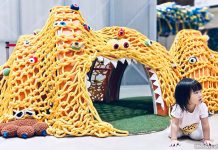 The Artground ushers in the new year with Wild Rumpus, a brand new installation by artist and designer, Adeline Loo, featuring some of the...
FEATURED LISTINGS