With real construction machinery, kids get to live out their construction dreams at Diggersite, East Coast.
Useful Information
Address:
Raintree Cove, 1020 East Coast Parkway #01-04, Singapore 449878
Contact: N/A
Visit Website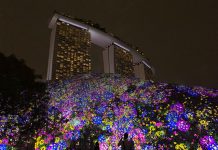 Future Together at Gardens by the Bay, a digital art exhibition, caps off the Singapore Bicentennial commemorations with interactive installations that encapsulate the hope...
As parents, we want to give Baby the best care we can afford. But how can we be sure that we're making the right...
FEATURED LISTINGS