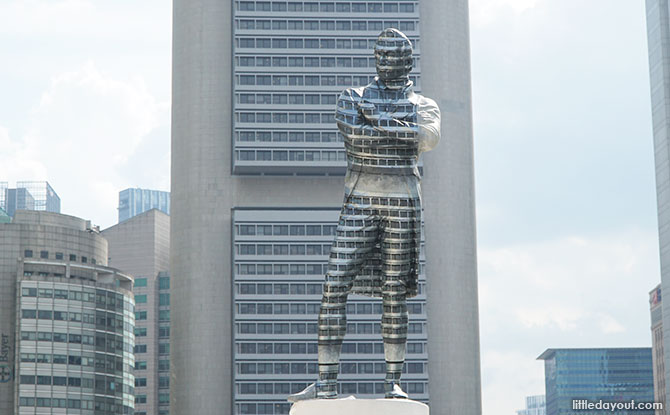 Something has happened to the iconic Stamford Raffles statue located by on the Northern bank of the Singapore River. Standing where Raffles is said to have first set foot on local soil, the usually white Raffles Statue has turned into a "disappearing" Raffles Statue, painted into the background of the cityscape behind it.
Optical Illusion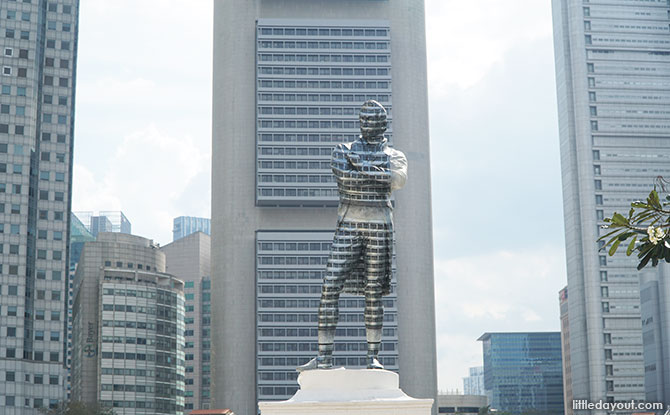 In a move straight out of the trompe-l'œil or "deception of the eye" playbook, the usually pristine statue has been painted with a latticework of windows to blend in with the OCBC building on the opposite bank of the Singapore River. This chameleon-inspired trick results in the statue of Sir Stamford Raffles merging into the skyscraper background of the city when viewed from the right angle.
Singapore Bicentennial: Beyond Raffles
The disappearing Raffles Statue is the work of local artist Teng Kai Wei under commission of the Singapore Bicentennial Office. It is part of the efforts being made in conjunction with the 200th anniversary of the British arriving on our little island back in 1819. According to a 2 January 2019 post on the Singapore Bicentennial Facebook page, the commemorations will be "going beyond Raffles and 1819 to look at our longer history, and a wider cast of contributors."
That explains the Raffles Statue's predicament (and brings a fresh perspective to the expression on his face).
An earlier Facebook post, dated 19 December 2018, states, "The Singapore Bicentennial isn't a celebration, but an opportunity to reflect on our journey, which has been filled with twists and turns. History can be a wonderful teacher, even as we take our next steps forward."
Well, the optical illusion of the disappearing Raffles Statue has certainly got our attention and, perhaps, it is an indicator of more interesting things to come in the year ahead.